Wireless Solar Keyboard K760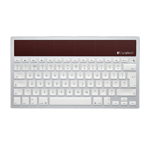 Y-R0029
Popis
Logitech Preference Manager lets you customize gesture controls for Logitech touch products. It also adds enhanced key functions for Logitech keyboards, and notification for device-specific status features such as battery level, key backlighting level, and Caps Lock.
Pokyny pro stažení
Z rozbalovací nabídky vlevo vyberte váš operační systém. Postup určení vašeho operačního systému:

Windows - Klepněte na Start > Spustit a napište (nebo do pole "Vyhledávání") winver.exe, a stiskněte Enter.
Mac - Otevřete nabídku Apple a klepněte na O tomto Macu (About this Mac).

Vyberte software, který chcete stáhnout.
Vyberte typ instalace nebo soubor. (Potřebuji 32bitovou nebo 64bitovou verzi?)
Klepněte na Stáhnout software.