Knowledge is power. Here you'll find information on how Logitech for Business technologies can help your business ready itself for the challenges ahead.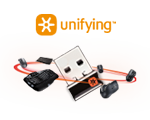 Logitech® Unifying receiver
Notebook computers aren't just for road warriors anymore. See what makes the Unifying receiver and compatible mice and keyboards the ideal wireless solution for your business.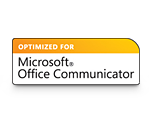 Microsoft Office Communicator 2007
Microsoft Office Communicator 2007 is a unified communications client that helps increase productivity by enabling you to communicate easily with others in different locations.
Learn how to increase productivity and communicate easily with others
Customer Story - Logitech for Business Delivers for Fenwick & West
The verdict is in. In a service-based business, where every billable hour matters, getting busy professionals the right tools for the job is essential to profitability. Because so much service work is done with the aid of computers — both in the office and on the road — the right computer peripherals can mean the difference between being in the red or the black.
Whitepaper - Advanced 2.4 GHz Technology
In today's workplace, businesses demand that employees be increasingly mobile to move quickly, with computer equipment in hand, between in-house meetings, office to home, office to offsite meetings, and to travel to distant locations. More and more companies are therefore prioritizing the adoption of both wireless networks and notebook computers to not only meet these mobility needs, but also to promote comfort and productivity for their busy employees.
Innovation Brief - Logitech® Darkfield Laser Tracking: The World Is Your Mouse Pad
Although mouse tracking technology has advanced significantly in the last two decades – from ballmice, to optical, to laser – some surfaces have remained a challenge. Without a mouse pad, today's mice couldn't track on extremelysmooth or transparent surfaces – such as lacquered tabletops and glass. Beginning in 2005, Logitech – the world's leadingmanufacturer of computermice – embarked on a multiyear research and development project to create a mouse that could overcome these limitations. After considering many options – including Doppler radar, UVimaging and interferometry techniques – Logitech® Darkfield Laser Tracking was developed.
Innovation Brief - Advanced 2.4 GHz Wireless Technology
Wireless networks. Cell phones. Wireless printers. It's a wireless work world and today's offices are teeming with wireless laptops. But while the benefits of a truly wireless office are increasingly apparent, some businesses are still concerned about using wireless computer peripherals – such as keyboards and mice – because of the potential for interference and the cost of installation.
Innovation Brief - Delivering Comfort for Busy Professionals: Comfort Wave Design and Negative Tilt from Logitech
It's easy to understand why improved comfort can directly result in improved productivity. Data entry. E-mail. Instant messages. Presentations. Spreadsheets. Web searches. In today's workplace, computers are the dominant platform through which work gets done. As a result, more and more time is spent typing on a keyboard. According to a study Harvard University conducted for Logitech (Dennerlein 2006), the average PC user types 2 million keystrokes per year. The result can often be fatigue – and less effective employees. To improve comfort for busy professionals, Logitech for Business introduced the Logitech® Comfort Wave 450 keyboard...
Innovation Brief - The Design of Keyboard Comfort
Logitech believes that people want and deserve comfort. Our approach to keyboard design begins with the science of ergonomics and includes continual testing of different comfort keyboard concepts. The result is strikingly attractive keyboards shaped to fit the curves of the human hand.
Customer Story - Kelvin KBB and the Logitech® Pro 2800 Cordless Desktopwith Advanced 2.4 GHz Wireless Technology
In today's fast-paced world of small- and medium-sized businesses, companies are looking to supply their hardworking employees with peripherals that make them more efficient and comfortable. But comfort means more than just supplying products that feel good to use.