Logitech Wireless Headset F540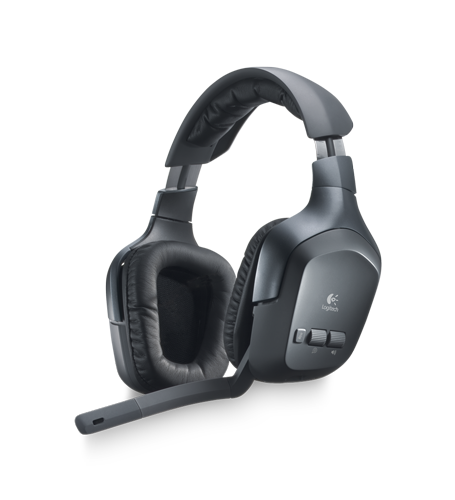 Don't wake the house. This wireless headset lets you play as late as you like.



Loud and clear
A single headset lets you enjoy detailed stereo game audio plus voice chat for your PS3™ and Xbox 360®.

Freedom to play
2.4 GHz wireless lets you play from anywhere in the room—without compromising audio performance.

Stay in the game
Rechargeable batteries keep you playing all night with up to 10 hours* of juice on a single charge.
* Actual battery life will vary with use, settings and environmental conditions. Rechargeable batteries have a limited number of charge cycles.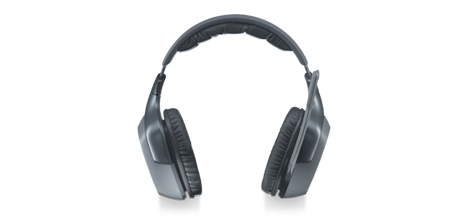 Don't wake the house. Instead play your PS3™ and Xbox 360® games as late as you like—without disturbing others—and get stereo game audio and in-game voice chat from a single headset.


Voice and game audio
Hear every friend, every foe and every effect. You get detailed stereo sound for game audio plus voice chat for your PS3™ and Xbox 360® through one headset.

Gaming-grade wireless
No living room tangles–2.4 GHz digital wireless connectivity delivers gaming-grade performance up to 33 feet (10 meters) from your console.*

Laser-tuned drivers
We analyze each acoustic element—magnet, coil and diaphragm—to optimize the drivers and pinpoint unwanted distortion, so you hear only rich, clear audio.

Painless recharging
Recharge using the universal micro-USB cable—even while you're still playing.

Batteries built for battle
With up to 10 hours of battery life**, this headset can get you through the most epic gaming sessions.

Three audio inputs
Connect your TV, Logitech Squeezebox™, MP3 player or another audio source to the additional RCA and 3.5 mm ports on the wireless base station.

Adjustable headband
You get a personal fit to fend off fatigue.

Plush, noise-isolating ear pads
Ease pressure points and seal out unwanted noise.

Noise-canceling mic
The microphone reduces annoying background noise for clear, intelligible voice commands.

Microphone mute light
The microphone tip glows red when muted.

On-ear controls
You get two independent volume controls for voice and game audio plus a microphone mute button, all conveniently located on your headset.
* Actual wireless range will vary with use, settings and environmental conditions.
** Actual battery life will vary with use, settings and environmental conditions. Rechargeable batteries have a limited number of charge cycles.
Wireless gaming peripherals set you free.
You're free to sit where you please. To move around. To keep cords off your floor. And to store your peripherals wherever you want. When you choose Logitech wireless gaming peripherals, you're free to enjoy gaming your way.

A liberating experience
You can relax in your favorite chair while you play—even if it's far away. You can work the room and put on a show with your wireless microphone or guitar controller. You're no longer tethered to your console or computer. You're free to make your move.

Nothing to get in your way
With our wireless peripherals, there's nothing to come between you and victory. No worrying about people and pets tripping over your cord. Or lags or dropouts slowing you down. Our 2.4 GHz connection gives you smooth, precise control that you can count on to keep you in the game. And devices with Bluetooth® take advantage of your console's capabilities to save a USB port.

Gaming-grade wireless. From Logitech.
Your wireless gamepad is only as good as your wireless connection.

And when it comes to gaming-grade wireless, you want signal clarity, no-lag responsiveness and technology that's smart enough to adapt in the noisy wireless environment of today's living rooms.

Logitech gaming-grade wireless is the answer.

A short history of wireless

This is what it used to be like: Disorienting delays between the explosion you saw on the screen and explosion you heard in your headset. Unplugging the Wi-Fi router and tilting your head in hopes of getting any audio reception. Trying to figure out if the faint static is a friend asking for help or an opponent gunning for you from behind.

Wireless used to mean compromise. Not anymore.

Introducing gaming-grade wireless, now available on the Logitech® Wireless Gaming Headset G930 and the Logitech® Wireless Headset F540.

No compression allowed

From the epic in-game soundtrack to the acoustic details of scattering shrapnel and approaching footsteps, sound immerses you in the game and clues you into the enemy's position. When audio is compressed, you lose—you lose fidelity, you lose detail, you lose the full palette of sound that's in the game. That's why Logitech gaming-grade wireless helps keep every last audio detail intact with no compression. Unlike a Bluetooth® connection that compresses audio, nothing gets lost or over-processed in our headsets' uncompressed audio stream.

Commanding clarity

When your health bar is disappearing fast and you're asking for a quick heal, the last thing you want to see is the medic split off to assist someone else because they don't know who was talking. The human voice actually occupies a relatively narrow range of frequencies. Without the right equipment, it can be difficult to distinguish between your sergeant and your specialist. Using bi-directional (two-way) communication, Logitech gaming-grade wireless supports a high-fidelity, 8 KHz voice channel—double the bandwidth of a hands-free Bluetooth connection. Coupled with the headset's noise-canceling microphone, your teammates will not only hear you loud and clear, they'll be able to better distinguish your voice from other chatter in the channel.

So long, lag

If you've tried other wireless headsets, you've probably fallen victim to the annoying delay between the action you see on your screen and the sound effects you hear in your headset. This perceptible latency—or audio lag—can disorient and distract you, making it hard to keep your name at the top of the leaderboards. With our gaming headsets, you won't have to wrestle with lag. Designed from the ground up specifically for audio, our gaming-grade wireless is not burdened by assigning profiles like "hands-free" or "A2DP" that can slow down the wireless connection. Instead, its single focus on piping game audio and voice chat between the headset and the game results in a fast, lag-free connection. And our gaming-grade wireless is best-in-class when it comes to connecting. Switch on your headset, and you've got a wireless connection instantly. Even better, the wireless setup is hassle-free right out of the box. You won't have to input any secret codes or manually pair your headset. It's just ready to go.

Outsmarting interference

Your worst enemy may not be the rapidly approaching horde of undead, but rather audio static, pops, and dropouts from wireless interference. We've outfitted our headsets with intelligence to combat wireless interference—so you can stay focused on staying alive.

Most wireless headsets have a single antenna. If anything interferes with the wireless link to that antenna, there's no plan B. Your house or a LAN party may be filled with a host of things that can muck up your connection, so a single antenna may not cut it.

That's why we built two antennas into our headsets and two antennas into the USB wireless adapter (of the Logitech Wireless Gaming Headset G930) and wireless base station (of the Logitech Wireless Headset F540). If the headset detects a weak signal, it checks the other antenna and automatically switches to the strongest signal available—so the audio can continue to stream uninterrupted.

Plus, our headsets use radio frequency (RF) technology, which works even if the headset isn't in a line-of-sight with the receiver. So you can grab a snack from the next room between matches and still talk with your clan or guildmates.

Our headsets operate over a 2.4 GHz small-spectrum footprint. Compared to wider-spectrum wireless technologies (such as Wi-Fi, which uses only a handful of channels) , the smaller footprint means the headset wireless signal can avoid interference by hopping between channels—40 to be exact.

But the number of channels alone don't make the wireless signal robust. Using a powerful RF integrated circuit, our headsets constantly analyze and reanalyze the wireless link to keep inference at bay. And clever algorithms—such as forward-error correction and dynamic frequency selection—help maintain a strong wireless signal by switching from channel to channel to fend off bursts of interference, when necessary.

It's nice to know that while you're clearing the level, your headset is clearing a path through wireless interference.

So don't compromise. Go gaming-grade wireless with the Logitech® Wireless Gaming Headset G930 and the Logitech® Wireless Headset F540.

See all Logitech® wireless gaming headsets.

System Requirements
For voice chat:





For stereo audio:

Works with audio sources with 3.5 mm or RCA audio out




Warranty Information
1-year limited hardware warranty
Package Contents
Headset
Wireless base station
Base station power cable
Micro-USB headset charging cable
RCA audio cable
2.5 mm cable for Xbox 360® voice audio
Mini-USB cable for PS3™ voice audio
User documentation