Logitech Wireless Illuminated Keyboard K800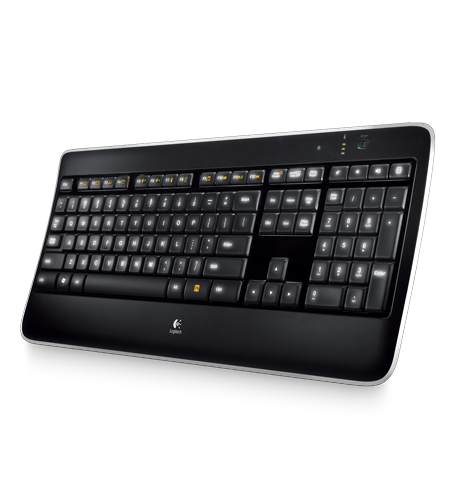 The sleek, comfortable keyboard that delivers a brilliant typing experience—day or night.



Lighting the way
You can work or play anytime with laser-etched, backlit keys that are bright enough to let you type in the dark.

Shines on your desk
Your desk is about to get sleeker thanks to the thin profile, clear edge, and streamlined, wireless design.

Happy tapping
Every stroke you make is comfortable, fluid, and whisper-quiet with the PerfectStroke™ key system.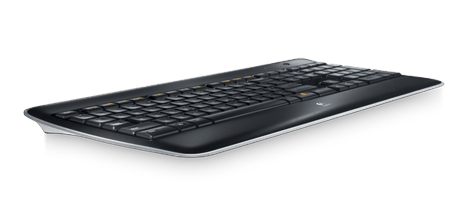 With automatic backlighting and hand proximity detection this sleek, comfortable keyboard delivers a brilliant typing experience—day or night.



Laser-etched, backlit keys
You can type easily—even in the dark—with brightly backlit keys that provide precise illumination. Only the characters are illuminated, so you can see just what you need to see without distraction.

Adjustable backlighting
The keyboard automatically adjusts the backlighting to suit the lighting conditions. Or you can adjust it the way you like it with the press of a button.

Hand proximity detection
Sensors detect your hands as they approach the keyboard to turn the backlight on and off.


Logitech® Incurve keys™
Durable concave keys position your fingers properly, and their softly rounded edges invite your fingertips to glide from key to key, hour after hour.

Fast, easy recharging
You simply plug in the universal micro-USB cable for three to six hours for up to 10 days of battery life.* You can even type while it's recharging.

Sleek, streamlined design
With sleek lines, a clear edge, and low-profile keys, the keyboard adds style to your workspace—whether you've got a laptop or desktop.

Logitech® Unifying receiver
The tiny receiver stays in your laptop. Plus, you can easily add a compatible wireless mouse or keyboard—without the hassle of multiple USB receivers.
Logitech Advanced 2.4 GHz wireless
So you can work or play in more places—like your comfy couch—the long-range wireless connection virtually eliminates delays, dropouts, and interference.

Easy storage
You can store your keyboard standing up to free up space on your desk.

Power management
An on/off switch helps you go longer between charges, while power indicator lights eliminate surprises.

Easy wireless setup
You simply plug the wireless receiver into a USB port on your desktop PC or laptop for a fast, reliable connection right out of the box.

Full-size layout
All the keys are right where you're used to so you can type quickly and comfortably.
* Allow three to six hours for full charge. Actual battery life will vary with use, settings and environmental conditions. Rechargeable batteries have a limited number of charge cycles.
PerfectStroke key system. Your typing experience made near perfect.
Tapping into your needs

Clickety-clack. Remember that sound? The old electric typewriter. If you are old enough to remember, it isn't just the clickety-clack that you probably miss so much. Rather, it's the way the keys felt under your fingers.

It's a desire to create an unforgettable typing experience that drove us to create Logitech® PerfectStroke™ key system. PerfectStroke combines the best of laptop and stand-alone keyboards to help make every key stroke smooth, comfortable, and whisper-quiet.



The perfect blend
Traditional computer keyboards and laptop keyboards each have their benefits. Stand-alone keyboards generally use keys with longer, more comfortable key travel. Notebook keyboards have shorter key travel, but use a scissor-key mechanism that makes the response faster, compared to standard keyboards.

We figured why not give you the best of both worlds? PerfectStroke creates the perfect blend of laptop and traditional keyboards by combining the smooth action of notebook keys and the comfort of traditional keyboards.



Smooth moves
You don't strike the keys perfectly every time. Sometimes, you might just catch the edge of a key. With PerfectStoke, you won't feel the difference. Precision micro-scissors distribute force evenly across key surfaces so every keystroke you make is natural and fluid - even the imperfect ones.



Travel in comfort
With a typical notebook keyboard, your fingers have to travel 2.2 mm to activate a key. Most desktop keyboards, on the other hand, have a much more comfortable key travel of 3.5 mm to 4 mm. We gave our PerfectStroke keyboards a 3.2 mm key travel - so you can enjoy silent, responsive typing that's comfortable too.



Logitech® Unifying receiver
Plug it. Forget it. Add to it. You've got the Logitech® Unifying receiver.

The Unifying receiver stays in your notebook, so there's no need to unplug it when you move around. It's so tiny, you won't need to worry about the receiver breaking off or getting lost.

And it's easy to add a compatible wireless keyboard or mouse to the same receiver. Build your ideal combo. Add something. Replace something. It's as simple as can be and you'll use only one USB port.

Uniting your setup
Your laptop is convenient. You use it on the couch, in the kitchen, at the coffee shop—wherever you want. Logitech makes your laptop as comfortable as it is convenient with portable mice and notebook-ready keyboards.

The Logitech® Unifying receiver takes convenience a step further.

The Logitech® Unifying receiver is a tiny, leave-in wireless receiver. Smaller than most coins, the Unifying receiver not only makes it easy to use a wireless keyboard, mouse, or number pad, it also works with up to six devices.

Plug it in
With the tiny wireless receiver, there's no need to plug and unplug when you're on the move. Or deal with the hassle of multiple receivers. The tiny Logitech® Unifying receiver stays in your notebook and lets you add devices as you need them.

Forget about it
The Unifying receiver is small and always ready. So small, in fact, you can leave it plugged into your USB port when you're on the move—without worrying about breaking or losing it.

Add to it
It's fast and easy to add a compatible wireless mouse, keyboard, or number pad to your receiver. You can mix, match, upgrade, or replace up to six devices—now or in the future—using just one USB port. To connect a new device, you simply open the connection software, click "Pair new device", and turn the device off and on. That's it.

A tiny dynamo
The Unifying receiver packs plenty of power. Built with Logitech® Advanced 2.4 GHz wireless connectivity, Logitech mice with the Unifying receiver give you the reliability of a cord—with the freedom of cordless. You'll enjoy fast data transmission with virtually no delays or dropouts.

Plug it. Forget it. Add to it. You've got the Logitech Unifying receiver.

Compatible with Logitech® Unifying receivers
Looking for a mouse or keyboard (or number pad) that is Unifying compatible? We'll help you find the right one.

Powering your wireless keyboard
More power to you
No one likes to run out of batteries. It's a hassle. Scouring the house for new ones. Finding two that still have juice. Even making an extra trip to the store. At Logitech, we're doing everything we can to make the hassle of replacing batteries hassle-free.



Batteries? What batteries?
Wireless keyboards let you avoid the inconvenience of cords. But unlike a corded keyboard (which is powered via USB and your computer), wireless keyboards use batteries, and batteries do run out of power.

Don't even want to think about changing batteries? We've got just what you need. You can choose a keyboard with a battery life of 15 months—or even three years—and practically eliminate the hassle and expense of changing batteries.*



Charge on

If rechargeable is more your style, we've got those too. You just put your keyboard in its charging base. It's that easy. (Plus it's good for the planet.)

Check out all of our rechargeable keyboards

* Battery life calculation based on an estimated 2,000,000 keystrokes/year in an office environment. User experience may vary.


System Requirements
Windows®-based PC

Windows® XP, Windows Vista® or Windows® 7, Windows® 8
USB Port





Internet access required for software download.
Software required for connecting additional devices with Unifying receiver.
Software available for download here.




Warranty Information
3-year limited hardware warranty
Package Contents
Keyboard
Logitech® Unifying receiver
Micro-USB charging cable
Receiver extender cable
User documentation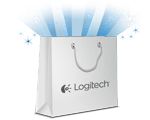 See our Special Offers
Check out our Special Offers on Logitech.com, save on Bundles and more!
Learn More