Folio Protective Case
for Samsung Galaxy Tab 3 10.1
Support FAQs
There are no answers available for this product yet.
Please check back again soon.
Software Downloads





Download Unifying Software

If you already have a Unifying receiver and want to connect additional compatible mice or keyboards, you can get the Logitech Unifying software here.

Get Unifying Software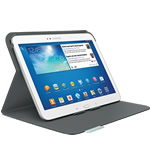 U-A0005
There is no software available for this product.