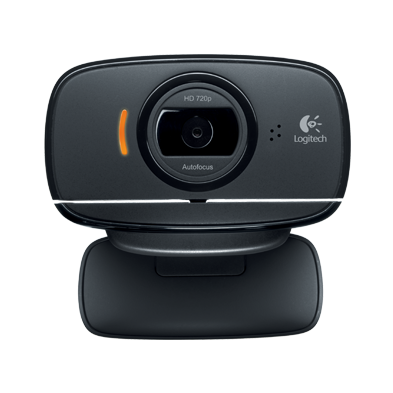 For portable HD video calling and recording—with autofocus.



HD 720p video calls
Enjoy widescreen HD video (720p) on most major IMs that support HD video calls.

Get closer with autofocus
You'll enjoy razor-sharp video calls even in extreme close-ups (up to 7 cm).

Goes where you go
Slip it in your bag, purse, even your pocket—with its fold-and-go design, this webcam goes wherever you go.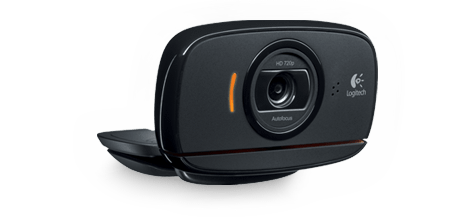 With HD 720p video calling and recording, now you can share your HD world—anywhere, anytime.



HD video calls
You'll get HD 720p video calling on most major instant messaging services.

Premium autofocus
Your images stay razor sharp, even in close-ups (up to 7 cm from the camera lens) with built-in autofocus.

Fold-and-go, plus-swivel design
It's easy to slip it into your bag and take it with you. Plus, the 360-degree, full-rotational design makes calling and recording easier at any angle.
8-megapixel snapshots
You can take high-resolution snapshots at up to 8 megapixels (software enhanced).

Built-in mic with noise reduction
It gives you clear conversations without annoying background noise.

Auto light correction
Even if you make a video call in dim or poorly backlit settings, the camera will intelligently adjust to produce the best possible image.

IM compatibility
Works with Skype™, Windows Live™ Messenger, Yahoo!® Messenger and other popular instant messaging applications.
RightLight™ 2 technology. Be seen in a better light.
Just the right light
Video calls make it feel like you're right in the same room with your family and friends. But if the lighting isn't right, it might just feel like they're talking to a shadow or a faceless ghost.

That's where Logitech® RightLight™ 2 technology comes in. It's a system of hardware and software that delivers high-quality video in less-than-ideal lighting conditions.

You can let RightLight 2 technology automatically do its thing—or you can make manual adjustments whenever you want.



About face
RightLight 2 technology identifies your face in the frame and uses that to determine the light and color settings.

Face too dark? It brightens the whole image so your countenance can be seen clearly.

Too bright? It will darken everything to put your face in the best light.

Most webcams simply measure the amount of light in the entire image. If there's a bright window or lamp in the frame, your face might appear dark and shadowy. That's good for people trying to hide their identity—but not so good for video calls.

More light, less noise
Low light can be tricky for the average webcam. They generally only use software adjustments to increase the brightness, which means your video might be filled with digital noise that shows up as dark specks or digital garble.

But why go artificial when you don't have to?

RightLight 2 technology adjusts the frame rate to increase the exposure time of the camera so the sensor can capture more light and improve the image quality you start out with. And it dramatically reduces background noise by identifying static areas in the image and refreshing them less often.

In contrast
Add a lot of rich color to low light and your typical webcam tends to get confused. All that saturated color adds extra weight to an already dark environment—often resulting in dark, flat images. On top of that, the camera introduces more noise by trying to create contrast where there isn't much.

There's no need to change your outfit or décor with RightLight 2 technology.

RightLight 2 technology slightly lowers the level of color saturation in low light to produce sharp images with greater detail and contrast—and a whole lot less noise. The result? The person on the other end can see you better without seeing specks. RightLight 2. Put yourself in a better light.



System Requirements
General Requirements:

Windows Vista®, Windows® 7 (32-bit or 64-bit) or Windows® 8





Basic requirements:

1 GHz
512 MB RAM or more
200 MB hard drive space
Internet connection
USB 1.1 port (2.0 recommended)





For HD 720p video calling and HD 720p video recording:

2.4 GHz Intel® Core™2 Duo
2 GB RAM
200 MB hard drive space
USB 2.0 port
1 Mbps upload speed or higher
1280 x 720 screen resolution




Warranty Information
2-year limited hardware warranty
Package Contents
Webcam with foot cable
User documentation
Part Number
Technical Specifications
HD video calling (1280 x 720 pixels) with recommended system
HD video capture: Up to 1280 x 720 pixels
Logitech Fluid Crystal™ Technology
Autofocus
Photos: Up to 8 megapixels (software enhanced)
Built-in mic with Logitech RightSound™ technology
Hi-Speed USB 2.0 certified (recommended)
Universal clip fits laptops, LCD or CRT monitors
Logitech webcam software:
Pan, tilt, and zoom controls
Video and photo capture
Face tracking
Motion detection
Software download requires Internet access and is available at logitech.com/downloads.
Software features and offerings subject to change.

Additional services require Internet access and registration.

Some photographs are simulated.