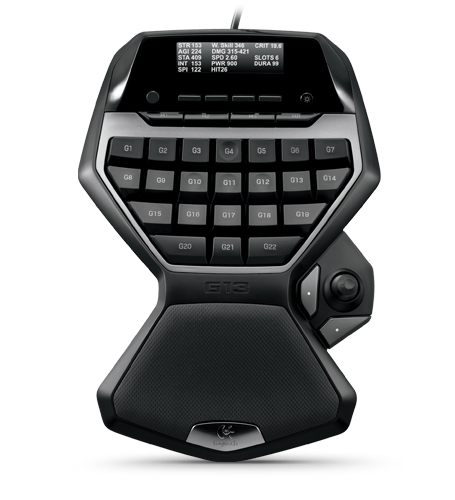 You can dig in, take command, and stay informed with game-changing comfort and control. Or an LCD gameboard that gives you game-changing comfort and control—wherever you go.



Keep clued-in
The GamePanel™ LCD displays information like live stats, system info, and communications from fellow players. Learn more about the gear that gets you there.

Game your way
You can configure up to 25 single keypresses or complex macros per game—and even record new macros on the fly.*

Pick your color
Custom-color character backlighting lets you personalize your gameboard to match your computer and gaming gear.
*Software installation required.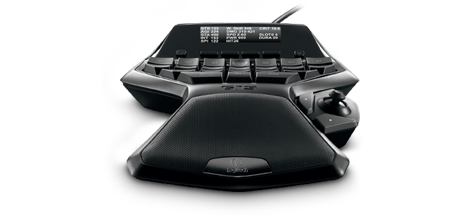 With a GamePanel™ LCD, 25 programmable keys, and a naturally-contoured design, this gameboard gives you game-changing comfort and control.



High-visibility GamePanel™ LCD
You've got easy access to tactical information, including live stats, system info, and communications from your fellow players. Learn more about GamePanel.

25 programmable keys
You can customize keys to suit your style of play—and even assign complex actions to single keystrokes on the fly.*

Backlit keys
You can customize the keys with any backlight color that you want. Easily locate the right key in low-light conditions or lights-out play.

Programmable mini-joystick
The control you need is under your thumb so you can maneuver quickly and easily.

Public software development kit (SDK)
You can upload the latest enhancements developed exclusively for GamePanel™ by the Logitech open-source community.

Naturally contoured design
It follows the natural shape of your hand and fingers for increased comfort during long sessions.

Large, concave buttons
You can locate buttons by touch on the home row.

Solid, stable design
Your gameboard will keep up when your game gets intense. Strategically placed feet. Stable weight (650 grams).

Onboard memory
It saves your profiles so you can take your personal preferences with you.

Portable design
This portable gameboard keeps the game going wherever you go.
*Software installation required.
Playing with the GamePanel™ LCD
Knowledge is power
When it's time to kill the Shadow Council in Terokkar Forest or to place Dhar Charm conduits around the Watchtower on The Blighted Isle, the gear you take into battle can make the difference between a guild-advancing victory and a slaughtering defeat.

For those of you who could benefit from a little extra intelligence—and who couldn't?—the Logitech® GamePanel™ LCD may be the answer to your prayers, er… incantations.

Check out some of the games that work with GamePanel.

Built in to several of our gaming keyboards and gameboards, GamePanel allows you to keep an eye on real-time information such as player rank, server IP, score, times, health status, and ammunition levels in over 35 supported games.

GamePanel can also help you check to make sure your system is performing up to speed, and can even provide media/music information, deliver e-mail notifications, plus lots more.

Check out the Logitech® G19 Keyboard for Gaming

Not just for gameplay anymore
GamePanel also supports a variety of applets, allowing you to view YouTube videos, instant message conversations, and Tweets from Twitter.

Your GamePanel now supports voice communication programs like Ventrilo™ —commonly used in team games such as Battlefield 2142™ and World of Warcraft®. When you use one of these programs, you'll see the name of the person who is currently speaking, the names of people who recently joined or quit the server, and other useful information on the GamePanel while you play.


Extend your abilities
Script jockeys, rejoice. GamePanel software supports a macro-scripting feature in the G-series Keyboard Profiler.

So if programming your average macros wasn't enough for you, scripting allows you to recreate virtually any combination of keystrokes, macros, mouse movements, time delays, and more.

The scripting feature in the software uses the powerful Lua scripting language, which is a standard used by several games—including World of Warcraft and Crysis—to give players flexible, real-time customization.


Logitech G-series. The gear that gets you there.
A millimeter. A millisecond. A customizable control right where you need it. The smallest details can make all the difference. Never an ordinary device, everything in Logitech G-series is crafted to perform, to fit you, to feel real.

G-series is about customization. It's about extreme performance. It's about features nobody's given you before. And understanding just what you want and need because we're not only listening to the gaming community—we're part of it.

Logitech G-series. It's the gear that gets you there by getting out of your way. Victory is up to you.

Here's a sampling of what you can expect from the G-series family:

System Requirements
256 MB RAM
20 MB of available hard disk space
CD-ROM drive
USB port
GamePanel™ LCD requires software that supports Logitech® GamePanel™ technology. See front of box for a partial list, or visit www.logitech.com/gamepanel





Windows-based computer

PC with Pentium® processor or compatible
Windows® XP or Windows Vista® or Windows® 7





Mac computer




Warranty Information
1-year limited hardware warranty
Package Contents
G13 Advanced Gameboard
Quick-start guide
Software CD
Awards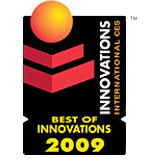 CES Best of Innovations 2009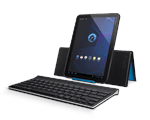 Lightweight. Versatile. Easygoing.
Logitech® Tablet Keyboard for Android™ 3.0+ Check it out