Logitech Wireless Desktop MK710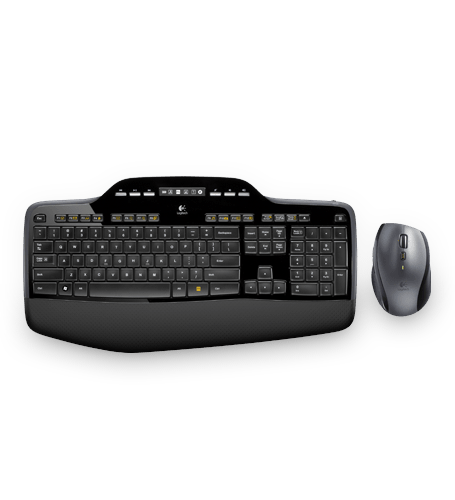 Where comfort and productivity go hand-in-hand.



Power-packed
The up to three-year battery life for both keyboard and mouse makes this combo so hassle-free you just might forget it uses batteries at all.*

Dip into comfort
With Logitech Incurve keys™ and a cushioned palm rest, this low-profile keyboard almost feels like it's custom-made for you.

* Keyboard battery life calculation based on an estimated two million keystrokes/year in an office environment. User experience may vary. Mouse battery life may vary based on user and computing conditions.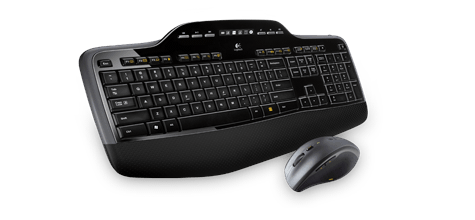 Comfort and productivity go hand-in-hand thanks to concave keys, a cushioned palm rest and a hyper-fast scrolling mouse.



Three-year battery life
The batteries in both the keyboard and mouse last up to three full years, so you can forget the hassle, expense and waste of frequent battery changes.*

Logitech® Incurve keys™
Concave keys with softly-rounded edges position your fingers properly and invite your fingertips to glide from key to key—keeping you comfortable for hours.

Low profile, longer key travel
Not easily found on many low-profile and laptop keyboards, longer key travel improves comfort and your overall typing experience.

Cushioned palm rest
Your hands can relax—the cushioned palm rest feels so much better than hard plastic.

Sculpted mouse
It positions your hand and fingers comfortably and naturally.

Hyper-fast scrolling
You'll fly through long documents and Web pages with just a flick of the nearly frictionless scroll wheel.

LCD dashboard
It gives you at-a-glance icon status of your battery, Caps Lock, Scroll Lock and Num Lock, so you won't skip a beat while typing.

Logitech Unifying receiver
The tiny receiver stays in your laptop. Plus, you can easily add another compatible wireless mouse or keyboard—without the hassle of multiple USB receivers.

Logitech Advanced 2.4 GHz wireless connectivity
You can confidently work and play where you please. Encrypted, secure cordless technology ensures you a reliable connection with virtually no lags or dropouts.**
* Keyboard battery life calculation based on an estimated two million keystrokes/year in an office environment. User experience may vary. Mouse battery life may vary based on user and computing conditions.
** Compared to conventional 27 MHz wireless technologies.
Laser sensors: A controlling interest
Sensing the details

What does a mouse do? Fundamentally, it allows you to control your cursor. And the best measure of cursor control is the accuracy with which the mouse translates the movements you make with your hand.

How precise is your mouse? Logitech mice use advanced sensors to make sure that whether you're clicking links, dragging text, or opening new apps—that whatever you're doing—your computing experience is seamless.

We achieve precision by designing miniature sensors. These sensors take lots of little pictures of the surface below the mouse, interpret those pictures, and translate the movement your hand makes into movement on your screen.



Sensitive to your needs
Some people just need a mouse that works. Others need a mouse that can track on many surfaces. And gamers need a mouse that can give them game-changing precision at any hand speed.



Details, details
There are two kinds of sensors: optical and laser.

Mice with optical sensors track the surfaces beneath them using the available light and an LED lamp.

In 2004, Logitech introduced the first mouse with laser tracking. Laser sensors, compared to optical, produce far more illumination—both of the surface and of the contrast created by, literally, specs of dust on the surface—revealing a wealth of details even on glossy surfaces like highly polished wood. And that means your mouse can track motion precisely on many surfaces, without lags or jitter.



Gaming-grade control
If you're an expert gamer, pixel-perfect tracking can mean the difference between victory and defeat. Our mice with gaming-grade laser sensors can track at speeds all the way up to 5700 dpi. So when the game is on the line, you'll get maximum precision, blinding speed, and ultra-smooth tracking.

Track tested
We rigorously test all of our laser mice on a wide variety of surfaces to make sure your mouse is free of tracking flaws.

* Mice with Logitech® Darkfield Laser Technology cannot track on glass that is 4 mm thick or less, which is not much larger than the head of a pin.



Powering your wireless keyboard
More power to you
No one likes to run out of batteries. It's a hassle. Scouring the house for new ones. Finding two that still have juice. Even making an extra trip to the store. At Logitech, we're doing everything we can to make the hassle of replacing batteries hassle-free.



Batteries? What batteries?
Wireless keyboards let you avoid the inconvenience of cords. But unlike a corded keyboard (which is powered via USB and your computer), wireless keyboards use batteries, and batteries do run out of power.

Don't even want to think about changing batteries? We've got just what you need. You can choose a keyboard with a battery life of 15 months—or even three years—and practically eliminate the hassle and expense of changing batteries.*



Charge on

If rechargeable is more your style, we've got those too. You just put your keyboard in its charging base. It's that easy. (Plus it's good for the planet.)

Check out all of our rechargeable keyboards

* Battery life calculation based on an estimated 2,000,000 keystrokes/year in an office environment. User experience may vary.


System Requirements
Windows-based PC

Windows® XP, Windows Vista®, or Windows® 7, Windows® 8
USB port



Warranty Information
3-year limited hardware warranty
Package Contents
Keyboard
Mouse
USB 2.4 GHz Unifying receiver
4 AA alkaline batteries
User documentation