Logitech Wireless Gaming Headset G930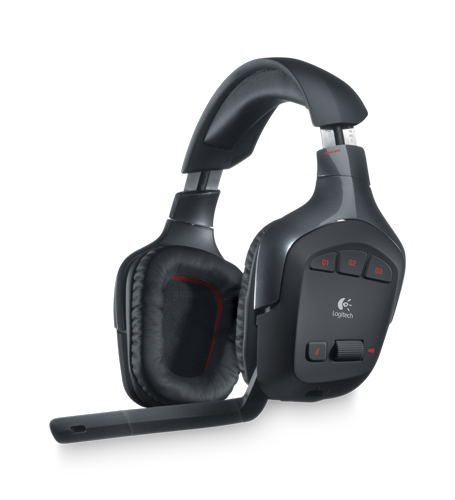 A fast wireless connection lets you level up without being tied down—and 7.1 surround sound puts you right in the middle of the action.


Victory unleashed
Let nothing stand between you and victory with a lag-free 2.4 GHz wireless connection that lets you move freely up to 40 feet (12 meters)* away from your computer.

Hear your enemy
Explosions, footsteps, incoming fire, passing vehicles, team-member commands—you hear it all in 7.1 surround sound.

In command
With three programmable G-keys, you've got one-touch control over in-game elements like music, chat and voice morphing.
* Actual wireless range will vary with use, settings and environmental conditions.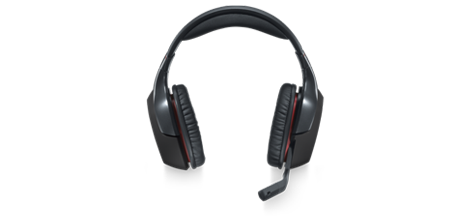 This headset delivers a fast wireless connection so you can level up without being tied down. Add 7.1 surround sound, three programmable G-keys and a comfortable, adjustable fit and you've got everything you need to win.



2.4 GHz wireless connectivity
Designed for a lag-free, interference-resistant connection with a range up to 40 feet (12 meters)*—so nothing stands between you and victory.

7.1 surround sound
Advanced Dolby® technology delivers a detailed soundfield that lets you hear your enemies before they see you.

Three programmable G-keys
You've got one-touch command over music, voice morphing, chat clients and more.***

Adjustable, memory foam-lined headband
Creates a personalized fit to fend off fatigue.

Plush, noise-isolating ear pads
Ease pressure points and seal out unwanted noise.

Laser-tuned drivers
We analyze each acoustic element—magnet, coil and diaphragm—to optimize the drivers and pinpoint unwanted distortion, so you hear only rich, clear audio.

Noise-canceling mic with auto-mute
The microphone reduces annoying background noise for clear, intelligible voice commands, and automatically mutes when you rotate it up and out of the way.

Microphone mute light
The microphone tip glows red when muted.

On-ear audio controls
Adjust volume and microphone mute on the fly—don't fumble for controls in the heat of battle.

Painless recharging
Recharge using the universal micro-USB cable—even while you're still playing. When charging is complete, wrap up the cable inside the charging base.

Batteries built for battle
With up to 10 hours of battery life,** this headset can get you through the most epic gaming sessions.

Adjustable audio settings
Tweak surround sound settings and equalizer levels using the included software.

Real-time voice morphing
You can select from six voices— troll, mutant, alien, giant, cyborg and space squirrel.

Plug-and-play setup
Don't worry about unplugging or rearranging your speakers. Just plug the wireless adapter into the charging base or a USB port and you're ready to play.
* Actual wireless range will vary with use, settings and environmental conditions. ** Actual battery life will vary with use, settings and environmental conditions. Rechargeable batteries have a limited number of charge cycles. *** Downloadable G-key plugins coming soon. Developers and programmers can download the Developer Kit today.
Laser-tuned drivers. Your audio, now with less distortion.
A better listening experience
You listen to a lot of things on your computer. Distortion shouldn't be one of them. That's where our headsets with laser-tuned drivers come in. They minimize distortion so you can hear what you want to hear—and not what you don't.

Tuning out distortion
A driver, otherwise known as the speaker, is the device in your headset that converts PC audio signals into the sound you hear. Most are developed with acoustic measurements alone. But, because we use laser measurements, we can pinpoint potential distortion and eliminate more of it.

With laser tuning, we analyze the physics behind the mechanical motion of each component of the driver. That analysis guides our design. And that means you hear your audio in crystal-clear detail—just the way you were meant to.

7.1 surround sound
Sound. Now, it's your advantage
The Logitech® G35 Surround Sound Headset and the Logitech® Wireless Gaming Headset G930 produce detailed 7.1 surround sound that let you hear what you can't see. And because you don't have eyes in the back of your head (well, most of the time), better audio is an asset.

Footsteps. Enemy fire. Sirens. Surround sound immerses you in everything—every detail—recreating a 360-degree soundfield.

Powered by Dolby®.
Both 7.1 headsets are powered by second-generation Dolby® Headphone technology and gives you:

Seven discrete channels of audio
- One center channel
- Left and right channels at the front, center, and rear

Low Frequency Effects (the low rumbling sound you get from a sub-woofer)
High-performance
40 mm laser-tuned speaker drivers with neodymium magnets, delivering crisp highs, lows, and everything in between
Want even more detailed information? Read the blog post.

Surround sound. Even when it's not.
For two-channel stereo content, our 7.1 headsets use Dolby® Pro Logic II in conjunction with Dolby® Headphone to emulate a surround sound experience.

So if you aren't playing a title that offers 7.1 audio, you can still enjoy the benefits of surround sound.

No, thank you.
There may be times when you don't want surround sound. You can turn surround sound off completely by flipping the switch on the left ear cup.

Logitech G-series. The gear that gets you there.
A millimeter. A millisecond. A customizable control right where you need it. The smallest details can make all the difference. Never an ordinary device, everything in Logitech G-series is crafted to perform, to fit you, to feel real.

G-series is about customization. It's about extreme performance. It's about features nobody's given you before. And understanding just what you want and need because we're not only listening to the gaming community—we're part of it.

Logitech G-series. It's the gear that gets you there by getting out of your way. Victory is up to you.

Here's a sampling of what you can expect from the G-series family:

Gaming-grade wireless. From Logitech.
Your wireless gamepad is only as good as your wireless connection.

And when it comes to gaming-grade wireless, you want signal clarity, no-lag responsiveness and technology that's smart enough to adapt in the noisy wireless environment of today's living rooms.

Logitech gaming-grade wireless is the answer.

A short history of wireless

This is what it used to be like: Disorienting delays between the explosion you saw on the screen and explosion you heard in your headset. Unplugging the Wi-Fi router and tilting your head in hopes of getting any audio reception. Trying to figure out if the faint static is a friend asking for help or an opponent gunning for you from behind.

Wireless used to mean compromise. Not anymore.

Introducing gaming-grade wireless, now available on the Logitech® Wireless Gaming Headset G930 and the Logitech® Wireless Headset F540.

No compression allowed

From the epic in-game soundtrack to the acoustic details of scattering shrapnel and approaching footsteps, sound immerses you in the game and clues you into the enemy's position. When audio is compressed, you lose—you lose fidelity, you lose detail, you lose the full palette of sound that's in the game. That's why Logitech gaming-grade wireless helps keep every last audio detail intact with no compression. Unlike a Bluetooth® connection that compresses audio, nothing gets lost or over-processed in our headsets' uncompressed audio stream.

Commanding clarity

When your health bar is disappearing fast and you're asking for a quick heal, the last thing you want to see is the medic split off to assist someone else because they don't know who was talking. The human voice actually occupies a relatively narrow range of frequencies. Without the right equipment, it can be difficult to distinguish between your sergeant and your specialist. Using bi-directional (two-way) communication, Logitech gaming-grade wireless supports a high-fidelity, 8 KHz voice channel—double the bandwidth of a hands-free Bluetooth connection. Coupled with the headset's noise-canceling microphone, your teammates will not only hear you loud and clear, they'll be able to better distinguish your voice from other chatter in the channel.

So long, lag

If you've tried other wireless headsets, you've probably fallen victim to the annoying delay between the action you see on your screen and the sound effects you hear in your headset. This perceptible latency—or audio lag—can disorient and distract you, making it hard to keep your name at the top of the leaderboards. With our gaming headsets, you won't have to wrestle with lag. Designed from the ground up specifically for audio, our gaming-grade wireless is not burdened by assigning profiles like "hands-free" or "A2DP" that can slow down the wireless connection. Instead, its single focus on piping game audio and voice chat between the headset and the game results in a fast, lag-free connection. And our gaming-grade wireless is best-in-class when it comes to connecting. Switch on your headset, and you've got a wireless connection instantly. Even better, the wireless setup is hassle-free right out of the box. You won't have to input any secret codes or manually pair your headset. It's just ready to go.

Outsmarting interference

Your worst enemy may not be the rapidly approaching horde of undead, but rather audio static, pops, and dropouts from wireless interference. We've outfitted our headsets with intelligence to combat wireless interference—so you can stay focused on staying alive.

Most wireless headsets have a single antenna. If anything interferes with the wireless link to that antenna, there's no plan B. Your house or a LAN party may be filled with a host of things that can muck up your connection, so a single antenna may not cut it.

That's why we built two antennas into our headsets and two antennas into the USB wireless adapter (of the Logitech Wireless Gaming Headset G930) and wireless base station (of the Logitech Wireless Headset F540). If the headset detects a weak signal, it checks the other antenna and automatically switches to the strongest signal available—so the audio can continue to stream uninterrupted.

Plus, our headsets use radio frequency (RF) technology, which works even if the headset isn't in a line-of-sight with the receiver. So you can grab a snack from the next room between matches and still talk with your clan or guildmates.

Our headsets operate over a 2.4 GHz small-spectrum footprint. Compared to wider-spectrum wireless technologies (such as Wi-Fi, which uses only a handful of channels) , the smaller footprint means the headset wireless signal can avoid interference by hopping between channels—40 to be exact.

But the number of channels alone don't make the wireless signal robust. Using a powerful RF integrated circuit, our headsets constantly analyze and reanalyze the wireless link to keep inference at bay. And clever algorithms—such as forward-error correction and dynamic frequency selection—help maintain a strong wireless signal by switching from channel to channel to fend off bursts of interference, when necessary.

It's nice to know that while you're clearing the level, your headset is clearing a path through wireless interference.

So don't compromise. Go gaming-grade wireless with the Logitech® Wireless Gaming Headset G930 and the Logitech® Wireless Headset F540.

See all Logitech® wireless gaming headsets.

System Requirements
Windows® XP, Windows Vista® or Windows® 7
Intel® Pentium® 4 processor or equivalent
USB port
CD-ROM drive
7.1 surround sound and G-key programming require software installation.




Warranty Information
2-year limited hardware warranty
Package Contents
Headset
USB wireless adapter
Charging base
Software CD
User documentation
* Actual wireless range will vary with use, settings and environmental conditions. ** Actual battery life will vary with use, settings and environmental conditions. Rechargeable batteries have a limited number of charge cycles.
Part Number
Technical Specifications
Wireless
Connection: 2.4 GHz RF
Range: up to 40 feet (12 meters)*
Audio stream: uncompressed 48 kHz
Reception: dual antenna
Interference resistance: forward error correction and dynamic channel selection
Battery
Continuous playback time: up to 10 hours per charge**
Charging connection: full-speed USB; charge-while-playing enabled
Charge time: 2.5 hours or less (longer when in use)
Headphone
Ear cup: up to 26 dB noise isolation
Driver: laser-tuned; 40 mm diameter with neodymium magnet; 15mm diameter voice coil with ferrofluid damping
Frequency response: 20 Hz – 20 kHz
Microphone
Pickup pattern: cardioid (unidirectional)
Type: pressure gradient electret condenser
Frequency response: 100 Hz– 75 kHz
Durability
Volume roller: 80,000 revolutions (minimum)
Button: 50,000 presses (minimum)
Headband slide: indexed stainless spring steel
Ear cup rotation joint: aircraft-grade aluminum alloy
Awards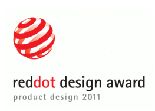 red dot product Design Award 2011