Product Manual





Warranty Information



Software Downloads







Spare Parts Store

Replacement batteries for Harmony remotes

A lost or broken part of your Logitech product needn't cost you a whole new one. Find the spare part you're looking for right here.

More information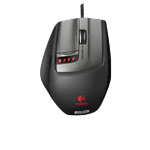 M-U0006
Download Instructions
Select your operating system from the drop-down menu on the left. To determine your operating system:

Windows — Click Start > Run, or in the "Search" box, type winver.exe and press Enter.

Select the software you want to download.
Select the installation type or file.
Click Download Software.
Description
Logitech Gaming Software lets you customize Logitech G gaming mice, keyboards and headsets.
Why Update?
Added support for the G402 gaming mouse
Help has been moved online
SDK updated
New game profiles added for: Dark Souls II, Watch Dogs, Wolfenstein: The New Order
Fixed the following:
G502 - On-board Multi Key macro mouse clicks now appear correctly
G502 - Firmware update now works correctly after unplugging/re-plugging
G602 - Assigned keystrokes now recognized while mouse is moving
G930 - Low battery audio notification now plays at critical (1 hour remaining)
LUA - Support for F13-F24 keys