Go
From the airport to the café to the morning commute, work happens anywhere and anytime. The Logitech Go minimises distractions and makes every workspace as productive and comfortable as possible with efficient, highly mobile tools you'll want to use. With superior design and extreme flexibility, these intuitive peripherals deliver high-quality audio, video and productivity wherever you need to get work done.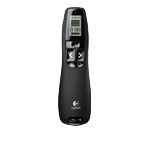 Logitech Professional Presenter R800
Powerful, wireless control for high-impact presentations
Brilliant green laser pointer
Intuitive controls to navigate through slideshow presentations
100-ft (30-meter) range
Visit the R800 Presenter product page >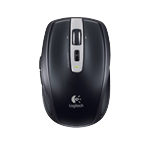 Anywhere Mouse MX
A compact, Laser tracking that works on virtually any surface including glass, and a tiny, leave-in wireless receiver put the power to achieve in your hand. The Anywhere Mouse MX also comes with a travel pouch.
Compact, ergonomically designed
Logitech® Darkfield Laser Tracking™
Hyper-fast scrolling for quick navigation through web pages and documents
Visit the Anywhere Mouse MX product page >