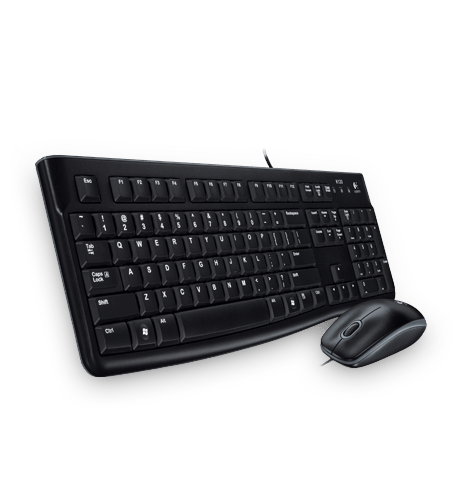 A durable duo that brings comfort, style and simplicity together.



Feel-good typing
Your hands will enjoy the low-profile, whisper-quiet keys and standard layout with full-size F-keys and number pad.

Rugged good looks
The slim keyboard isn't just sleek—it's tough with a spill-resistant design,* sturdy tilt legs and durable keys.

Smooth ride
You'll be moving along smoothly with a precise, high-definition optical mouse to help you get around.
* Tested under limited conditions (maximum of 60 ml liquid spillage). Do not immerse keyboard in liquid.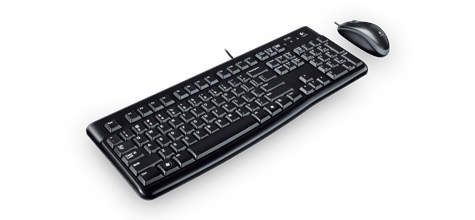 With a sleek, comfortable keyboard and high-definition optical mouse, this durable duo brings comfort, style and simplicity together.



Comfortable, quiet typing
You'll enjoy a comfortable and quiet typing experience thanks to the low-profile keys that barely make a sound and standard layout with full-size F-keys and number pad.

Spill-resistant design*
Liquid drains out of the keyboard, so you don't have to worry about ruining your investment with accidental spills.

High-definition optical tracking
You'll enjoy responsive and smooth cursor control with the high-definition optical tracking (1000 dpi).

Thin profile
The keyboard has a thin profile that adds a sleek look to your desk while keeping your hands in a more comfortable, neutral position.

Durable keys
The keys can last up to 10 million keystrokes** so you can keep typing long after many keyboards have called it quits.

Plug-and-play USB connections
Setup is simple—you just plug your keyboard and mouse into USB ports on your desktop, laptop or netbook computer and start using them right out of the box.

Easy-to-read keys
The bold, bright white characters make the keys easier to read—perfect for those with less-than-perfect vision. They're less likely to wear off, too.

Sturdy, adjustable tilt legs
You can extend the sturdy folding legs to increase the keyboard tilt by 8 degrees to address your personal ergonomic needs.

Logitech reliability
You get the high quality and reliability that's made Logitech the global leader for keyboards and mice at a price you can afford—plus a 3-year warranty.

Curved space bar
It keeps your hands in a more natural position so you can type in greater comfort.
* Tested under limited conditions (maximum of 60 ml liquid spillage). Do not immerse keyboard in liquid.
** Excludes number lock key.
Comfort is key with Logitech keyboards
Laser sensors: A controlling interest
Sensing the details

What does a mouse do? Fundamentally, it allows you to control your cursor. And the best measure of cursor control is the accuracy with which the mouse translates the movements you make with your hand.

How precise is your mouse? Logitech mice use advanced sensors to make sure that whether you're clicking links, dragging text, or opening new apps—that whatever you're doing—your computing experience is seamless.

We achieve precision by designing miniature sensors. These sensors take lots of little pictures of the surface below the mouse, interpret those pictures, and translate the movement your hand makes into movement on your screen.



Sensitive to your needs
Some people just need a mouse that works. Others need a mouse that can track on many surfaces. And gamers need a mouse that can give them game-changing precision at any hand speed.



Details, details
There are two kinds of sensors: optical and laser.

Mice with optical sensors track the surfaces beneath them using the available light and an LED lamp.

In 2004, Logitech introduced the first mouse with laser tracking. Laser sensors, compared to optical, produce far more illumination—both of the surface and of the contrast created by, literally, specs of dust on the surface—revealing a wealth of details even on glossy surfaces like highly polished wood. And that means your mouse can track motion precisely on many surfaces, without lags or jitter.



Gaming-grade control
If you're an expert gamer, pixel-perfect tracking can mean the difference between victory and defeat. Our mice with gaming-grade laser sensors can track at speeds all the way up to 5700 dpi. So when the game is on the line, you'll get maximum precision, blinding speed, and ultra-smooth tracking.

Track tested
We rigorously test all of our laser mice on a wide variety of surfaces to make sure your mouse is free of tracking flaws.

* Mice with Logitech® Darkfield Laser Technology cannot track on glass that is 4 mm thick or less, which is not much larger than the head of a pin.



System Requirements
Windows-based PC

Windows® XP, Windows Vista® or Windows® 7, Windows® 8
Two available USB ports





Linux®

Linux® kernel 2.6+
Two available USB ports




Warranty Information
3-year limited hardware warranty
Package Contents
Keyboard
Mouse
User documentation
Part Number
PN 920-002559
PN 920-002534
PN 920-002537
PN 920-002539
PN 920-002540
PN 920-002542
PN 920-002543
PN 920-002550
PN 920-002552
PN 920-002562
PN 920-002563
PN 920-002823