Logitech G35 Surround Sound Headset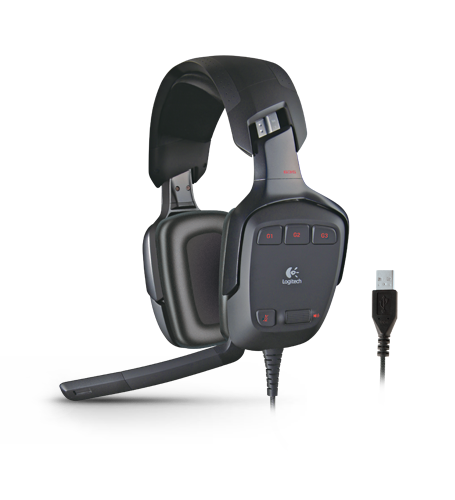 Victory never sounded so good, thanks to game-changing 7.1 surround sound powered by Dolby®.



Hear your enemy
Explosions, footsteps, incoming fire, passing vehicles, team-member commands—you hear it all as if you were there.

Combat comfort
Marathon sessions, here you come—three swappable headband pads help you stay comfortable.

In command
With three programmable G-keys, you've got one-touch control over in-game elements like music and voice morphing. Learn more about the gear that gets you there.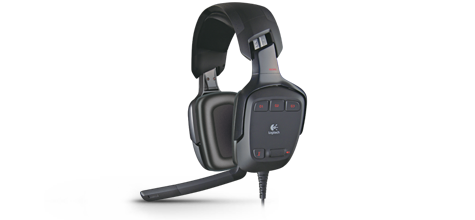 With gaming-changing 7.1 surround sound powered by Dolby® and three swappable headband pads, victory never sounded or felt so good.



7.1 surround sound
It delivers a detailed soundfield that lets you hear your enemies before they see you. Powered by Dolby® technology. Learn more about surround sound for the G35.

Three swappable headband pads
This headset comes with interchangeable contoured cushions, so you can find a fit that feels just right.

Three customizable G-keys
You've got one-touch command over music, voice morphing, and more.

On-ear audio controls
You can quickly access volume, microphone mute, and surround sound adjustments.

Noise-canceling mic
It reduces annoying background noise for clear, intelligible voice commands.

Full-speed, all-digital USB connection
It delivers clean, clear audio and lets you keep your desk speakers plugged into your sound card. Learn more about the value of USB audio.

Real-time voice morphing
You can select from six voices—Troll, Mutant, Alien, Giant, Cyborg, and Space Squirrel.

Rotating mic boom with auto-mute
The microphone mutes automatically when you rotate it up and out of the way.

Microphone mute light
It glows red when the mic is muted.

Laser-tuned audio
You'll enjoy high-quality, uncompressed stereo audio thanks to 40 mm laser-tuned speaker drivers with neodymium magnets. Why is laser-tuned audio better?

Ear-enclosing design
It helps shield you from distractions and immerses you in the game.
Logitech G-series. The gear that gets you there.
A millimeter. A millisecond. A customizable control right where you need it. The smallest details can make all the difference. Never an ordinary device, everything in Logitech G-series is crafted to perform, to fit you, to feel real.

G-series is about customization. It's about extreme performance. It's about features nobody's given you before. And understanding just what you want and need because we're not only listening to the gaming community—we're part of it.

Logitech G-series. It's the gear that gets you there by getting out of your way. Victory is up to you.

Here's a sampling of what you can expect from the G-series family:

7.1 surround sound
Sound. Now, it's your advantage
The Logitech® G35 Surround Sound Headset and the Logitech® Wireless Gaming Headset G930 produce detailed 7.1 surround sound that let you hear what you can't see. And because you don't have eyes in the back of your head (well, most of the time), better audio is an asset.

Footsteps. Enemy fire. Sirens. Surround sound immerses you in everything—every detail—recreating a 360-degree soundfield.

Powered by Dolby®.
Both 7.1 headsets are powered by second-generation Dolby® Headphone technology and gives you:

Seven discrete channels of audio
- One center channel
- Left and right channels at the front, center, and rear

Low Frequency Effects (the low rumbling sound you get from a sub-woofer)
High-performance
40 mm laser-tuned speaker drivers with neodymium magnets, delivering crisp highs, lows, and everything in between
Want even more detailed information? Read the blog post.

Surround sound. Even when it's not.
For two-channel stereo content, our 7.1 headsets use Dolby® Pro Logic II in conjunction with Dolby® Headphone to emulate a surround sound experience.

So if you aren't playing a title that offers 7.1 audio, you can still enjoy the benefits of surround sound.

No, thank you.
There may be times when you don't want surround sound. You can turn surround sound off completely by flipping the switch on the left ear cup.

USB speakers. Pure sound that's pure simplicity.
Better sound and then some
Music, movies, games, and YouTube videos—you've got a whole lot of reasons to want better sound for your computer. USB speakers can give you that and more, including information, such as track info.

Sayonara, soundcard
You already know the speakers that came with your computer aren't the best. But that's not the whole story. Some integrated soundcards can cause distortion and noise even with good speakers. With USB speakers, the quality of your soundcard just doesn't matter. In fact, you don't even need one. They deliver pure digital audio straight from the source—without any hiss.

Show-offs
USB can deliver more than audio—it can deliver information, too. And that means USB speakers have the potential to do some cool stuff. Like display track info and e-mail alerts in an LCD screen or let you switch songs right from your speaker.

Take it easy
No need to settle for mediocre sound when you're on the go with your notebook. Our portable USB speakers deliver sound and power with one cord—so you don't have to search for an outlet or carry another power cord.

Hear more. Play better.
Today's games are about much more than dots on a screen. And in-game sound isn't just an effect. It's a critical component of game play. Our USB headphones and speaker systems surround you with aural information, faithfully and realistically.

Laser-tuned drivers. Your audio, now with less distortion.
A better listening experience
You listen to a lot of things on your computer. Distortion shouldn't be one of them. That's where our headsets with laser-tuned drivers come in. They minimize distortion so you can hear what you want to hear—and not what you don't.

Tuning out distortion
A driver, otherwise known as the speaker, is the device in your headset that converts PC audio signals into the sound you hear. Most are developed with acoustic measurements alone. But, because we use laser measurements, we can pinpoint potential distortion and eliminate more of it.

With laser tuning, we analyze the physics behind the mechanical motion of each component of the driver. That analysis guides our design. And that means you hear your audio in crystal-clear detail—just the way you were meant to.

System Requirements
Intel® Pentium® 4 processor or equivalent
Windows® XP, Windows Vista® or Windows® 7.
30 MB available hard drive space
CD-ROM drive
USB port




Warranty Information
2-year manufacturer's guarante
Package Contents
Logitech® G35 headset
3 headband pads
Quick-start guide
CD software
Part Number
Technical Specifications
Headphone
Driver: 40 mm diameter, neodymium magnet, 15 mm diameter voice coil with ferrofluid damping
Frequency response: 20 Hz – 20 KHz diffuse-field equalized
Impedance: 32 ohm nominal
Sensitivity: 90 dB SPL Ref: 1 mW, 1 KHz
Microphone
Pickup pattern: Unidirectional (cardioid)
Frequency response: 100 Hz – 10 KHz
Sensitivity: -42 dBV/Pa re: 0 dB = 1 Pa, 1 KHz
Test conditions: 3.0 V, 2.2 K ohm
Connection
Full-Speed USB 2.0 compliant
Cable: 10 feet/3.05 m, woven insulation
Awards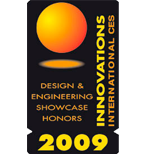 CES Innovations 2009
January 2009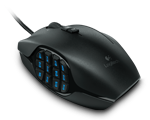 Logitech G600 MMO Gaming Mouse
With 20 buttons, the Logitech G600 MMO Gaming Mouse is the most customizable and easy to use mouse specifically designed for mastering your favorite MMOs. Learn More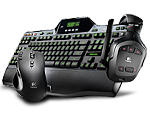 Logitech G-Series
Get the gear that helps you win without getting in your way. Equip yourself with our gaming-grade mice, keyboards, headsets and other G-series peripherals. Learn More