Logitech Wireless Performance Combo MX800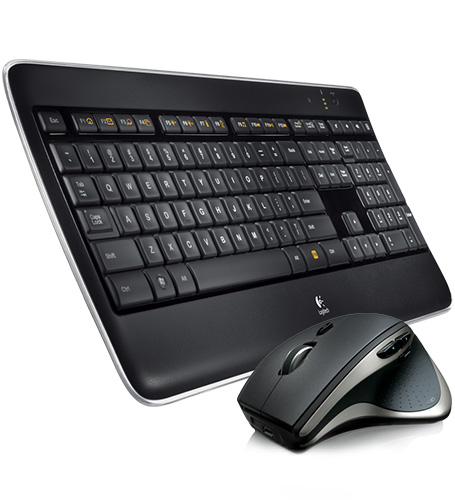 Illuminated wireless keyboard
Type comfortably, even in low light, with intelligent auto-illuminated keys.

Comfortable, fluid and quiet typing
Laser-etched Incurve™ keys position your fingers at the optimum comfort level for typing, while you enjoy the smooth, whisper-quiet PerfectStroke™ typing experience.

Darkfield Laser Tracking
Precise control on virtually any surface, where standard mice fail. Now you have a mouse that even tracks on glass.*

*4mm minimum thickness

Hyper-Fast scroll and programmable buttons
Easily navigate documents and web pages at your own pace with this mouse, using either Hyper-Fast or Click-to-click scrolling. Speed things up with four customizable thumb buttons.

Unifying receiver
The Logitech Unifying™ receiver is small enough to stay in your USB port when you move around. Plus, you can easily add up to six compatible wireless devices.
Logitech® Darkfield Laser Tracking™
Now, your mouse works where others don't - even on glass.
You work and play all over the place—and that means you're going to encounter all sorts of work surfaces. A glass desk or shiny table shouldn't stand in your way.
That's why we created Logitech® Darkfield Laser Tracking™, featured in the Logitech® Anywhere Mouse MX™ and the Logitech® Performance Mouse MX™.
Darkfield tracks on surfaces like clear glass* and lacquered desks that stump optical mice and standard laser mice. So now your mouse works wherever you do.

It's all in the details.

Optical and traditional laser mice use irregularities in the surface to track the direction and speed of your mouse. The more irregularities on a surface, the easier it is for the sensor to track your movements.

But use your mouse on a smooth, glossy surface like clear glass, and there just aren't enough imperfections for your standard mouse to work. This is where Darkfield Laser Tracking comes in. Darkfield uses the smallest possible details to create a micro-road map of the surface—so you get better precision on more surfaces.



Can this mouse do everything?

Just about. Keep in mind, however, that we haven't designed the first two mice with Darkfield Laser Tracking for gamers or for those working on laboratory-grade clean glass.

If you're making lighting-fast maneuvers and need gaming-grade cursor speed, take a look at the Logitech® G9x Laser Mouse.



And if you're working on exceptionally clean glass, you may have to wait until the dust settles. For surfaces with fewer than 44 microscopic details (per square millimeter) that are less than 5 µm wide and 1.5 µm thick—to give some context, a strand of human hair is about 100 µm wide—you may want to swipe your hand across the surface before using your mouse.

But for everyone else, Darkfield Laser Tracking gives you precise cursor control on virtually any surface—even glass.
*At least 4 mm thick.
System Requirements
Windows-based PC

Windows® XP, Windows Vista®, Windows® 7, Windows® 8 or later
USB port
Internet connection




Warranty Information
3-year Limited hardware warranty
Package Contents
What's in box:
K800 Keyboard
Performance Mouse MX
Logitech® Unifying receiver
Micro-USB charging cable
Receiver extender cable
User documentation
Part Number
PN 920-006240
PN 920-006241
PN 920-006239
PN 920-006242
PN 920-006238
PN 920-006243