PerfectStroke key system. Your typing experience made near perfect.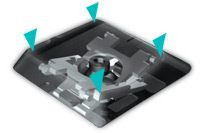 Tapping into your needs
Clickety-clack. Remember that sound? The old electric typewriter. If you are old enough to remember, it isn't just the clickety-clack that you probably miss so much. Rather, it's the way the keys felt under your fingers.

It's a desire to create an unforgettable typing experience that drove us to create Logitech® PerfectStroke™ key system. PerfectStroke combines the best of laptop and stand-alone keyboards to help make every key stroke smooth, comfortable, and whisper-quiet.


The perfect blend
Traditional computer keyboards and laptop keyboards each have their benefits. Stand-alone keyboards generally use keys with longer, more comfortable key travel. Notebook keyboards have shorter key travel, but use a scissor-key mechanism that makes the response faster, compared to standard keyboards.

We figured why not give you the best of both worlds? PerfectStroke creates the perfect blend of laptop and traditional keyboards by combining the smooth action of notebook keys and the comfort of traditional keyboards.


Smooth moves
You don't strike the keys perfectly every time. Sometimes, you might just catch the edge of a key. With PerfectStoke, you won't feel the difference. Precision micro-scissors distribute force evenly across key surfaces so every keystroke you make is natural and fluid - even the imperfect ones.


Travel in comfort
With a typical notebook keyboard, your fingers have to travel 2.2 mm to activate a key. Most desktop keyboards, on the other hand, have a much more comfortable key travel of 3.5 mm to 4 mm. We gave our PerfectStroke keyboards a 3.2 mm key travel - so you can enjoy silent, responsive typing that's comfortable too.