You work and play all over the place—and that means you're going to encounter all sorts of work surfaces. A glass desk or shiny table shouldn't stand in your way.
That's why we created Logitech® Darkfield Laser Tracking™, featured in the Logitech® Anywhere Mouse MX™ and the Logitech® Performance Mouse MX™.
Darkfield tracks on surfaces like clear glass* and lacquered desks that stump optical mice and standard laser mice. So now your mouse works wherever you do.

*At least 4 mm thick.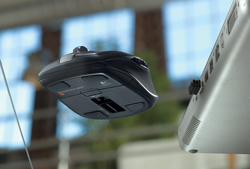 It's all in the details.
Optical and traditional laser mice use irregularities in the surface to track the direction and speed of your mouse. The more irregularities on a surface, the easier it is for the sensor to track your movements.
But use your mouse on a smooth, glossy surface like clear glass, and there just aren't enough imperfections for your standard mouse to work. This is where Darkfield Laser Tracking comes in. Darkfield uses the smallest possible details to create a micro-road map of the surface—so you get better precision on more surfaces.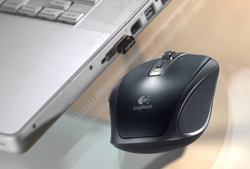 And if you're working on exceptionally clean glass, you may have to wait until the dust settles. For surfaces with fewer than 44 microscopic details (per square millimeter) that are less than 5 µm wide and 1.5 µm thick—to give some context, a strand of human hair is about 100 µm wide—you may want to swipe your hand across the surface before using your mouse.
But for everyone else, Darkfield Laser Tracking gives you precise cursor control on virtually any surface—even glass.