Logitech Squeezebox™ Radio Red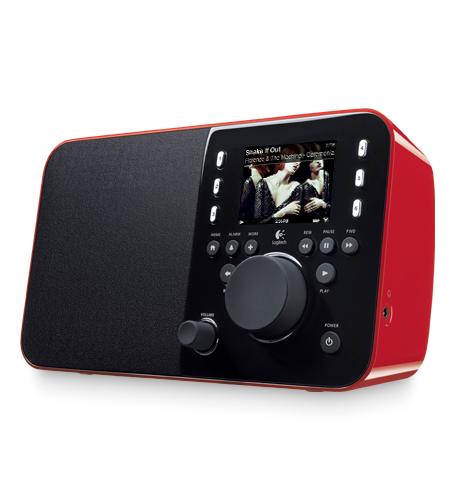 A compact all-in-one network music player—that lets you rock the house with digital music.



An easy fit
The compact size means you can enjoy your music almost anywhere—your kitchen, bedroom, bathroom, or even patio.

Music in the air
It wirelessly streams what you want to hear—your digital music library, Internet radio, and online music services.*Tell me more about Squeezebox.

A sound choice
This all-in-one player hits all the right notes—delivering big sound from a small package with very low distortion.
* Registration/subscription may be required. Fees may apply.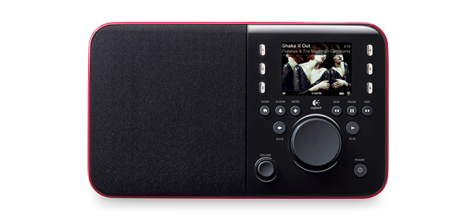 A compact all-in-one network music player and alarm that lets you rock the house with the digital music on your computer and the Internet.



Compact design
Your Logitech® Squeezebox™ Radio fits easily just about anywhere in your home—the kitchen, bedroom, bathroom, even the patio—without taking up a lot of counter space.

Easy access to digital music
You can play songs from your personal library, tune in to thousands of Internet radio stations, or connect to online services like Deezer, lastfm and Napster.*

Support for Wi-Fi and Ethernet
No wires needed—seamless integration with your existing home network lets you listen to the music on your computer in any room.

Big sound from a small package
You'll enjoy high-quality sound with very low distortion thanks to a two-way speaker and support for 24/48 kHz encoding.Watts? What? Learn more in the audio glossary.

Simple, guided setup
You'll be listening within minutes—it's easy to get connected, browse Internet radio stations, and sign up for online music services. Or attach your iPod.Learn how easy it is to set up a Squeezebox.

6 cm colour screen
It displays album art, track and station information, visualizers, screen savers, and more.

Auto-dimming display and alarm
This compact player is an ideal bedside companion. The display adjusts to any lighting condition—so it's never too bright or too dim.

Plays most digital music formats
It supports just about any format you've got, including MP3, FLAC, WMA, WMA Lossless, AAC, Apple Lossless, WAV, and AIFF.
* Registration/subscription may be required. Fees may apply.
Logitech® Squeezebox™. Giving you an infinite playlist.
Your music, your way
With a Logitech® Squeezebox™ player, it's all about what you want. Maybe you just like to listen to your own music collection. Or you're always hunting for something new. Whatever your music tastes and listening style are, a Squeezebox player gives you an infinite playlist.

Your own collection
It doesn't matter if your library includes 100 tracks or 100,000. Or if you rip your own CDs or buy your music from services like iTunes®, Amazon® MP3, or eMusic. Your Squeezebox lets you browse, organize, and play your digital music collection anywhere in your house.

Got music on more than one computer at your place? No problem. Your Squeezebox can find it all—whether your computers are running Windows®, Mac OS® X, or Linux. You've even got instant access to music you store on an NAS drive or MP3tunes music locker.

A world of Internet radio
The entertainment doesn't end at your own collection. You can listen to a whole world of entertainment from near or far with your Squeezebox. Thousands of free Internet radio stations let you enjoy everything from mainstream pop to stuff that's just too eclectic for FM. Music, talk radio, podcasts—it's all yours for the listening.

Online music services
Want more options? We've partnered with some of the biggest and best subscription music services in the world—like Pandora®, Slacker®, and Rhapsody®—to give you even more musical freedom.

Subscribe to one of these services and you'll always have something new to listen to. You can keep up with the latest releases, discover new music based on what you already love, and access enormous catalogs of music spanning over sixty years in any genre.

System Requirements
Windows-based PC
Windows® XP, Windows® 2000, Windows® NT, Windows Vista® or Windows® 7
Mac® computer
Mac OS® X 10.3.5 or later
For access to music on your computer, use Squeezebox software with the minimum system requirements:
256 MB RAM and 80 MB available hard disk space
With any of the following operating systems:
Windows® XP/2000/NT/7, Windows Vista®, 733 MHz Pentium
Mac OS® X 10.3.5 or later
Linux/BSD/Solaris (Perl 5.8.3 or later)
Ethernet or 802.11b/g wireless home network
Broadband Internet connection required for Internet radio and music services




Warranty Information
2-year limited hardware warranty
Package Contents
Wi-Fi Internet radio
Power adapter with removable plug
Line-in cord for most iPod and other MP3 players with standard 3.5 mm jack
Part Number
Technical Specifications
Audio formats
MP3, FLAC, WAV, AIFF, WMA, Ogg Vorbis, AAC, Apple Lossless
Other formats supported through transcoding
Some formats may require additional software installation
Internet radio
Support for MP3, Ogg Vorbis, AAC and WMA formatted Internet radio streams
Wireless interface
Built-in 802.11g (802.11n and 802.11b compatible) wireless
One-touch setup (with compatible WPS-supporting routers)
Supports WPA Personal, WPA2-AES, and 64/128-bit WEP encryption
Ethernet interface
Connects to any 10/100 Mbps Ethernet network (with Auto MDX)
General
6 cm 24-bit colour LCD
Ambient light sensor to adjust display brightness according to environment
6 preset buttons allow one touch access to favourite radio stations and playlists
Alarm clock with 7 days of settings
Line-in via 3.5 mm stereo jack
Speakers and amplifier
2 cm high-definition, soft-dome tweeter and 7.6 cm high-power, long-throw woofer
Bi-amplified class D design with digital electronic crossover
3.5 mm stereo headphone jack
Additional options sold separately (available March 2010)
Rechargeable battery pack
Infrared remote
Part of the Squeezebox family
Works with all Squeezebox products for whole home audio
Dimensions (H x W x D):
13 cm x 22 cm x 8.5 cm
From front edge of knob to peak of curve on back surface
Awards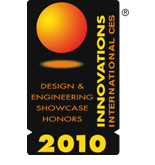 CES Innovations 2010 Honoree
Audio Components category
Learn More
Find a Store Near You
Enter your postal code to find stores that carry Logitech products.
Find a Product Online
This product is available at the following websites: