Logitech Zone Touch Mouse T400
Simple, easy touch navigation for Windows® 8 with familiar precision and comfort.


Zone Touch Mouse T400
Watch how simple and easy Windows® 8 navigation can be with three touch actions.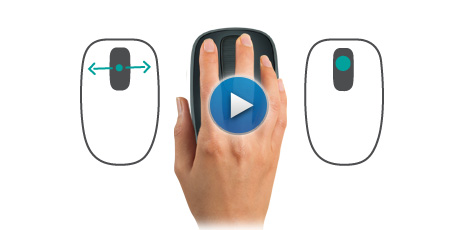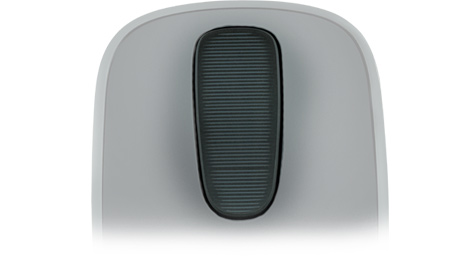 Glass touch zone for smooth scrolling
Essential Windows 8 navigation comes alive with horizontal and vertical scrolling with the simple, intuitive motions of your finger.
Handles great, feels even better
You'll find the shape to be familiar, and we've added rubber to the sides for better comfort and handling.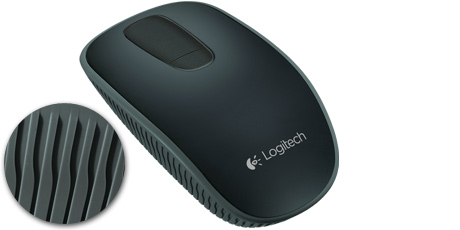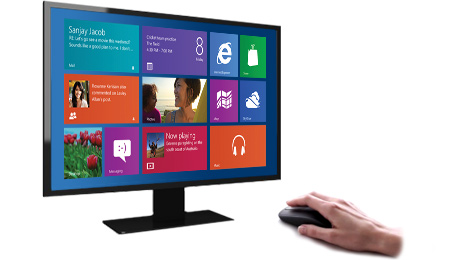 Quick access to Windows 8 Start screen
Easily access your favorite apps on the Windows 8 Start screen with a simple dedicated action.
18-month battery life
With up to 18 months of battery life*, it's so hassle free you might forget it runs on batteries. But just in case, we've added a battery status indicator to make sure you're never caught without power.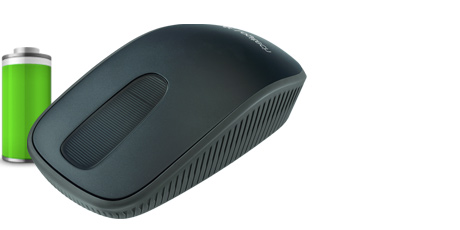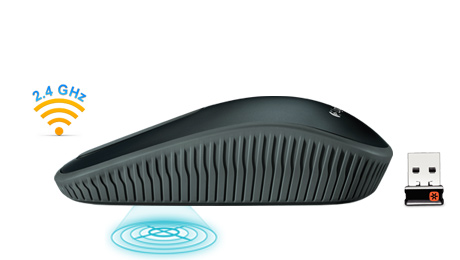 Logitech Advanced Technology
Plug it. Forget it. Add to it.
Unifying receiver connects up to six compatible devices.
Learn more
Download the unifying software

Advanced 2.4 GHz wireless
Say good-bye to cords and enjoy wireless freedom.
Learn more

Logitech Advanced Optical Tracking
Enjoy precise point and click actions.
Learn more

Customizable Controls
Personalize with optional Logitech SetPoint™ software.
Learn more

*Battery life may vary based on use and computing conditions.
Wireless mice. Cut the cord.
You don't have to stay tied to your desk. Or live with the chaos of cords.

With Logitech wireless mice, you're free. Free to be more productive and comfortable on the go. To keep your desk clutter-free. And to say "no thanks" to your notebook's tricky touch pad.

With a variety of wireless options, you're also free to pick which type of wireless works best for you. But don't worry—we're here to untangle all the terminology and technology.

The power player: Advanced 2.4 GHz
Logitech Advanced 2.4 GHz wireless delivers even more robust, reliable performance than ever before, effectively eliminating delays and dropouts (compared to conventional 2.4 GHz and 27 MHz wireless technologies).

Even in the busiest wireless environments, such as a busy airport or high-tech office, Logitech Advanced 2.4 GHz wireless technology delivers the reliability of a cord plus cordless convenience and freedom.

Your mouse is automatically paired with the receiver plugged into your computer and minimizes conflicts with other devices. So, you can use your mouse with the most demanding applications and know that every move you make will be carried out instantaneously. It uses less battery power than other wireless technologies, too.

Check out all of our Advanced 2.4 GHz wireless mice.
Just plain easy: Bluetooth®
No dongle, no cord—Bluetooth® mice give you a hassle-free connection to your Bluetooth-enabled computer.

Logitech® Unifying receiver
Plug it. Forget it. Add to it. You've got the Logitech® Unifying receiver.

The Unifying receiver stays in your notebook, so there's no need to unplug it when you move around. It's so tiny, you won't need to worry about the receiver breaking off or getting lost.

And it's easy to add a compatible wireless keyboard or mouse to the same receiver. Build your ideal combo. Add something. Replace something. It's as simple as can be and you'll use only one USB port.

Uniting your setup
Your laptop is convenient. You use it on the couch, in the kitchen, at the coffee shop—wherever you want. Logitech makes your laptop as comfortable as it is convenient with portable mice and notebook-ready keyboards.

The Logitech® Unifying receiver takes convenience a step further.

The Logitech® Unifying receiver is a tiny, leave-in wireless receiver. Smaller than most coins, the Unifying receiver not only makes it easy to use a wireless keyboard, mouse, or number pad, it also works with up to six devices.

Plug it in
With the tiny wireless receiver, there's no need to plug and unplug when you're on the move. Or deal with the hassle of multiple receivers. The tiny Logitech® Unifying receiver stays in your notebook and lets you add devices as you need them.

Forget about it
The Unifying receiver is small and always ready. So small, in fact, you can leave it plugged into your USB port when you're on the move—without worrying about breaking or losing it.

Add to it
It's fast and easy to add a compatible wireless mouse, keyboard, or number pad to your receiver. You can mix, match, upgrade, or replace up to six devices—now or in the future—using just one USB port. To connect a new device, you simply open the connection software, click "Pair new device", and turn the device off and on. That's it.

A tiny dynamo
The Unifying receiver packs plenty of power. Built with Logitech® Advanced 2.4 GHz wireless connectivity, Logitech mice with the Unifying receiver give you the reliability of a cord—with the freedom of cordless. You'll enjoy fast data transmission with virtually no delays or dropouts.

Plug it. Forget it. Add to it. You've got the Logitech Unifying receiver.

Compatible with Logitech® Unifying receivers
Looking for a mouse or keyboard (or number pad) that is Unifying compatible? We'll help you find the right one.

SetPoint™ Software
Logitech SetPoint software lets you personalize the settings of your mouse or keyboard so your favorite functions are just a click away. You'll want to install SetPoint if:
You want to change what the buttons on your mouse do. SetPoint lets you assign a variety of functions to your mouse buttons, including the new Windows® 8 features listed below.
Your mouse has more than 5 buttons. Windows has built-in support for five-button mice, but if your mouse has more than five buttons then you'll need to install SetPoint to support the extra buttons. If your mouse is a Logitech G-Series gaming mouse then you will need to install Logitech Gaming Software (LGS) instead of SetPoint.
Your mouse has a tilt wheel and you want to use it to scroll left and right in traditional Windows desktop applications like Microsoft Excel.
You want to assign shortcuts for common Windows 8 functions to your keyboard's F-keys.
Mouse functions built into Windows 8
SetPoint is not required for the following mouse functions that are built into Windows 8:
Left click
Right click
Middle click*
Back/forward buttons for navigating Web pages
Scrolling**
If you want to assign other functions to your mouse buttons, then you can use SetPoint to change the functionality of your mouse buttons.

Additionally, if your mouse has a tilt wheel, it will work in most Windows 8 style applications, but you will need SetPoint if you want to scroll horizontally in traditional Windows desktop applications.
Windows 8 shortcuts for mice & keyboards
You can assign the following features to the F-keys on your keyboard, the middle mouse button, or additional mouse buttons if your Logitech mouse has them. Except for Show Desktop, these functions only work in Windows 8.
Start Screen: When Start screen is assigned to a mouse button or keyboard key, pressing the button will take you directly the Start screen. A second press will take you back to your previous location.
Show Desktop: Takes you to the desktop in Windows 8. Minimizes open application windows in Windows 7.
Switch Applications: This function cycles through your open applications one at a time with each button press.
Charms: Opens the Windows 8 Charms bar.
App Bar: Opens the App Bar in Windows 8-style applications.
* Middle click functionality depends on the app you are using. For example, middle clicking on a link in a web page usually opens the link in a new tab. Not all applications support middle click.
** Side-to-side scrolling only works with Windows 8 style applications; most traditional Windows desktop applications require SetPoint for side-to-side scrolling.
Windows® 7 Actions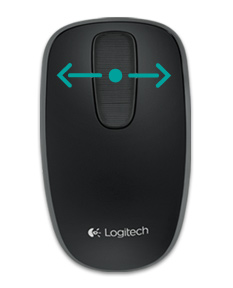 Horizontal scrolling
Swipe one finger from side-to-side on the touch surface to scroll horizontally
See the action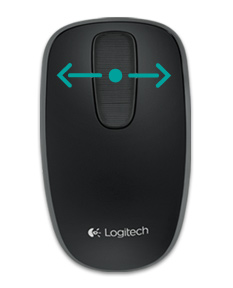 Back/Forward in Web browsers
Swipe one finger from left-to-right or right-to-left to quickly advance through web pages
See the action
Windows® 8 Actions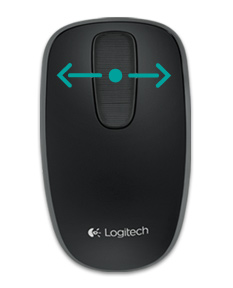 Horizontal scrolling
Swipe one finger from side-to-side on the touch surface to scroll horizontally
See the action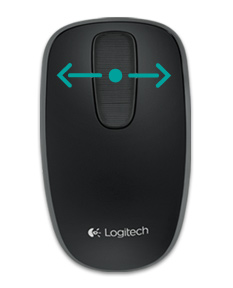 Back/Forward in Web browsers
Swipe one finger from left-to-right or right-to-left to quickly advance through web pages
See the action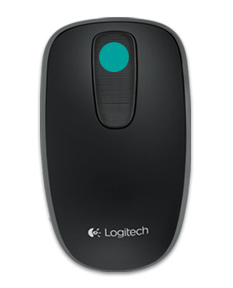 Windows 8 Start screen
Click the top 2/3 of the touch zone to go to the Windows Start screen
See the action
System Requirements
Windows® 8, Windows® RT or Windows® 7
USB port




Warranty Information
3-year limited hardware warranty
Package Contents
Mouse
Logitech Unifying receiver
2 AA batteries (pre-installed)
User documentation
Part Number
PN 910-003043
PN 910-003312
PN 910-003311
PN 910-003675
PN 910-003674
PN 910-003672
Awards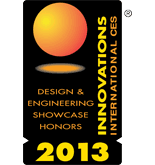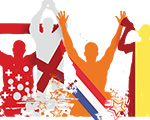 Global Fan Collection
Every day is a chance to put your pride on display. Learn More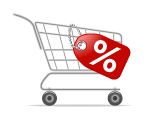 Special Offers
Check out our best offers on Logitech.com and save on Blemished Box products, Close outs, Bundles and more! Save now