See how the Logitech Wireless DJ Music System can enhance your digital lifestyle:
On-demand Playlists Access to Internet Radio and Podcasts
PC music, anywhere
"Play all songs" and "Shuffle & Play" functions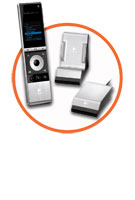 On-demand Playlists
Throwing a party but there's no time to plan the music? By using the DJ List feature, you can become the disc jockey! Start with a song or two, then circulate the remote among your guests and let them add to your music mix! The intuitive clickable scroll wheel makes it easy to select and sort songs. No need to worry about lost CDs; just relax and enjoy the convenience of having easy access to your entire music library. Now the party can make the music, instead of the music making the party!
Build a playlist. Use the dedicated "DJ List Add" button to create your unique music set.
Add songs to your dynamic "Now Playing" list—even while the music is playing!
Use the DJ List at your next party, and let everyone be a disc jockey!

Access to Internet Radio, Podcasts and subscription audio
Are you a sports fan or talk radio junkie, but it's your night to do laundry? Don't worry, with the Wireless DJ Music System and your favorite web radio program or podcast, you can break away from your PC and listen to streaming Internet audio on your home stereo system!
Easily access Internet radio stations, podcasts and subscription audio—from anywhere, without wires and without hassles.
Play all major digital music formats that your PC can play, including MP3, M4A, M4P, and WMA.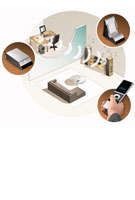 Shift between PC speakers or remote streaming
Want to listen to your favorite music as you move around the house, but your music collection is on your PC in another room and out of reach? With the Wireless DJ Music System, you can shift between playing music through your PC speakers or streaming it to a remote room. Use additional wireless receivers (purchased separately) to seamlessly switch playback from room to room.
Listen to and control music or online programming from anywhere in your house, using the long-range remote control.
Expand your system to multiple rooms. Music receivers for additional speaker systems are available for online purchase.

"Play All Songs" and "Shuffle & Play" functions
Entertaining guests and want to play only mellow jazz during dinner? Select "Play All Songs" from the menu to select and play songs in your collection by genre or artist. Or, pick "Shuffle & Play" from the menu for a surprise mix of your entire collection.
Use the "Shuffle & Play" function to maximize the artist variety.
Select "Genres" and "Play All Songs" to play only music of a certain type.