Hand detection: Control when you want it—and not when you don't.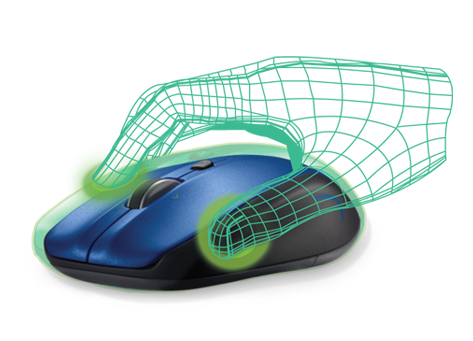 Your couch is a place for relaxing. And sometimes, you just want to stretch out a little—especially when you're surfing the Web on your laptop with your Logitech® Couch Mouse M515. That's why we've designed this mouse so it's only active when you want it to be—and not when you don't.

The Couch Mouse M515 is special. Unlike most computer mice, the M515 only moves the cursor or scrolls a Web page when you grip it. (And your mouse automatically turns off—and conserves battery power—when it's not on.) So while another mouse might turn every little slip, slide and bump into a runaway cursor or accidental click, tricky soft surfaces can't push you and your cursor around with the Logitech Couch Mouse M515 with hand detection.
No accidental clicking, scrolling, sliding
With innovative sensors beneath either side of the top of the mouse chassis, the Couch Mouse M515 only turns on when your hand is gripping both sides of the mouse. That means your mouse won't work if:


You click the buttons without gripping the mouse

You scroll the wheel without gripping the mouse

You slide the mouse on only one side

The mouse gets bumped or slides on its own

No more unintentional clicks. No more out-of-control cursors. (And no more burning through batteries when you're not using your mouse.)
Ready to make your move? Just grip both sides of your Couch Mouse M515 and start navigating—right from the comfort of your couch, bed or carpet.