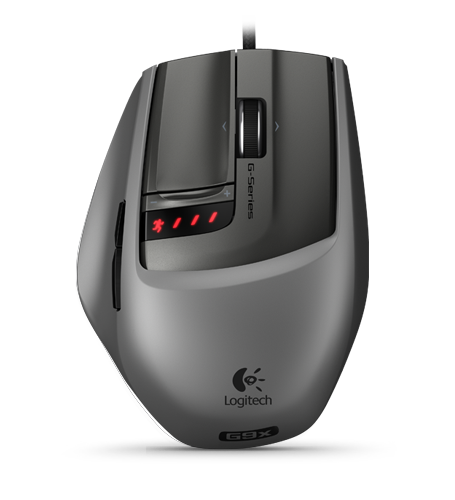 The grip, the weight, the LEDs—you can customize them all and tune your mouse for the way you play.



Grips for gamers
It's your choice—this mouse comes with two grips. Use the Wide Load grip for extra comfort or Precision grip for fingertip control.

Laser weaponry
Every movement registers accurately thanks to the next-generation gaming laser.*

Save it. Take it.
You can store up to five ready-to-play profiles on the on-board memory—and take them with you anywhere.
* Up to 4.19 m (165 inches) per second on most popular gaming-mousepad surfaces.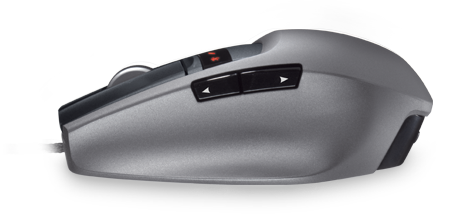 With interchangeable grips, a weight-tuning system, and onboard memory, you can tune this gaming-grade laser mouse for the way you play.



Interchangeable grips
The satin texture and fuller shape of the Wide Load grip add extra comfort. The DryGrip technology and compact shape of the Precision grip give you unmatched control.
Next-generation gaming laser
You get game-changing precision at any hand speed.*

Onboard memory
You can program up to five profiles (keyboard macros, dpi settings, and LED colors), so you can play your way on other PCs**—without software installation.***

Weight-tuning system
Prefer a heavier or lighter mouse? You simply use the weight cartridge and up to 28 grams of metal weights to customize your G9x for just the right feel.

Custom-color LEDs
You can choose the color of your LEDs from a wide color spectrum to match your mouse to your PC, game, or style. LEDs show your mouse dpi and profile settings.

On-the-fly adjustable dpi
You get the right level of precision for whatever game you're playing—from pixel-precise targeting (200 dpi) to lightning-fast maneuvers (up to 5700 dpi).**** Curious about cursor control?

Two scroll modes
Precise click-to-click scrolling is perfect for weapon selection when you're gaming. Frictionless, hyper-fast scrolling lets you fly through long Web pages.

Polytetrafluoroethylene feet
Super-slick feet glide effortlessly across almost any surface.
* Up to 4.19 m (165 inches) per second on most popular gaming-mousepad surfaces.
** Logitech® SetPoint™ software required for initial setup.
*** Some profile settings require SetPoint to be enabled and are not supported on Mac, Linux, and earlier Windows-based operating systems.
****To get your G9x Mouse to move at 5700 dpi, please download the latest software. Learn more.
Laser sensors: A controlling interest
Sensing the details

What does a mouse do? Fundamentally, it allows you to control your cursor. And the best measure of cursor control is the accuracy with which the mouse translates the movements you make with your hand.

How precise is your mouse? Logitech mice use advanced sensors to make sure that whether you're clicking links, dragging text, or opening new apps—that whatever you're doing—your computing experience is seamless.

We achieve precision by designing miniature sensors. These sensors take lots of little pictures of the surface below the mouse, interpret those pictures, and translate the movement your hand makes into movement on your screen.



Sensitive to your needs
Some people just need a mouse that works. Others need a mouse that can track on many surfaces. And gamers need a mouse that can give them game-changing precision at any hand speed.



Details, details
There are two kinds of sensors: optical and laser.

Mice with optical sensors track the surfaces beneath them using the available light and an LED lamp.

In 2004, Logitech introduced the first mouse with laser tracking. Laser sensors, compared to optical, produce far more illumination—both of the surface and of the contrast created by, literally, specs of dust on the surface—revealing a wealth of details even on glossy surfaces like highly polished wood. And that means your mouse can track motion precisely on many surfaces, without lags or jitter.



Gaming-grade control
If you're an expert gamer, pixel-perfect tracking can mean the difference between victory and defeat. Our mice with gaming-grade laser sensors can track at speeds all the way up to 5700 dpi. So when the game is on the line, you'll get maximum precision, blinding speed, and ultra-smooth tracking.

Track tested
We rigorously test all of our laser mice on a wide variety of surfaces to make sure your mouse is free of tracking flaws.

* Mice with Logitech® Darkfield Laser Technology cannot track on glass that is 4 mm thick or less, which is not much larger than the head of a pin.



System Requirements
PC

Windows® XP, Windows Vista®, or Windows® 7

USB port




Warranty Information
3-year limited hardware warranty
Package Contents
Logitech® G9x Laser Mouse
Wide Load and Precision grips
Weight cartridge
Tuning weights and case
User Manual
* Tested on most popular gaming-mousepad surfaces.
** Tested on wood-veneer desktop
Part Number
Technical Specifications
Tracking
Resolution: 200 - 5700 dpi
Image processing:12 megapixels/second
Max. acceleration: 30G
Max. speed: Up to 165 inches (4.19 m)/second*
Responsiveness
USB data format: 16 bits/axis
USB report rate: Up to 1000 reports/second

Sleep mode: Disabled

Glide
Dynamic coefficient of friction - Mu (k): .09**
Static coefficient of friction - Mu (s): .14**
Tuning weight: Up to 28 grams

Durability
Buttons (Left/Right): 8 million clicks
Feet: 250 kilometers

Logitech Hong Kong Facebook Fans Page
Become a Fan to receive latest product infomation and special offers !
Join us now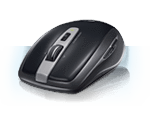 Works—even on glass
Work where other mice fail, even on glass, with Logitech Darkfield Laser Tracking™
Learn More