Logitech Wireless Touchpad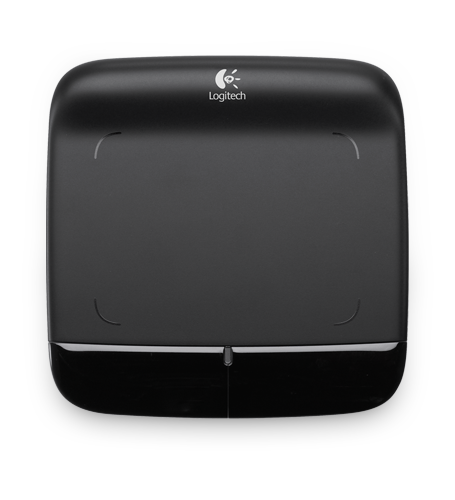 Point, scroll, swipe—naturally.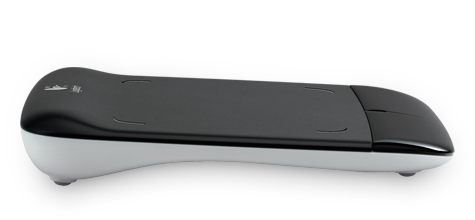 Point, scroll, swipe—naturally—thanks to the large, multi-touch touchpad that makes it easy to go wherever you want to go on the Web and more.



One-finger control
Touch one finger anywhere on the touchpad to control your cursor. Want to click on a link? Just tap and go.


Two-finger scrolling
Scroll up or down with two fingers to easily move through a document or your favorite web page—like your list of friends on your Facebook® page.

Three-finger swipe
A simple, three-finger horizontal swipe moves you back and forth so you can flip through your wedding photos or move from your Amazon® wish list to your Gmail™ account in a flash. With a three-finger vertical swipe, you can easily move page-up or page-down.

Four-finger swipe
Use a four-finger swipe to switch between your favorite applications. Jump from Internet Explorer® to Skype™ with just a swipe.

Large touch surface
The large, 5-inch touchpad offers you more room to point, scroll and swipe just where you want it.

Clutter-free wireless device
Browsing has never been so convenient. Just put the touchpad down and let your fingertips guide you to your favorite websites.

Logitech Unifying receiver
The tiny receiver stays in your laptop. Plus, you can easily add a compatible wireless mouse, keyboard or number pad—without the hassle of multiple USB receivers.

Advanced 2.4 GHz wireless
Now you can work or play in more places with long-range wireless connection that virtually eliminates delays, dropouts and interference and gives you a range of up to 25 meters (82 feet).*

Fewer battery hassles
A 4-month battery life means you can go for months without the hassle of changing batteries.** And an LED indicator tells you when the touchpad is on and your batteries are running low.
* Wireless range may vary due to environmental and computing conditions.
** Touchpad battery life may vary based on user and computing conditions.
Powering your wireless keyboard
More power to you
No one likes to run out of batteries. It's a hassle. Scouring the house for new ones. Finding two that still have juice. Even making an extra trip to the store. At Logitech, we're doing everything we can to make the hassle of replacing batteries hassle-free.



Batteries? What batteries?
Wireless keyboards let you avoid the inconvenience of cords. But unlike a corded keyboard (which is powered via USB and your computer), wireless keyboards use batteries, and batteries do run out of power.

Don't even want to think about changing batteries? We've got just what you need. You can choose a keyboard with a battery life of 15 months—or even three years—and practically eliminate the hassle and expense of changing batteries.*



Charge on

If rechargeable is more your style, we've got those too. You just put your keyboard in its charging base. It's that easy. (Plus it's good for the planet.)

Check out all of our rechargeable keyboards

* Battery life calculation based on an estimated 2,000,000 keystrokes/year in an office environment. User experience may vary.


Logitech® Unifying receiver
Plug it. Forget it. Add to it. You've got the Logitech® Unifying receiver.

The Unifying receiver stays in your notebook, so there's no need to unplug it when you move around. It's so tiny, you won't need to worry about the receiver breaking off or getting lost.

And it's easy to add a compatible wireless keyboard or mouse to the same receiver. Build your ideal combo. Add something. Replace something. It's as simple as can be and you'll use only one USB port.

Uniting your setup
Your laptop is convenient. You use it on the couch, in the kitchen, at the coffee shop—wherever you want. Logitech makes your laptop as comfortable as it is convenient with portable mice and notebook-ready keyboards.

The Logitech® Unifying receiver takes convenience a step further.

The Logitech® Unifying receiver is a tiny, leave-in wireless receiver. Smaller than most coins, the Unifying receiver not only makes it easy to use a wireless keyboard, mouse, or number pad, it also works with up to six devices.

Plug it in
With the tiny wireless receiver, there's no need to plug and unplug when you're on the move. Or deal with the hassle of multiple receivers. The tiny Logitech® Unifying receiver stays in your notebook and lets you add devices as you need them.

Forget about it
The Unifying receiver is small and always ready. So small, in fact, you can leave it plugged into your USB port when you're on the move—without worrying about breaking or losing it.

Add to it
It's fast and easy to add a compatible wireless mouse, keyboard, or number pad to your receiver. You can mix, match, upgrade, or replace up to six devices—now or in the future—using just one USB port. To connect a new device, you simply open the connection software, click "Pair new device", and turn the device off and on. That's it.

A tiny dynamo
The Unifying receiver packs plenty of power. Built with Logitech® Advanced 2.4 GHz wireless connectivity, Logitech mice with the Unifying receiver give you the reliability of a cord—with the freedom of cordless. You'll enjoy fast data transmission with virtually no delays or dropouts.

Plug it. Forget it. Add to it. You've got the Logitech Unifying receiver.

Compatible with Logitech® Unifying receivers
Looking for a mouse or keyboard (or number pad) that is Unifying compatible? We'll help you find the right one.

System Requirements
Warranty Information
3-year limited hardware warranty
Package Contents
Wireless touchpad
Unifying receiver
2 AA batteries
User documentation