About omnidirectional stereo acoustics
An innovative speaker technology, previously found only in expensive home theater systems, omnidirectional acoustics provide great sound throughout the room. Here's how: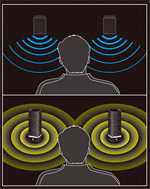 Standard stereo acoustics
Standard desktop stereo speakers focus sound in one direction, creating a single spot for optimal listening.



Omnidirectional stereo acoustics
Omnidirectional desktop stereo speakers transmit sound evenly in all directions, allowing for great sound throughout the room.