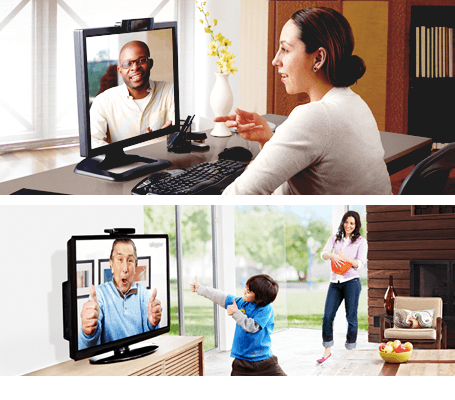 Webcam or TV Cam?
A webcam lets you chat face-to-face with anyone from a buddy to a business partner, in the privacy of your office or a hotel room in Tokyo. A TV Cam allows the whole family to join in to video calls on Skype more naturally and spontaneously, from the comfort of your living room.

Logitech webcams
With our webcams, you can engage in close-up, one-to-one video calls using your favourite application — Windows Live™ Messenger, Yahoo!® Messenger or Skype™. Simply plug the webcam into your computer and start calling, chatting, streaming, recording and sharing immediately, in either standard or HD quality.
See full range

Logitech TV Cam HD
Our TV Cam HD brings video calling on Skype into the living room. No need for a computer — the camera simply plugs into your TV. The wide-angle HD allows everyone to get in the call, whether you're moving around the room or piling up on the sofa. Learn more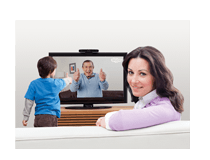 The next best thing to being there
The Logitech TV Cam HD has built-in Skype and Wi-Fi® connectivity, so it's ready to plug into your HDTV's HDMI® port — with no fuss or software hassles. A built-in ringer alerts you to incoming calls. Learn more

It's almost like inviting your friends and family to your home, allowing you to connect in a deeper, richer way.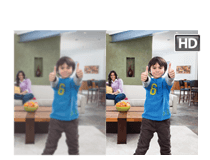 Standard or HD?
When you choose HD, your videos come across bigger, better, brighter, smoother. Images are so sharp and crisp that you'll feel like you're both in the same room. Find out how easy it is
Pure comfort. Pure sound.
With a Logitech headset, you can enjoy clear, digital audio on your PC, tablet or smartphone so that music, video games and movies sound better than ever. The noise-cancelling microphone ensures you'll be heard loud and clear. For more freedom when you're listening and chatting, choose a wireless headset. Learn more