A little theater. In your lap.
Forget the movie theater. Forget the TV. Forget the stereo.

More than ever, you're getting your entertainment on your laptop—from Hulu™, YouTube™, iTunes® , even from a DVD.

And you want to enjoy everything you love, wherever you want—on the couch, the bed, even the floor.

Until now, you either had to put up with mediocre audio quality from your laptop speakers, or plug in external speakers. (And even though the second option works for some people—and Logitech offers a line of PC speakers—you lose the laptop's portability. And then there's the clutter of cords.)

With the Logitech Speaker Lapdesk N700, you get more than just a lapdesk. You might even call it a lap theater.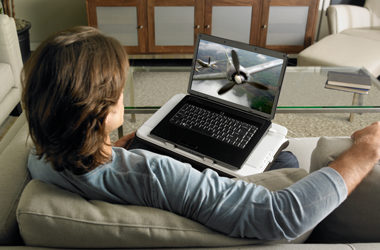 Listen to that
Imagine your favorite movies and television without sound. The battle scene without the steady beat of the drums. The cop show without the sirens, the footsteps, and the gunfire. The love story without the strings.

Your laptop speakers probably aren't much better than having no sound at all. But now you don't have to settle for laptop audio.

Just sit your laptop on the Speaker Lapdesk N700, plug the N700 into a USB port, and bam!—that movie you're checking out on Hulu sounds a whole lot better. It's louder. It's crisper. You can actually feel the bass.

You'll get rich, full stereo sound for all your entertainment with the Logitech Speaker Lapdesk N700.
Get comfortable
The Speaker Lapdesk N700 doesn't just sound good—it feels good. So you can settle in and watch your favorite movie on the couch in comfort. Even if it's three hours long.

Want to relax in your bed? The stable design lets you sit how you like. Want to sit at your kitchen table? The angled riser raises your laptop so your laptop is positioned well for viewing.

Worried about laptop heat? The padded base keeps the heat off you. Don't want the laptop to go anywhere? The rubber laptop holders help keep your computer in place.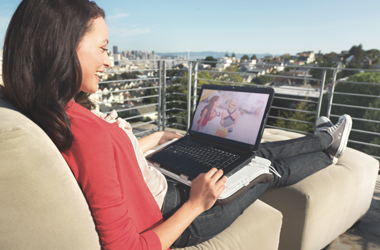 How convenient
Nothing complicated here. There's no software to install, no power outlets needed, and no extra cords to worry about.

You simply connect a single cable to your laptop's USB port to power both the fan and speakers.

Plus, an on/off switch and volume controls make it easy to crank up the volume, mute it, or turn off the speakers or fan whenever you want.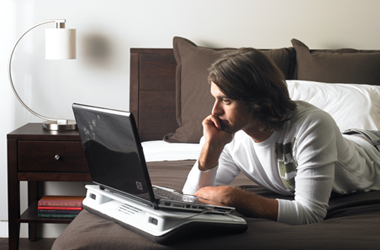 Keep it cool
Because all that entertainment can give your laptop a workout, this multi-tasking lapdesk has an efficient, built-in fan, too.

It quietly circulates air under your laptop to keep it cool, so you can enjoy whatever you're doing without distracting fan noise.

Plus, a grill helps protects the fan from dust and damage, and rear and bottom intakes help ensure steady, unobstructed airflow. So your lap can be cool, too.