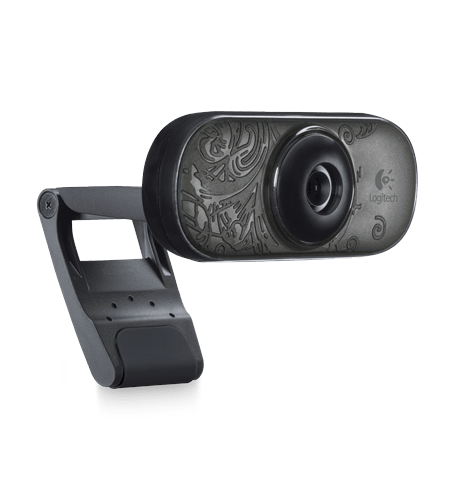 Anyone can make a video call with a video-calling application built right into your webcam setup.




It fits
The universal clip lets you attach your webcam to your notebook or LCD monitor—or sit it on a shelf or desk.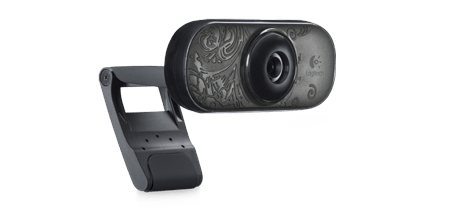 Anyone can make a video call with a free, fast and easy video-calling application built right into your webcam setup. You'll enjoy lifelike color, too.



Clear video calls
With your webcam's VGA sensor, the people you care about will see you in lifelike color.

1.3-megapixel photos
It's easy to take snapshots at up to 1.3 megapixels (software enhanced)

Universal clip
It's easy to take snapshots at up to 1.3 megapixels (software enhanced). You can attach your webcam securely to a notebook or LCD monitor, or sit it on a shelf or desk.

Free video editing software
Logitech has teamed up with MAGIX to offer MAGIX™ Photo Manager 9 and MAGIX™ Video Easy with your new Logitech webcam. And they're free.*

Built-in mic with RightSound™
It gives you clear conversations without annoying background noise.

RightLight™ technology
It automatically adjusts the image during your call, so you look your best even in dim light.

IM compatibility
Works with Skype™, Windows Live™ Messenger, Yahoo!® Messenger, AOL® Instant Messenger (AIM®) and other popular instant messaging applications.
* MAGIX is free but does require an e-mail registration.
Image quality. It's more than just megapixels.
Seeing the smile on your grandson's face or the glitter off your daughter's engagement ring is so much better than a phone call. And a webcam can really make these experiences possible, even when you're separated by thousands of miles. But getting the right webcam is more than just a matter of finding the one with the most megapixels.

At Logitech, we're not just trying to dazzle you with more megapixels. Megapixels are only part of the picture. Image quality—especially when it comes to making a video call—depends on at least five things: the webcam lens and sensor, your computer, your Internet connection, and the video-calling program.

The truth about megapixels

A higher-megapixel sensor doesn't equal high-quality images on its own, so it's important not to just look at megapixels and forget about the other aspects of the camera.

Higher-megapixel sensors, however, can give you more fine detail. Pick one of our webcams with a true two-megapixel sensor and you'll enjoy sharper, more detailed photos.

The right lens

The lens is what captures the light that gets turned into the image by the sensor. If your lens isn't good, it doesn't matter how many megapixels you've got. A bad lens is going to give you a bad image.

From our budget models to the top-of-the-line, we're committed to using quality lenses. Our lower-priced cameras feature multi-element, plastic lenses perfectly paired for the sensor in the camera. In our mid-price webcams, you'll find glass lenses that produce even sharper images.

For our best webcams, we teamed up with Carl Zeiss®—a pioneer in the world of optics—to create lenses that raise the bar for image quality. They use glass instead of plastic and have five elements to give you more detail and clarity and less distortion.

Find out more about why our collaboration with Carl Zeiss benefits you.

Maintaining focus

Ready for your close-up? You're not only going to need a good lens—you're going to need a good focusing system. A lot of webcams have either a manual focus option or no focusing system at all. If you get too close, you can end up fuzzy.

Our top webcams feature an advanced autofocus system. You'll get crystal clear images and fluid transitions whether you're moving in for a kiss or your kid is holding her latest masterpiece up to the camera—as close as 10 centimeters away.

Learn more about Logitech autofocus.

What about HD webcams?

When it comes to video calls, the maximum resolution is 640-by-480 pixels, otherwise known as VGA resolution. Today, you can't make an HD video call on any of the free instant-messaging applications.

So what's the value of an HD webcam? Want to record a message to a friend? Update your blog with a video clip? Capture your latest dance moves and post it on YouTube™? An HD webcam can record HD video. And several Logitech webcams make it easy to capture HD video at the 720p standard.




See all webcams that can capture HD video.

Find out why Logitech HD webcams offer so much more than HD.
Power and connections
Most computers sold today have no problem handling a video call. But if your computer is a little bit older or you're not using a fast connection, you might run into difficulty. To get good clarity and smoothness, your computer needs to meet the minimum requirements to support a video call.

We recommend that your computer have a dual-core CPU with 1 GB of RAM and that you're using a broadband connection of 256 kbps or higher. (Most broadband connections are at least twice as fast as 256 kbps.)

Finding a webcam you can click with
MAGIX photo organization and video editing software. Easy, smart and free with your Logitech webcam.*
You've said good-bye to shoeboxes full of photos and videocassettes. Now all your memories are stored on your computer.

But with thousands of photos and videos, it can sometimes be difficult to find the one you want. And once you've found it, you might want to crop a photo to focus on your beautiful baby cousin's face. Or cut those last few seconds of video where your sister's perfect wedding cake somehow ends up on the floor.

You need software that gets you organized and helps you fix minor blemishes in your photos and edit your videos.

But you want it to work right the first time—and you don't want to spend hours reading a manual to figure it out.

We understand. That's why Logitech has teamed up with MAGIX to offer MAGIX™ Photo Manager 9 and MAGIX™ Video Easy with your new Logitech webcam. And they're free.*

You'll find icons for each of these programs in the Get More Apps section of your Logitech Webcam Software.

Sound good? Get MAGIX Photo Manager 9 and MAGIX Video Easy now.

Or let us tell you a bit more about what MAGIX can do for you.



Get Hollywood.

Using a webcam to record a video of your baby's first words, a funny clip that you upload to Facebook™ or YouTube™ or a warm message to a loved one can be an art. It's hard to figure out just when to stop—or start—recording to get the best video.

There are editing programs out there, but they're often very complicated, taking days to learn and offering lots of features most people will never use.

That's where MAGIX Video Easy comes in. The name says it all.

This drag-and-drop home video tool makes it easy to cut, edit and combine videos to turn fleeting memories into indelible moments you'll be able to return to again and again.

The simple, easy-to-use interface makes editing an intuitive process rather than a chemistry project. Step-by-step instructions help you select the parts of your video that you want to include, then add a title and some music—you can even add transitions.

And when your inner auteur is satisfied, it's easy to upload your newest creation to YouTube. Next stop: Sunset Boulevard. Or Grandma's living room.




Get organized.

Digital cameras and camera phones make it easy to capture the important moments in your life.

The question, then, is how to make those photos and videos easy to find and share with your friends and family? MAGIX Photo Manager 9 does it all for you.

After you've downloaded and installed the software on your PC, just connect your camera. Photo Manager will automatically import your photos and videos, and then organize them by date, time and place taken.

It's a snap to find just what you want—without the hassle of scrolling through thousands of thumbnails.

Photo Manager also lets you do basic editing like cropping, eliminating red-eye and making small color corrections. In just a few minutes, your photos will be looking their best—just like the memories they capture.



Get it now. (Because they're free.)

The best part? Both Photo Manager and Video Easy are free with your new Logitech webcam.

Just launch the Logitech Webcam Software, click on the Do more button and choose to download and install MAGIX Photo Manager 9 and MAGIX Video Easy. You'll be ready to roll in just a few minutes.

So what are you waiting for? Get MAGIX Photo Manager 9 and MAGIX Video Easy now.

* MAGIX is free but does require an e-mail registration.
** MAGIX Photo Manager 9 and MAGIX Video Easy work with Microsoft Windows® XP, Windows Vista® and Windows® 7.

RightSound technology. Sound right. Naturally.
A better way to video call
Webcams let you see and talk to your friends and family—wherever they are. But with most webcams, you need to wear a headset or you'll get a distracting echo.

Neither option sound appealing? With Logitech RightSound™ technology, you can avoid both. Acoustic echo cancelation software means the whole family can gather around and have a more natural conversation—without passing around a headset.



The echo explanation
You're on a video call with your friend. You're both using webcams with integrated microphones and typical computer speakers. Here's where the trouble happens:

Your friend says something to you. His voice is captured by his microphone and sent to your speakers. But then your microphone picks up his voice from the speakers and sends it back to him as an echo—which can really ruin a conversation.

The RightSound™ fix
You use a webcam with RightSound technology. The software identifies the sound wave featuring your friend's voice as it comes through the speakers. When your microphone picks it up, the software filters out the repeated wave so it doesn't get sent back to your friend. And that means they don't hear an echo.

Two-way talk
Other webcams eliminate echo by muting your microphone when the person on the other end is speaking. It's kind of like talking on a walkie-talkie—not a very natural way to have a chat. RightSound technology doesn't mute your mic so you can both talk whenever you want. It makes your video calls just like talking to someone in the same room.

RightLight™ technology. Look natural. Even when you don't have natural lighting.
Web calls get real
A webcam makes it feel like you're right there with your family and friends—no matter where they are. But low-light or a bright window in the room can leave you looking silhouetted or surround your face with ghostly bright lighting.

If you don't live in a perfectly lit world, we've got just the thing for you.

Logitech® RightLight™ technology is a system of hardware and software that helps you look more lifelike in all kinds of lighting.



Lighten up
Webcams and low light generally don't get along. That's why RightLight technology includes CMOS sensors that more precisely measure and maximize the light in any situation. Whether your face is shadowed or the whole image is dark, poorly lit areas will appear brighter and have more detail.

Goodbye, orange skin
Bright colors are pretty. Unnaturally saturated skin? Not so pretty. So we pay careful attention to how our webcams with RightLight technology reproduce light and dark skin tones. We adjust the camera's color hues and saturation so your skin looks natural, not orange.

Many webcams aren't so good to your skin. They prioritize bright colors—which can make your face look overly saturated. If you prefer the saturated look, you can easily boost the colors with Logitech QuickCam software.

The true you
Not into the fun house look? Have no fear.

While many webcams can leave you looking too long or too wide, our webcam lenses are rigorously tested to make sure they don't have noticeable distortion. And that means you look like you—in just about any light.



System Requirements
What you need:

Windows® XP (SP2 or higher), Windows Vista® or Windows® 7 (32-bit or 64-bit)



Basic requirements:

1 GHz (1.6 GHz recommended)
512 MB RAM or more
200 MB hard drive space
Internet connection
USB 1.1 port (2.0 recommended)





For the best video calling experience, we suggest:

Dual-core CPU with 1 GB RAM
Broadband Internet with 256 kbps upload or higher




Warranty Information
2-year limited hardware warranty
Package Contents
Webcam with 5-foot USB cable

User documentation
Part Number
Technical Specifications
The specs:
Video calling (640 X 480 pixels) with recommended system
Video capture: Up to 640 X 480 pixels
Photos: Up to 1.3 megapixels (software enhanced)
Built-in mic with Logitech® RightSound™ technology
Hi-Speed USB 2.0 certified (recommended)
Universal clip fits laptops, LCD or CRT monitors
Logitech webcam software:
Logitech® RightLight™ technology
Video and photo capture
Logitech Video Effects™, video capture, photo enhancements, RightLight™, RightSound™ and other listed features require software installation..
Software features and offerings subject to change.
Additional services require Internet access and registration.
Some photographs are simulated.
Works with most instant messaging applications.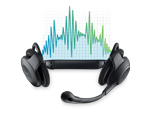 Super wideband audio.
Clear calls. Better connections. Find out why.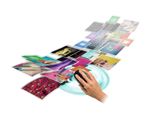 Navigate the possibilities
Unlock the power of Windows 8 with these new touch devices. Learn more