Logitech HD Pro Webcam C920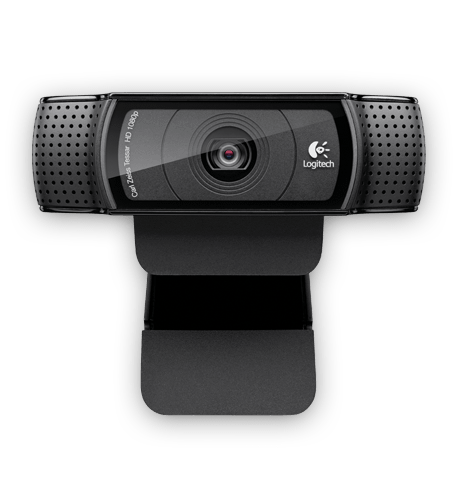 Full HD 1080p video that's faster, smoother and works on more computers.


* Please download the latest version of Skype, Skype 5.8 for Windows, which offers 1080p HD video calling.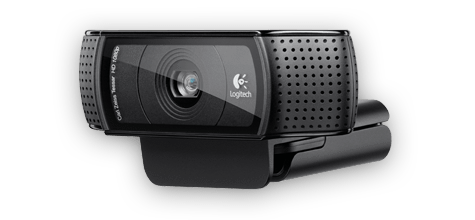 Fast, smooth, full HD 1080p video



Full HD 1080p with Skype video calls
See and be seen in high-definition quality. Logitech partnered with Skype™ to deliver high-definition 1080p resolution with the C920 webcam.*
*Make sure you have the latest version of Skype for 1080p HD video calling.

H.264 AVC compression
Get high-definition (HD) quality video at home or in the office. Real-time HD resolution over typical Internet connection bandwidths requires video compression. C920 webcam uses H.264 encoded compression to provide high quality video at low bit rates.*

Full HD 1080p recording
Record videos in widescreen Full HD 1080p at 30 frames per second. The same H.264 encoded compression that enables high-definition video calls with Skype, also lets you capture great videos.

HD 720p video call quality
If Skype is not your favorite video-call service, C920 delivers HD 720p calling on most major instant messaging services.

Sharp, rich-color images
Smooth video quality, rich colors and clear sound in real-world environments are produced by Logitech Fluid Crystal™ technology.

Auto focus
C920 uses the same type auto-focus motor used in smartphone cameras. Optimized for webcams, the auto focus gives the sharpest image possible, even as close as 10 cm.

Carl Zeiss optics
To bring you the best webcam images possible, Logitech and Carl Zeiss turned the classic four-element Zeiss Tessar® design into a five-element design. The new design focuses light onto the sensor with maximum detail and minimal distortion.

Stereo audio
A stereo recording or broadcast creates more of a sense of place; it creates a listening environment. Capture video or make a video call knowing that will be heard clearly and naturally.

Stable clip mount
Rubberized bumpers on the clip help hold C920 securely to your monitor or laptop. Also mount it to a tripod
15-megapixel snapshots
Capture brilliant, software-enhanced, 15-megapixel snapshots.
For Faster, Smoother HD Video:
H.264 Compression in Logitech HD Webcams
Share a video travelogue on Facebook™ or YouTube™. Email your mom a record of your child's first steps. Without the long, long, long wait for the video to upload. Catch up with a friend through a video call. Without seeing the choppy call on your display.

It's time for video to move quickly. Fast video uploads and smooth video calls. Without sacrificing the razor-sharp quality of HD. That's where Logitech HD webcams featuring H.264 compression enter the picture.


Shop for your webcam with H.264 now.
What is H.264?
H.264 is a standardized digital format for compressing high-definition, high-bitrate video. It can transform a large, raw video file into one that requires about half the space of the MPEG-2 format (the standard for a DVD-quality video). And H.264 is versatile. It can vary the amount of compression to meet the requirements of ISPs, Web sites as well as devices, including your laptop.

Why does compression matter?
Consider an elephant trying to squeeze into a mouse hole. The raw HD video recorded through your webcam or digital camera can take up tremendous space on a hard drive—gigabytes you probably need for other files. And Internet sites, including Facebook and YouTube, and ISPs such as Comcast and ATT have file-size requirements. Raw HD video can often be too large for the sites and ISPs.

What's more, even if a video can squeeze in, the larger the file, the longer it takes to upload. So if you want to share a video in a timely manner, you'll want to put your elephant on a crash diet. And compress.



How does H.264 work?
Video is a stream of individual pictures or frames. H.264 removes reuses redundant information from the stream. Each frame is divided into tiny blocks of one quarter of a pixel, for precise analysis. When processing a frame, the compressing agent (the encoder) searches the blocks on the previous frame just encoded and the next one in line. It figures out what's the same and what has changed. It then eliminates the redundant information. The process is repeated throughout the stream.

That action compresses the file size significantly–more than even MPEG-4. When the video is played, the decoder in the playback device pulls reassembles the information from multiple frames to complete the Hi-Def picture.


How does H.264 work with a Logitech webcam?
Seamlessly. Turn on the camera. Lights. Action. Video is captured with the webcam's sensor, digitized and compressed with H.264. The video data is then sent through a USB cable to your computer for viewing. For a call. For Facebook. For YouTube. For the hard drive. For Mom. Extremely fast. In amazing HD.

Is H.264 better than other compression methods?

See for yourself.

This is a raw high-bitrate frame.

| | | |
| --- | --- | --- |
| | | This is a leading compression solution. Notice the blocks. Loss of detail. And blending. |
This is H.264. No blocks. No loss of detail. No blending. Just HD quality at a low bitrate—that's fast and smooth. When you want HD video without the high-def hassels, Logitech HD webcams with H.264 compression deliver.


Shop for your webcam with H.264 now.
Logitech Autofocus. The clear choice for clear video.
Bye bye, blur
A lot of webcams out there want you to stay put. Move or get too close and the camera can have a tough time automatically focusing on you—even if it's got a good lens. That can leave you looking hazy and out of focus. And that's probably not the look you're going for.

At Logitech, we don't want your video to become a blur. So we created an autofocus system that lets you move around. It zeroes in on whatever's in the center of the frame, like your face. When you move, the webcam automatically tracks your motion and refocuses the image. You'll be crystal clear in less than three seconds



Ready for your close-up
Want to zoom in for a kiss? Or hold something up to the camera? Our autofocus system can handle it. It focuses in and out automatically with precision and speed—even if the item is only 10 cm from the camera. No choppiness. No blur. Just a clear, sharp image.

How'd we do that?
We used the same type of motor used in mobile-phone cameras, a voice coil motor (VCM), and optimized it for webcams. They're compact, don't use a lot of battery power, and can handle shock and vibration. The lens moves back and forth to adjust focus until the webcam gives you the sharpest image possible. It also helps stabilize the webcam so your video and photos are in focus and have low distortion. So, you can go ahead and make your move.

Carl Zeiss and Logitech: Bringing you a better lens for better webcam images.
A focus on the lens
If your webcam's lens isn't good, your image quality won't be good either—no matter how many megapixels you've got.

At Logitech, we want you to have the best image quality—not just the highest resolution images. That's why we teamed up with Carl Zeiss, a leader in the optics industry since 1849, to bring you a better webcam lens.

More light, better images
A webcam lens captures the light that the sensor then transforms into the image you see. You need a high-quality lens to capture more light and produce the best images. Together with Carl Zeiss, we created an advanced lens design to give you more clarity and less distortion.

An updated classic
Our Carl Zeiss webcam lens is a new take on their Tessar® lens design. While the original Tessar design was patented back in 1902, it's the most famous camera lens for a reason. It delivers sharp images in a compact, lightweight form—which also happens to make it perfect for webcams.

To bring you the best webcam images possible, Logitech and Carl Zeiss turned the classic four-element Tessar design into a five-element design. Two of the lenses in the lens stack are cemented together to focus the light onto the sensor with maximum detail and minimal distortion. You can see the difference in your images.

FastAccess facial recognition software—serious data security that's easy to use.
What did you do on your computer today? Pay bills? Check your account balances? Send e-mail? How many password-protected sites did you visit?


When your life is on your laptop or desktop, you need help to protect it. But security programs can be a hassle, taking time to install and use—and adding complications to your already busy life.

Want a better way? We hear you.

Logitech has teamed with Sensible Vision to offer a free 15-day trial of FastAccess™ facial recognition software.*



It's simple.

How does it work? We're glad you asked.

Setup is a snap when you have a Logitech webcam.

Just download the software*

then start using your computer. (Make sure your webcam is plugged in.)

After you're set up, your webcam automatically scans your face and enters your password for Windows® or websites.

The FastAccess software can learn what your face looks like under different use and lighting conditions—so the process goes faster every day.



It's smart.

FastAccess also lets your Logitech webcam detect when you leave your computer and can automatically lock your computer to prevent unauthorized people from getting access to your data.

The best part: It happens so seamlessly, you won't even know it's running. But you'll have the confidence that comes from using a strong security program.

It automatically locks your computer.

We've all got private information on our computers. Whether it's confidential e-mails, account numbers or personal photos, you won't have to worry about anyone getting into your computer while you're running FastAccess with your Logitech webcam.

If you're in a public area, you can engage stronger security settings, automatically lock down your desktop when you step away or even create an access log that will record anyone who tries to get access to your computer.

And FastAccess can automatically switch accounts in Windows® XP, Windows Vista® and Windows® 7 when it recognizes a different face—which helps you protect your private data and enforce parental controls.



It's convenient.

Forgot your password? No problem.

FastAccess minimizes the need to enter a password to log in and will often recognize you faster than you can type a password.

What's more, a scan of your face can automatically log you in to most websites that require passwords.



It's a no-brainer.

Security's important in today's connected world—but so is convenience. A Logitech webcam with FastAccess facial recognition software can give you both.

Sound good? Download FastAccess now, then use it for 15 days for free to see how it works for you (registration required; additional terms and conditions apply).

* FastAccess requires registration. (Terms and conditions apply.)
FastAccess works with Microsoft Internet Explorer® and Mozilla Firefox®.



System Requirements
Windows Vista®, Windows® 7 (32-bit or 64-bit) or Windows® 8



For HD 1080p video recording:

2.4 GHz Intel® Core 2 Duo processor
2 GB RAM or more
Hard drive space for recorded videos
USB 2.0 port (USB 3.0 ready)





Recommended requirements for full HD 1080p and 720p video calling*:

1 Mbps upload/download for 720p
2 Mbps upload/download for 1080p
(Requirements for H.264 and MJPEG formats vary)

Visit your preferred video calling provider's website for exact information on system and performance requirements.



For Skype® in Full HD 1080p

Skype 5.8 for Windows*


Warranty Information
2-year limited hardware warranty
Package Contents
Webcam with 6-foot cable
User documentation
Software features and offerings subject to change.
Additional services require Internet access and registration.
Some photographs are simulated.

Part Number
Technical Specifications
Full HD 1080p video calling (up to 1920 x 1080 pixels) with the latest version of Skype for Windows*
720p HD video calling (up to 1280 x 720 pixels) with supported clients
Full HD video recording (up to 1920 x 1080 pixels) with a recommended system**
Logitech Fluid Crystal™ Technology
H.264 video compression*
Carl Zeiss® lens with 20-step autofocus
Built-in dual stereo mics with automatic noise reduction
Automatic low-light correction
Hi-Speed USB 2.0 certified (USB 3.0 ready)
Tripod-ready universal clip fits laptops, LCD or CRT monitors
Logitech webcam software:***
Pan, tilt, and zoom controls
Video and photo capture
Face tracking
Motion detection
*Please download the latest version of Skype, Skype 5.8 for Windows, which offers 1080p HD video calling.
** H.264 recording requires installation of QuickTime®.
*** Requires installation of included software.