Keyboards: What's your type?
A keyboard with your name on it
Your keyboard is such an important part of your computer experience—which makes it so important to get the right one. Too many to choose from? We'll help you narrow down your options.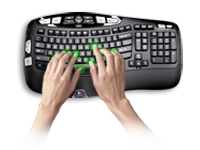 Comfort at your fingertips
Got to have comfort? We've got a variety of keyboards that help keep you comfortable hour after hour—without making your relearn how to type.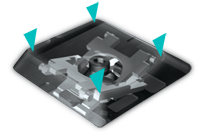 A better type
A near-perfect typing experience awaits you with the PerfectStroke™ key system for smooth, comfortable, and whisper-quiet typing.
See all keyboards with PerfectStroke.
The keys to productivity
Want to get more done, faster? Programmable F-keys and hot keys give you instant access to the things you do most—from controlling your media to opening your favorite applications, files, and folders to zooming in on spreadsheets and photos.*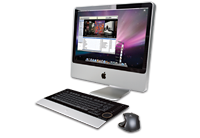 Mac mates
Got a Mac® computer? Our Mac keyboards perfectly complement every aspect of your computer.
Multimedia made easy
Can't get enough of computer entertainment? We offer an array of keyboards designed to put you in control of your music, movies, and videos. Some even have LCD screens that display info like what you're listening to, email alerts, and more.
Game on
If you're looking for that competitive edge, a gaming keyboard is just what you need. With features like full-speed USB, programmable G-keys, and on-the-fly macro recording, you'll be well armed for the fight.
From basic to the best
From a basic keyboard that gets the job done to a high-end keyboard that does it all, you can find something that fits your budget and needs.

* Requires Logitech® SetPoint™ software (Windows) or Logitech® Control Center software (Mac OS® X), included with purchase and/or available for download at www.logitech.com/downloads