Logitech gamepads. Broad game support. Because you just want it to work.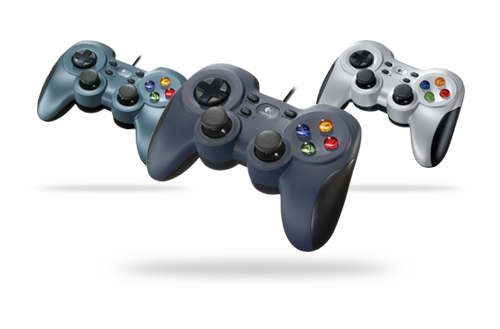 You want to play all the latest games on your PC. But you still love the classics. Now, you can play just about any PC game with one Logitech gamepad.

Our newest line-up of gamepads support the two most common input standards used by game developers—DirectInput and XInput.

And they even work with games that don't support gamepads at all—thanks to Logitech Profiler Software (included with the purchase of all new Logitech gamepads.)

Check out the Logitech® Gamepad F310
Check out the Logitech® Gamepad F510
Check out the Logitech® Gamepad F710
There are some PC games that aren't designed for PC gamepads, including franchises like the Sims and World of Warcraft, and browser-based games played such as Zynga's social media titles (Mafia Wars, Farmville, etc.). For any of these games, you can configure Logitech gamepads—thanks to Logitech Profiler Software (included with the purchase of all new Logitech gamepads)— to mimic keyboard and mouse controls so you can play them, too. In the software, Logitech also includes a default profile for some games to spare you the time of creating your own setup from scratch.

You can see a complete compatibility matrix here of today's top games that support the DirectInput, XInput gamepad standards, along with games for which Logitech has a created default profiles.

What to see which of your games natively supports a PC gamepade?
Learn which games support:
XInput
DirectInput
Rumble feedback (F510, F710)
Playing nice with old and new standards.
You may be considering a Logitech gamepad to give you console-style control of your PC games. But because the way that gamepads communicate with the PC has changed (see below), not all games and controllers work together.

Until now, most gamepads have only worked well (if at all) with old games or new games—but not both. Why? It all comes down to input standards—in other words, the way peripherals talk to your computer.

In a nutshell, older gamepad-enabled games use DirectInput to communicate with controllers, while newer games tend to use XInput instead.

So if you're trying to play a popular DirectInput game with an XInput controller, then you may not get the benefits you're expecting. Hits? Crashes? Explosions? Vibration effects? Nope. You won't enjoy them. Your analog trigger buttons? They won't act independently. And if you're trying to use a DirectInput controller with an XInput game, your controller won't function at all.

On the other hand, if you want to play an old classic, DirectInput controllers offer advantages that XInput controllers don't.


DirectInput supports eight directional axes; XInput supports four
DirectInput supports up to 128 programmable buttons; XInput offers 10

Profiler software
With a flip of a switch, the new Logitech gamepads will work with whatever game you're playing—whether it's an old standby or one of today's biggest titles. Plus, Logitech Profiler software gives you gamepad support on games that aren't even developed to support controllers. With Profiler software, you can customize your experience with fully programmable controls that can emulate keyboard and mouse inputs.
How did we get here? XInput vs. DirectInput
To better understand why input types are even an issue, you have to understand the recent history of API (application programming interface) standards.

When you plug your gamepad (or mouse or keyboard) into your gaming platform, the two talk to each other through an API.

To meet the demand to play games on the PC, in 1995 Microsoft developed DirectInput, which offered greater gaming functionality over the original Windows® API (Win32). DirectInput was originally designed to support only joysticks.

Over the years, Microsoft put out numerous updates to the DirectInput standard, adding support for mice, keyboards, as well as support for added functionality, such as force feedback.

When Microsoft introduced the Xbox in 2002 (the name is a derivation of DirectX, a collection of APIs of which DirectInput is just one), the company created a new API standard for peripherals: XInput.

Today, most developers create blockbuster game titles—think Call of Duty®—for console gaming and use the XInput standard. And though the games usually are ported over to the PC, developers have made XInput the standard.
A gamepad for all your games
You shouldn't have to have two controllers. Or compromise your game experience. That's why our newest gamepads are designed to work with both XInput and DirectInput.

So, want to switch from an XInput to a DirectInput game? It's easy. You simply flip a switch on your gamepad to change between the two inputs and play the games you want to play. And you can play them all with the added macro functionality that a DirectInput controller gives you.

Got games that don't support gamepads at all? Our Profiler software lets you configure the gamepad to mimic keyboard and mouse controls so you can play them, too.

When you've got to have access to the most games possible, you need a Logitech gamepad.

Check out the Logitech® Gamepad F310
Check out the Logitech® Gamepad F510
Check out the Logitech® Gamepad F710