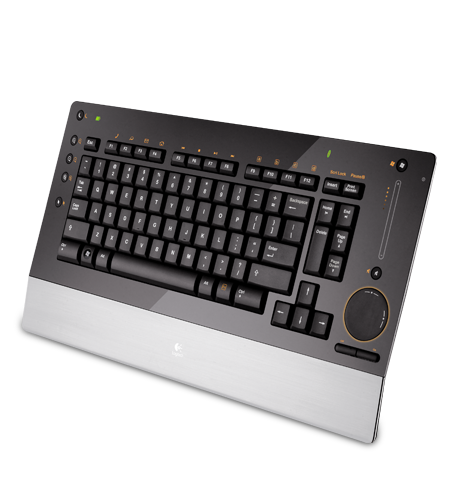 A rechargeable keyboard that gives you the edge.



Looking good
A sleek addition to your setup—semi-translucent, black Plexiglas® and brushed aluminum make a bold statement.

Touch down
You're in control as you scroll and navigate right from your keyboard with the TouchDisc™ touchpad.

Happy tapping
Every stroke you make is comfortable, fluid, and whisper-quiet with the PerfectStroke™ key system.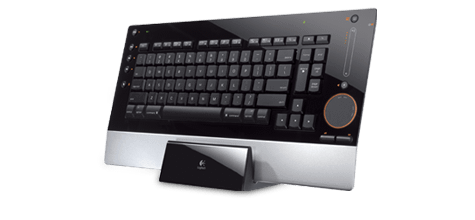 A sleek, wireless keyboard that gives you the edge with a touch pad and media controls.



Sleek, minimalist design
This slim keyboard is laser cut from a single piece of semi-translucent, black Plexiglas® and set in a brushed aluminum frame for a sleek addition to your office or living room.

TouchDisc™ touch pad
You move your finger up and down or across the disc to move the cursor—or make a circular motion to scroll horizontally or vertically through documents.

PerfectStroke™ key system
The PerfectStroke™ key system gives you more key travel than typical notebook keyboards, so every keystroke is comfortable, fluid, and whisper-quiet. Learn how PerfectStroke delivers a near-perfect typing experience.

Media controls
You can quickly and easily adjust volume with the touch-sensitive volume slider.

Rechargeable
You simply place your keyboard in the charging base for two hours for up to two months of battery life—no need to change batteries or interrupt your schedule.

Bluetooth® wireless technology
You'll enjoy the freedom to roam with an immediate wireless control from up to 30 feet with virtually no interference.
Windows Vista®-ready
You're ready to work with Windows® XP or Windows Vista® with extras like hot keys.
Comfort is key with Logitech keyboards
Tap happiness
2 million keystrokes. Every day.

That's how much the average person types every year, according to a study by Harvard. (Dennerlein 2006)

If you sit at your computer hour after hour, day after day, all those key presses can really add up. Fortunately, you can do something about it. Logitech keyboards have a variety of comfort features to help keep your body happy.



Comfort Wave Design: Curve + Wave + Palm Rest

Your fingers vary in length—but most keyboards treat them all the same. Our Wave keyboards have a gradual wave-shaped contour to support the varying lengths of your fingers and keep the pressure off your fingertips.

To keep you from having to twist into an unnatural position when you type, we threw in a curve. Gently curving rows of keys support the natural resting position of your hands without splitting the keyboard. After all, you shouldn't have to relearn how to type to be comfortable.

A cushioned, contoured palm rest helps position your hands comfortably on the keyboard. Plus, it gives you a cushy place to rest your palms when you're not typing.
See all Wave keyboards
Learn more about the Wave keyboard design

Perfectly PerfectStroke
Logitech PerfectStroke™ key system combines the benefits of a laptop keyboard with those of a stand-alone keyboard to give you a perfectly pleasant typing experience.

Clickety-clack. For those of you old enough to remember, it isn't the sound of that old electric typewriter that you miss so much, it's the way the keys felt under your fingers.



PerfectStroke™ key system. Your typing experience made near perfect.
Tapping into your needs

Clickety-clack. Remember that sound? The old electric typewriter. If you are old enough to remember, it isn't just the clickety-clack that you probably miss so much. Rather, it's the way the keys felt under your fingers.

It's a desire to create an unforgettable typing experience that drove us to create Logitech® PerfectStroke™ key system. PerfectStroke combines the best of laptop and stand-alone keyboards to help make every key stroke smooth, comfortable, and whisper-quiet.



The perfect blend
Traditional computer keyboards and laptop keyboards each have their benefits. Stand-alone keyboards generally use keys with longer, more comfortable key travel. Notebook keyboards have shorter key travel, but use a scissor-key mechanism that makes the response faster, compared to standard keyboards.

We figured why not give you the best of both worlds? PerfectStroke creates the perfect blend of laptop and traditional keyboards by combining the smooth action of notebook keys and the comfort of traditional keyboards.



Smooth moves
You don't strike the keys perfectly every time. Sometimes, you might just catch the edge of a key. With PerfectStoke, you won't feel the difference. Precision micro-scissors distribute force evenly across key surfaces so every keystroke you make is natural and fluid - even the imperfect ones.



Travel in comfort
With a typical notebook keyboard, your fingers have to travel 2.2 mm to activate a key. Most desktop keyboards, on the other hand, have a much more comfortable key travel of 3.5 mm to 4 mm. We gave our PerfectStroke keyboards a 3.2 mm key travel - so you can enjoy silent, responsive typing that's comfortable too.



System Requirements
Windows® XP (SP2) Windows Vista® or Windows® 7 (all editions)
Available USB port
CD-ROM Drive




Hardware
Keyframe
Full-sized standard 18 X 18 mm keys, 3.2 mm key travel, 60g activation force
10M keystroke supported per key
Scissor switch technology
Plexiglas panel with brushed aluminum palm rest
Warranty Information
3-year limited hardware warranty
Package Contents
Logitech® diNovo Edge™ Keyboard
Charging base AC power cord
USB mini-receiver
Installation CD with Logitech SetPoint version 3.10, comfort guidelines, & Help center
User guide
Part Number
Technical Specifications
Enhanced Control
38 mm circular Touchpad with horizontal and vertical scrolling
Acceleration settings goes from None to 10 times the scrolling speed
TouchDisk can be disabled with FN + Left Click on the keyboard
17 one-touch access controls with instant backlit feedbac
57 mm touch sensitive volume slider with instant backlit feedback
Connectivity
Bluetooth® Wireless Technology, version 2.0
Power and Battery
Built-in rechargeable 950 mAh lithium ion battery
Fast-charge time: About 5 min for approx. one day usage
Full-charge time: About 2 hours for up to 2 months usage
Dimensions and Weight
11 mm (H) X 410 mm (W) X 210 mm (D)
940 grams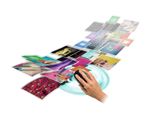 Navigate the possibilities
Unlock the power of Windows 8 with these new touch devices. Learn more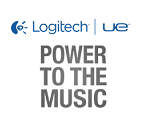 Introducing Logitech UE
Create products that deliver music in its purest, most undiluted form. Learn more