Logitech Wireless Trackball M570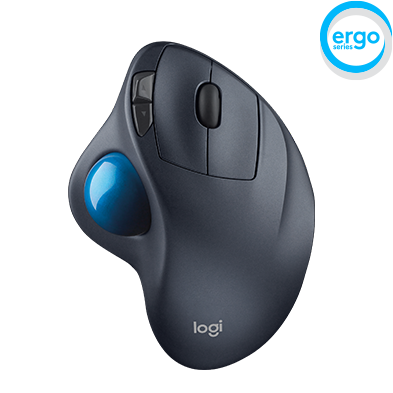 A different kind of comfort. A different kind of control.



All-day comfort
Work in comfort with a stable, sculpted trackball that supports your hand and lets you rest your arm.


Super powered
With up to 18 months of use from a single AA, you might just forget your trackball uses batteries at all.*
* Battery life may vary based on user and computing conditions.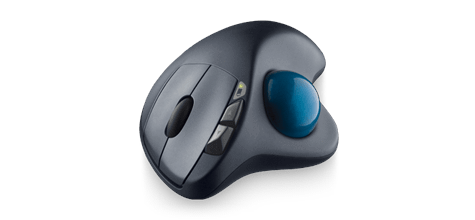 You've got a different kind of comfort thanks to a leave-in wireless receiver, long battery life and precise cursor control that lets you work—and play—wherever you want.



Trackball comfort
Your trackball stays in one place, so you don't have to move your arm to move your cursor. Its sculpted shape supports your hand to let you work all day in comfort.
Compact footprint
Short on space? No problem. Because the trackball doesn't move, it's perfect for tight workspaces and busy desks.

Time-tested shape
Millions of people have loved the Logitech Trackman Wheel. We've refined its proven shape to create the M570.

Logitech® Advanced 2.4 GHz wireless
You get the reliability of a cord with cordless convenience and freedom—fast data transmission and virtually no delays or dropouts.

Wireless freedom
Who wants a cord in the way? The robust wireless connection lets you control your laptop, desktop computer or home theater PC from up to 30 feet (10 meters)* away.
Tiny, wireless receiver
It's so small it can stay plugged in a USB port. You don't have to unplug it when you move around or worry about losing it. And your trackball is always ready to use.

Logitech® Unifying technology
Easily connect up to six compatible wireless devices—keyboards, number pads or mice—without the hassle of multiple receivers filling up your USB ports.

Storable receiver
If you do need to remove the tiny receiver, just tuck it away right next to the battery.

18-month battery life
The long battery life virtually eliminates the hassle of changing batteries.** The On/Off button saves power, while an indicator light helps you avoid surprises.

Work—and play—anywhere
You get precise cursor control wherever you want to use your trackball. Hard tables, comfy sofas and lumpy beds are all no problem for the M570.

Adjustable speed
The M570 now sports an adjustable laser sensor, giving you a wider range of cursor speeds—and the perfect amount of control.

Scroll wheel
You can easily move up and down through Web pages and long documents.


Back/Forward buttons
Moving quickly between documents or browsing your favorite Web sites is a breeze with large, easy-to-reach Back/Forward buttons.

Easy to clean
Should you need to clean your trackball, removing the ball is a snap.

Easy to move
Your desk, your comfy chair, your bed—this trackball is easy to take with you around the home. The ball even stays in place when you turn it upside down.
* Actual wireless range will vary with use, settings and environmental conditions.
** Battery life may vary based on user and computing conditions.
*** Requires Logitech SetPoint™ software (Windows) or Logitech Control Center software (Mac OS X), available for download at logitech.com/en-nz/support/downloads.
Logitech® Unifying receiver
Plug it. Forget it. Add to it. You've got the Logitech® Unifying receiver.

The Unifying receiver stays in your notebook, so there's no need to unplug it when you move around. It's so tiny, you won't need to worry about the receiver breaking off or getting lost.

And it's easy to add a compatible wireless keyboard or mouse to the same receiver. Build your ideal combo. Add something. Replace something. It's as simple as can be and you'll use only one USB port.

Uniting your setup
Your laptop is convenient. You use it on the couch, in the kitchen, at the coffee shop—wherever you want. Logitech makes your laptop as comfortable as it is convenient with portable mice and notebook-ready keyboards.

The Logitech® Unifying receiver takes convenience a step further.

The Logitech® Unifying receiver is a tiny, leave-in wireless receiver. Smaller than most coins, the Unifying receiver not only makes it easy to use a wireless keyboard, mouse, or number pad, it also works with up to six devices.

Plug it in
With the tiny wireless receiver, there's no need to plug and unplug when you're on the move. Or deal with the hassle of multiple receivers. The tiny Logitech® Unifying receiver stays in your notebook and lets you add devices as you need them.

Forget about it
The Unifying receiver is small and always ready. So small, in fact, you can leave it plugged into your USB port when you're on the move—without worrying about breaking or losing it.

Add to it
It's fast and easy to add a compatible wireless mouse, keyboard, or number pad to your receiver. You can mix, match, upgrade, or replace up to six devices—now or in the future—using just one USB port. To connect a new device, you simply open the connection software, click "Pair new device", and turn the device off and on. That's it.

A tiny dynamo
The Unifying receiver packs plenty of power. Built with Logitech® Advanced 2.4 GHz wireless connectivity, Logitech mice with the Unifying receiver give you the reliability of a cord—with the freedom of cordless. You'll enjoy fast data transmission with virtually no delays or dropouts.

Plug it. Forget it. Add to it. You've got the Logitech Unifying receiver.

Compatible with Logitech® Unifying receivers
Looking for a mouse or keyboard (or number pad) that is Unifying compatible? We'll help you find the right one.

Wireless mice. Cut the cord.
You don't have to stay tied to your desk. Or live with the chaos of cords.

With Logitech wireless mice, you're free. Free to be more productive and comfortable on the go. To keep your desk clutter-free. And to say "no thanks" to your notebook's tricky touch pad.

With a variety of wireless options, you're also free to pick which type of wireless works best for you. But don't worry—we're here to untangle all the terminology and technology.

The power player: Advanced 2.4 GHz
Logitech Advanced 2.4 GHz wireless delivers even more robust, reliable performance than ever before, effectively eliminating delays and dropouts (compared to conventional 2.4 GHz and 27 MHz wireless technologies).

Even in the busiest wireless environments, such as a busy airport or high-tech office, Logitech Advanced 2.4 GHz wireless technology delivers the reliability of a cord plus cordless convenience and freedom.

Your mouse is automatically paired with the receiver plugged into your computer and minimizes conflicts with other devices. So, you can use your mouse with the most demanding applications and know that every move you make will be carried out instantaneously. It uses less battery power than other wireless technologies, too.

Just plain easy: Bluetooth®
No dongle, no cord—Bluetooth® mice give you a hassle-free connection to your Bluetooth-enabled computer.

Back to basics: 27 MHz
For a basic wireless connection, 27 MHz wireless technology is reliable. You can use it up to six feet away with less chance of interference in your home or small office because the band isn't widely used.



Mouse battery life. What's in a number?
If you love the convenience of long battery life, Logitech mice will make you happy. In fact, the Logitech® Marathon Mouse M705 will last you up to three years without a trip to the store for two AAs.

See all mice with extended battery life.

But do you ever wonder how we determine battery life? And what about the disclaimer that's on every box? "Battery life may vary based on user and computing conditions."

In this article, we'll power you through all the details and go behind the battery-life scene.

Behind the numbers

Mouse battery life isn't a one-size-fits-all number. It varies more from person to person than just about any other battery-powered device. And there's no industry standard for calculating it. We do our best to come up with a battery life that a typical user can expect to get. But this can vary greatly depending on your situation. A light user might get over three years of battery life with a mouse, while a very heavy user might only get one year with the same mouse.

So how do we calculate our battery life? We studied a variety of real mouse users and created a profile of a typical user. We then used that to create a simulation that we run on actual mice.

During the simulation, we measure how much power the mice use and come up with a battery life estimate—taking into account factors such as how battery voltage changes over time, which impacts how much power the mouse uses.

The big factors

There are a lot of variables that can affect the battery life of your mouse. While there's no magic formula to figure out exactly how long your batteries will last, knowing the main factors can help you get a better idea of what to expect—and in some cases help you go longer between battery changes.



How much you use your mouse.
This can vary a lot depending on whether you're using the mouse all day, every day for work or just a few hours here and there at home.
How you navigate.
The more you move your mouse, the more power it uses. If you use keyboard shortcuts that reduce how much you use your mouse, you'll get more life out of your mouse batteries.
The types of tasks you do.
Do you spend a lot of time doing mouse-intensive activities, such as browsing the Internet? Or do you spend most of your time typing e-mails or documents that involve very little mouse movement?
The type of surface you use it on.
The tracking sensor uses more power than anything else in the mouse. And the type of surface you use your mouse on affects how much power the sensor uses. While the best surfaces can vary depending on the mouse, in general, it's best to avoid dark, rough or dull surfaces.
Unintended motion.
On the move with your mouse? Be sure to turn it off with the On/Off switch. While our mice are designed to go to sleep when they're not being used, they'll wake up when they move around inside your bag or in your hand—and this movement can use a lot of power.
The batteries you use.
Using old, cheap or rechargeable batteries? All of these could reduce the battery life you get with your mouse. You'll typically get the most life from high-quality, fresh batteries. And for best results, you should replace both batteries at the same time with batteries from the same package. Mixing brands, types or expiration dates can decrease battery life, too.


Looking for a mouse with a battery life so long you won't remember the last time you changed batteries?

Check out our mice with extended battery life.

SetPoint™ Software. Your mouse gets personal.
A mouse makeover
Your mouse gets the job done. It clicks. It scrolls. It gets you where you want to go. It might even do some fancy things—like zoom or flip documents.

But did you know you can customize your Logitech mouse to work the way you want it to? SetPoint™ software makes it easy.


If you have SetPoint, open it by clicking on the SetPoint icon (it's the tiny mouse and keyboard in your tray, if you're running Windows®) Or, you can select Logitech>Mouse and Keyboard>Mouse and Keyboard Settings from the Windows Start menu.

Your buttons, your way
Got a button you just don't use? You can change its function to suit your needs. Maybe your mouse has a zoom button, but you'd prefer to use it for document flipping. Here's all you need to do:



Open SetPoint
Find your mouse
Choose the button you want to change
Pick what you want it to do

With some mice, like the MX™ Revolution and VX™ Revolution, you can even assign different functions to a button for different programs.

Pointer power
Your cursor is under your control with SetPoint. To move the way you want to, you can change the pointer speed and acceleration, turn on pointer trails, and enable Smart Move to automatically move the pointer to the default button in dialog boxes. In some cases, it also lets you adjust the scrolling speed.

Get ready for game time
Gamers, we've got a little something for you in there, too. You can enable game detection and choose game mode settings that give you the competitive edge.

System Requirements
Windows-based PC

Windows® XP, Windows Vista® or Windows® 7
USB port Internet connection for software download





Mac® computer

Mac OS® X 10.5 or later
USB port
Internet connection for software download




Warranty Information
3-year limited hardware warranty
Package Contents
Trackball
Logitech® Unifying receiver
1 AA battery
User documentation