HomePlug. The easy-to-setup ingredient to Logitech Digital Video Security.
Connect your Logitech digital video security camera to your computer through your existing electrical wires? It's easy with HomePlug technology.

HomePlug™ technology is a powerline networking standard that uses your existing electrical lines to create a local network. It's one of the main reasons why Logitech digital video security is a snap to get started.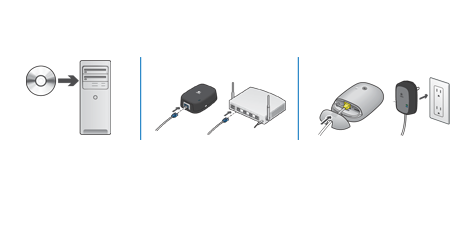 The 15-Minute Setup
With HomePlug, it takes about fifteen minutes to set up the Logitech digital video security system.

Install Logitech® Command Center software on your computer.
Plug the small HomePlug adapter into a standard three-pin wall socket
Plug the USB cord into the computer.
Plug your camera into an electrical outlet.
That's it. HomePlug technology is ready to transmit secure video data over your existing wires.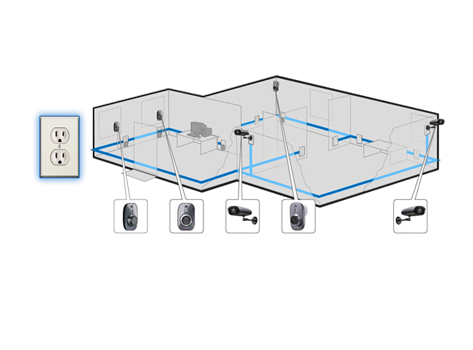 HomePlug—What is it?
Every home has power outlets and HomePlug puts them to use. Powerline networking—like other networking technologies, such as Ethernet or 802.11g—allows you to create a local network of connected computers and devices.

While Ethernet is a wired solution and the 802.11 standards a, b and g use wireless connectivity, powerline networking uses your existing electrical lines to connect your computer to your video security cameras.

HomePlug is a standards-based powerline networking technology. The HomePlug Powerline Alliance (https://www.homeplug.org/home/), a non-profit industry association, manages the development of specifications and is supported by many industry-leading companies.

Logitech's digital video security cameras use HomePlug 1.0, which features 14 Mbps data rate, 56-bit Data Encryption Standard (DES) encryption and password protection. With millions of HomePlug certified products in use worldwide, the HomePlug 1.0 specification is the world's only industry-standard, high-bit-rate powerline communication specification.