Logitech HD Webcam C615 & Logitech Wireless Headset H600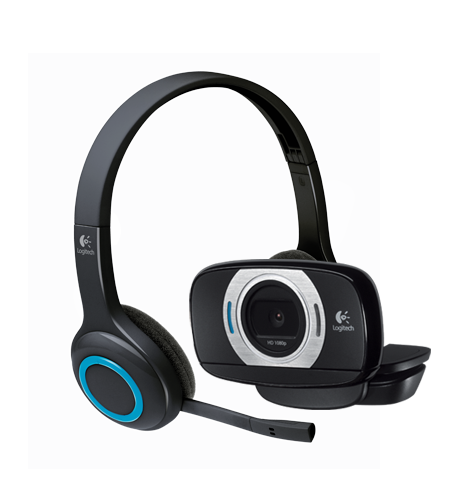 HD Webcam C615
With one-click HD uploads to Facebook and a versatile, fold-and-go design, you'll enjoy HD 720p video calling and Full HD 1080p video sharing—however, whatever, wherever you like.

Wireless Headset H600
Cut loose from your PC with this lightweight, portable headset. The laser-tuned drivers, 10-meter range* and 6-hour rechargeable battery** make it easy to listen and chat whether you're at your desk or on the couch.
* Actual wireless range will vary with use, settings and environmental conditions.
** Actual battery life will vary with use, settings and environmental conditions. Rechargeable batteries have a limited number of charge cycles.
* For Mac® computers, HD video calling is currently available on Logitech Vid™ HD and FaceTime HD. For HD video calling support with other video-calling applications, please check their website for availability and support information.
** iMovie does not directly support external webcams. You can use the included Logitech Webcam Software to record and export video captured by a Logitech webcam into iMovie.
*** Windows-based computers only. Intel® Pentium® 4 (2.8 GHz) recommended.
**** Email registration required. Additional terms and conditions apply. Windows-based computers only.
***** 60-day trial offer. Additional terms and conditions apply.
Video Effects. Extra fun for your video calls.
Playing around
Looking to add a little entertainment to your video calls? Logitech® Video Effects™ can really spice things up.

You can be a talking shark one minute, an Elvis impersonator the next, and a chalkboard drawing after that. When you download Video Effects, you'll get:


Avatars
Face Accessories
Video Masks
Fun Filters.
Make your move
These aren't just plain-old static effects. Video Effects technology uses face tracking to find your face and track its moves. Then it either maps a Face Accessory over your real face or completely replaces your video with an Avatar that moves like you.

So when you choose a dinosaur avatar, the dinosaur moves its head the way you do, talks when you talk, and winks when you wink. When you put on glasses, they stay on your eyes—even when you move around.

Avatars
Feel like being someone or something else today? You simply pick out a character and watch it become you. We've got an avatar for every mood and season. You can be a sock puppet, cat, alien, dollar bill, Santa, and lots of other people, animals, and things.

Face Accessories
When you want to be you with a little something extra, you can just put on a Face Accessory. You've got options galore, including a pirate hat, crown, scuba mask, vampire teeth, antlers, and a pig nose. Or you can put on a full mask.

Video Effects Fun Filters
Ready for a new twist on the real you? Fun Filters apply photographic filters or manipulate your video in real time. You can transform into a comic book character, get all twisted, alter the colors, and more.



MAGIX photo organization and video editing software. Easy, smart and free with your Logitech webcam.*
You've said good-bye to shoeboxes full of photos and videocassettes. Now all your memories are stored on your computer.

But with thousands of photos and videos, it can sometimes be difficult to find the one you want. And once you've found it, you might want to crop a photo to focus on your beautiful baby cousin's face. Or cut those last few seconds of video where your sister's perfect wedding cake somehow ends up on the floor.

You need software that gets you organized and helps you fix minor blemishes in your photos and edit your videos.

But you want it to work right the first time—and you don't want to spend hours reading a manual to figure it out.

We understand. That's why Logitech has teamed up with MAGIX to offer MAGIX™ Photo Manager 9 and MAGIX™ Video Easy with your new Logitech webcam. And they're free.*

You'll find icons for each of these programs in the Get More Apps section of your Logitech Webcam Software.

Sound good? Get MAGIX Photo Manager 9 and MAGIX Video Easy now.

Or let us tell you a bit more about what MAGIX can do for you.



Get Hollywood.

Using a webcam to record a video of your baby's first words, a funny clip that you upload to Facebook™ or YouTube™ or a warm message to a loved one can be an art. It's hard to figure out just when to stop—or start—recording to get the best video.

There are editing programs out there, but they're often very complicated, taking days to learn and offering lots of features most people will never use.

That's where MAGIX Video Easy comes in. The name says it all.

This drag-and-drop home video tool makes it easy to cut, edit and combine videos to turn fleeting memories into indelible moments you'll be able to return to again and again.

The simple, easy-to-use interface makes editing an intuitive process rather than a chemistry project. Step-by-step instructions help you select the parts of your video that you want to include, then add a title and some music—you can even add transitions.

And when your inner auteur is satisfied, it's easy to upload your newest creation to YouTube. Next stop: Sunset Boulevard. Or Grandma's living room.




Get organized.

Digital cameras and camera phones make it easy to capture the important moments in your life.

The question, then, is how to make those photos and videos easy to find and share with your friends and family? MAGIX Photo Manager 9 does it all for you.

After you've downloaded and installed the software on your PC, just connect your camera. Photo Manager will automatically import your photos and videos, and then organize them by date, time and place taken.

It's a snap to find just what you want—without the hassle of scrolling through thousands of thumbnails.

Photo Manager also lets you do basic editing like cropping, eliminating red-eye and making small color corrections. In just a few minutes, your photos will be looking their best—just like the memories they capture.



Get it now. (Because they're free.)

The best part? Both Photo Manager and Video Easy are free with your new Logitech webcam.

Just launch the Logitech Webcam Software, click on the Do more button and choose to download and install MAGIX Photo Manager 9 and MAGIX Video Easy. You'll be ready to roll in just a few minutes.

So what are you waiting for? Get MAGIX Photo Manager 9 and MAGIX Video Easy now.

* MAGIX is free but does require an e-mail registration.
** MAGIX Photo Manager 9 and MAGIX Video Easy work with Microsoft Windows® XP, Windows Vista® and Windows® 7.

FastAccess facial recognition software—serious data security that's easy to use.
What did you do on your computer today? Pay bills? Check your account balances? Send e-mail? How many password-protected sites did you visit?


When your life is on your laptop or desktop, you need help to protect it. But security programs can be a hassle, taking time to install and use—and adding complications to your already busy life.

Want a better way? We hear you.

Logitech has teamed with Sensible Vision to offer a free 15-day trial of FastAccess™ facial recognition software.*



It's simple.

How does it work? We're glad you asked.

Setup is a snap when you have a Logitech webcam.

Just download the software*

then start using your computer. (Make sure your webcam is plugged in.)

After you're set up, your webcam automatically scans your face and enters your password for Windows® or websites.

The FastAccess software can learn what your face looks like under different use and lighting conditions—so the process goes faster every day.



It's smart.

FastAccess also lets your Logitech webcam detect when you leave your computer and can automatically lock your computer to prevent unauthorized people from getting access to your data.

The best part: It happens so seamlessly, you won't even know it's running. But you'll have the confidence that comes from using a strong security program.

It automatically locks your computer.

We've all got private information on our computers. Whether it's confidential e-mails, account numbers or personal photos, you won't have to worry about anyone getting into your computer while you're running FastAccess with your Logitech webcam.

If you're in a public area, you can engage stronger security settings, automatically lock down your desktop when you step away or even create an access log that will record anyone who tries to get access to your computer.

And FastAccess can automatically switch accounts in Windows® XP, Windows Vista® and Windows® 7 when it recognizes a different face—which helps you protect your private data and enforce parental controls.



It's convenient.

Forgot your password? No problem.

FastAccess minimizes the need to enter a password to log in and will often recognize you faster than you can type a password.

What's more, a scan of your face can automatically log you in to most websites that require passwords.



It's a no-brainer.

Security's important in today's connected world—but so is convenience. A Logitech webcam with FastAccess facial recognition software can give you both.

Sound good? Download FastAccess now, then use it for 15 days for free to see how it works for you (registration required; additional terms and conditions apply).

* FastAccess requires registration. (Terms and conditions apply.)
FastAccess works with Microsoft Internet Explorer® and Mozilla Firefox®.



System Requirements
HD Webcam C615

Windows® XP (SP2 or higher), Windows Vista®, Windows® 7 (32-bit or 64-bit) or Mac OS® X 10.5 or higher





Basic requirements:

1 GHz
512 MB RAM or more
200 MB hard drive space
Internet connection
USB 1.1 port (2.0 recommended)





For HD 720p video calling (on Logitech Vid™ HD) and Full HD 1080p video recording:

2.4 GHz Intel® Core™2 Duo
2 GB RAM
200 MB hard drive space
USB 2.0 port
1 Mbps upload speed or higher
1280 x 720 screen resolution





Wireless Headset H600

Works with Windows® and Mac OS®

USB port
Works with Logitech Vid™ HD, Skype®, Yahoo!® Messenger, Gmail™, Windows Live® Messenger and AIM®.




Warranty Information
Webcam C615 & Headset H600 : 2-year limited hardware warranty
Package Contents
HD Webcam C615
Webcam with 3-foot cable
3-foot extension cable
Tripod-ready base
User documentation
Wireless Headset H600
Headset
Nano receiver
USB recharging cable
User documentation
* Requires installation of included software.
**E-mail registration required. Additional terms and conditions apply. Windows-based computers only.
***Windows-based computers only. Intel® Pentium® 4 (2.8 GHz) recommended.
Part Number
PN 960-000735BB/981-000342BB
Technical Specifications
Full HD 1080p video capture (up to 1920 x 1080 pixels) with recommended system
HD video calling (1280 x 720 pixels) with recommended system
Logitech Fluid Crystal™ Technology*
Autofocus
Photos: Up to 8 megapixels (software enhanced)
Built-in mics with automatic noise reduction
Hi-Speed USB 2.0 certified (recommended)
Universal clip fits laptops, LCD or CRT monitors
Logitech webcam software:
Logitech Fluid Crystal Technology
Automatic low-light correction
Video and photo capture
MAGIX™ photo and video editing**
1-click Facebook®, Twitter™ and YouTube® HD upload (registration required)
Logitech Video Effects: fun filters, avatars, face accessories, video masks and mask maker***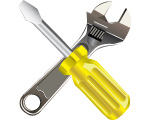 Webcam Support
Get the support you need to get the most out of your Logitech webcam. Logitech online resource can help with everything from installing or re-installing your software to updating drivers. Learn more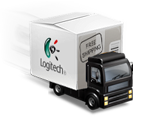 Free Shipping
Spend EUR 39 and get free shipping. Just our way of saying thanks. Learn More