How does it work?
VoIP uses the Internet to transmit voice signals from one computer to another computer.
What you'll need to get started:
To make an Internet call, you and your friend, or colleague, need the following:
A computer
A microphone (either built into your computer or external)
Speakers (either built into your computer or external)
A high-speed Internet connection
VoIP software.
There are several VoIP software and service providers, including Skype™, Windows Live™ Messenger, Yahoo!® Messenger and AIM®.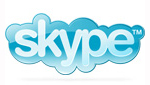 Using Skype® to make a voice call
Over 200 million people are using Skype to make phone calls over the Internet. Skype gives you free unlimited calls. All you need is the free Skype software.
Follow these steps to get started:
Visit www.skype.com to download the latest Skype software. A handy setup wizard helps you get started. It's easy. Just follow the prompts.
Once you've downloaded the software, find out your friend's Skype Name. Then simply click the "Add Contact" button to enter your friend's Skype Name into your personal contact list.
Select your friend's name from your Contact list.
Press the green button with the picture of a telephone. If your friend has the latest Skype application (plus a properly configured webcam and microphone), you're ready to start a VoIP conversation.
That's it. You'll be talking to your friends, family and colleagues in no time.

If you want the person at the other end of the call to be able to see you, consider getting a webcam. Many webcams include a built-in microphone. For more privacy, you may also want to consider getting a headset.

See all of our webcams >>

See all of our headsets >>