Logitech Speaker System Z103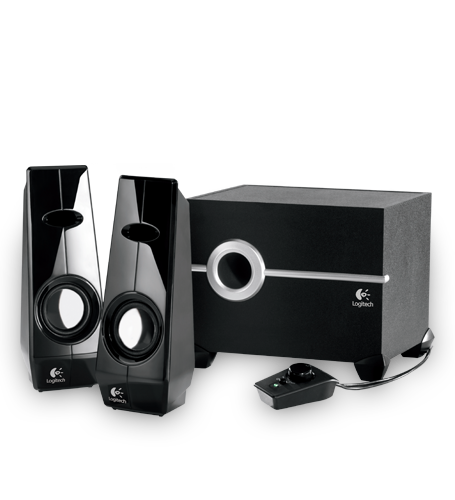 Little big sound.



Baby boomer
Feel the beat. The down-firing subwoofer gives you rich, full bass in a small package—perfect for tight spaces.

Control at hand
You've got power—and volume—in the palm of your hand with the wired control pod.

Me-time
Don't want the whole world to hear? A headphone jack lets you listen in privacy.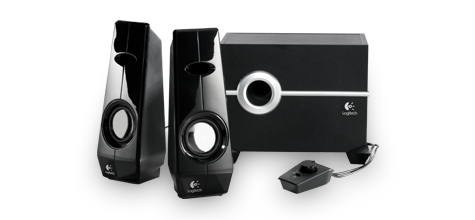 A compact speaker system—with a down-firing subwoofer—delivers big sound in a little package.



Down-firing subwoofer
You'll enjoy rich, full bass that adds another dimension to your movies, music, and games.Satellite? Subwoofer? So what? Learn more about speakers.

Compact size
This compact system lets you enjoy big sound in tight spaces—in your dorm room or at your desk.

Control pod
There's no need to use your computer. The volume and power controls are within your reach with the wired control pod.

Headphone jack
You can listen to your favorite tracks, play games, and watch videos in private.
What you need to know to make a sound decision about speakers.
Your computer gives you access to a world of music, videos, movies, and games. But in most cases, it doesn't give you the quality sound you need to really enjoy all that. If weak, tinny audio isn't your thing, you're going to need some new speakers. Read on to figure out what kind of system is right for you.
Good sound all around
Most speakers systems are designed to sound their best when you're sitting right in front of them. Our speakers with 360-degree sound, on the other hand, have forward- and backward-facing speakers. So you can get up and move around—even dance a little—and your music will sound great everywhere.

Portable pals
Craving better sound you can move around with? Portable notebook speakers are compact and lightweight enough to tag along with you and your notebook wherever you go.

Surrounded by sound
If you want to get sucked into your entertainment, a 5.1 surround sound system is just what you're looking for. Two front satellites, a center channel speaker, two back satellites, and a subwoofer immerse you in your games, movies, and music—putting you smack dab in the middle of the action.

Virtual surround sound recreates that experience in a 2.1 speaker system. It's easier to set up and takes up less space. Sound good?

Bring on the bass
Bring on the bassA subwoofer shakes some life into your movies, music, and games by adding in deep bass. To get everything from a little boom to a house-shaking rumble, you're going to want a 2.1 speaker system—that's two satellites and a subwoofer.

Just the basics
Looking for richer sound and more volume when you listen to music or watch videos online? A 2.0 speaker system may be all you need. It's made up of two small speakers called satellites. They're simple to set up and don't take up a lot of space.

Warranty Information
2-year limited hardware warranty
Package Contents
2 satellite speakers
1 subwoofer
Control pod
All necessary audio and power cables
Quick Start Guide
Part Number
Technical Specifications
Total RMS power: 17 watts (RMS)
Subwoofer: 9 watts (RMS)
Satellites: 8 watts (RMS) (4 watts (RMS) per channel)

Total peak power: 34 watts

Frequency response: 55 Hz – 15 kHz

Dimensions:
Subwoofer: 4-inch (10 cm) driver
Satellites: 2-inch (5 cm) concave drivers

Speaker dimensions (H x W x D):
Subwoofer: 5.31 inches (13.49 cm) by 7.28 inches (18.48 cm) by 5.71inches (14.5 cm)
Satellites: 7.09 inches (18 cm) by 2.76 inches (7 cm) by 2.68 inches (6.8 cm)

Signal-to-noise ratio: > 70 dB
Make Music Social
UE BOOM is the 360° wireless speaker that lets you rage, riot, party and play the music you love, out loud. Learn More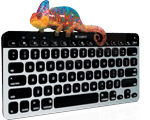 Logitech Bluetooth® Easy-Switch™ Keyboard for Mac, iPad and iPhone
A beautifully designed, illuminated keyboard to use across your Apple devices. Learn More