Logitech Speaker System Z103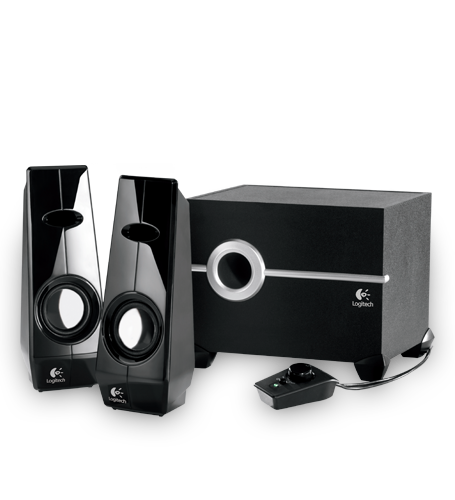 Little big sound.



Baby boomer
Feel the beat. The down-firing subwoofer gives you rich, full bass in a small package—perfect for tight spaces.

Control at hand
You've got power—and volume—in the palm of your hand with the wired control pod.

Me-time
Don't want the whole world to hear? A headphone jack lets you listen in privacy.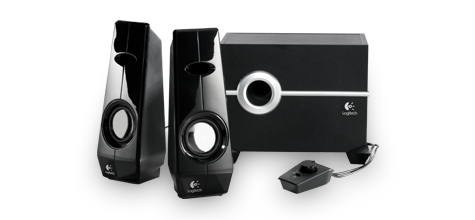 A compact speaker system—with a down-firing subwoofer—delivers big sound in a little package.



Down-firing subwoofer
You'll enjoy rich, full bass that adds another dimension to your movies, music, and games.Satellite? Subwoofer? So what? Learn more about speakers.

Compact size
This compact system lets you enjoy big sound in tight spaces—in your dorm room or at your desk.

Control pod
There's no need to use your computer. The volume and power controls are within your reach with the wired control pod.

Headphone jack
You can listen to your favorite tracks, play games, and watch videos in private.
Warranty Information
2-year limited hardware warranty
Package Contents
2 satellite speakers
1 subwoofer
Control pod
All necessary audio and power cables
Quick Start Guide
Part Number
Technical Specifications
Total RMS power: 17 watts (RMS)
Subwoofer: 9 watts (RMS)
Satellites: 8 watts (RMS) (4 watts (RMS) per channel)

Total peak power: 34 watts

Frequency response: 55 Hz – 15 kHz

Dimensions:
Subwoofer: 4-inch (10 cm) driver
Satellites: 2-inch (5 cm) concave drivers

Speaker dimensions (H x W x D):
Subwoofer: 5.31 inches (13.49 cm) by 7.28 inches (18.48 cm) by 5.71inches (14.5 cm)
Satellites: 7.09 inches (18 cm) by 2.76 inches (7 cm) by 2.68 inches (6.8 cm)

Signal-to-noise ratio: > 70 dB