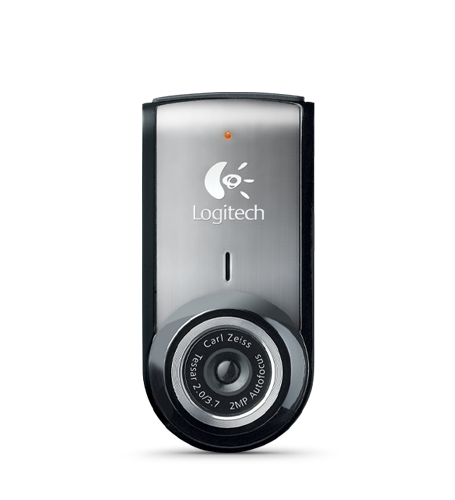 For HD performance on the go.



Looking sharp
You'll enjoy razor-sharp images—even in close-ups—thanks to our Carl Zeiss® optics with premium autofocus.

*Enhanced from native 2-MP sensor.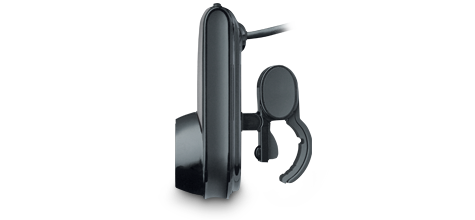 A webcam with a built-in video-calling application and Carl Zeiss® optics that gives you face time with friends and co-workers in no time—even on the go.



Carl Zeiss® optics
You'll enjoy razor-sharp images from a lens designed with the help of one of the pioneers in the industry. Find out more about why our collaboration with Carl Zeiss benefits you.

Premium autofocus
Your images stay razor sharp, even in close-ups (up to 10 cm from the camera lens) with built-in autofocus. Learn all about Logitech autofocus.


Automatic Light Correction
Even if you make a video call in dim or poorly backlit settings, the camera will intelligently adjust to produce the best possible image.

Logitech® Video Effects™
Your video calls get an extra dose of fun with Video Effects. It's easy to spice things up with neon splashes, fish-eye distortions, and more. Find out more about Video Effects.

Built-in mic with RightSound™
It gives you clear, headset-free conversations without annoying background noise. Find out why RightSound sounds so good.

Universal clip
You can attach your webcam securely to LCD monitors and ultra-thin notebooks, or sit it on a shelf or desk.

IM compatibility
Works with Skype™, Windows Live™ Messenger, Yahoo!® Messenger, AOL® Instant Messenger (AIM®), and other popular instant messaging applications.
Carl Zeiss and Logitech: Bringing you a better lens for better webcam images.
A focus on the lens
If your webcam's lens isn't good, your image quality won't be good either—no matter how many megapixels you've got.

At Logitech, we want you to have the best image quality—not just the highest resolution images. That's why we teamed up with Carl Zeiss, a leader in the optics industry since 1849, to bring you a better webcam lens.

More light, better images
A webcam lens captures the light that the sensor then transforms into the image you see. You need a high-quality lens to capture more light and produce the best images. Together with Carl Zeiss, we created an advanced lens design to give you more clarity and less distortion.

An updated classic
Our Carl Zeiss webcam lens is a new take on their Tessar® lens design. While the original Tessar design was patented back in 1902, it's the most famous camera lens for a reason. It delivers sharp images in a compact, lightweight form—which also happens to make it perfect for webcams.

To bring you the best webcam images possible, Logitech and Carl Zeiss turned the classic four-element Tessar design into a five-element design. Two of the lenses in the lens stack are cemented together to focus the light onto the sensor with maximum detail and minimal distortion. You can see the difference in your images.

Logitech Autofocus. The clear choice for clear video.
Bye bye, blur
A lot of webcams out there want you to stay put. Move or get too close and the camera can have a tough time automatically focusing on you—even if it's got a good lens. That can leave you looking hazy and out of focus. And that's probably not the look you're going for.

At Logitech, we don't want your video to become a blur. So we created an autofocus system that lets you move around. It zeroes in on whatever's in the center of the frame, like your face. When you move, the webcam automatically tracks your motion and refocuses the image. You'll be crystal clear in less than three seconds



Ready for your close-up
Want to zoom in for a kiss? Or hold something up to the camera? Our autofocus system can handle it. It focuses in and out automatically with precision and speed—even if the item is only 10 cm from the camera. No choppiness. No blur. Just a clear, sharp image.

How'd we do that?
We used the same type of motor used in mobile-phone cameras, a voice coil motor (VCM), and optimized it for webcams. They're compact, don't use a lot of battery power, and can handle shock and vibration. The lens moves back and forth to adjust focus until the webcam gives you the sharpest image possible. It also helps stabilize the webcam so your video and photos are in focus and have low distortion. So, you can go ahead and make your move.

Image quality. It's more than just megapixels.
Seeing the smile on your grandson's face or the glitter off your daughter's engagement ring is so much better than a phone call. And a webcam can really make these experiences possible, even when you're separated by thousands of miles. But getting the right webcam is more than just a matter of finding the one with the most megapixels.

At Logitech, we're not just trying to dazzle you with more megapixels. Megapixels are only part of the picture. Image quality—especially when it comes to making a video call—depends on at least five things: the webcam lens and sensor, your computer, your Internet connection, and the video-calling program.

The truth about megapixels

A higher-megapixel sensor doesn't equal high-quality images on its own, so it's important not to just look at megapixels and forget about the other aspects of the camera.

Higher-megapixel sensors, however, can give you more fine detail. Pick one of our webcams with a true two-megapixel sensor and you'll enjoy sharper, more detailed photos.

The right lens

The lens is what captures the light that gets turned into the image by the sensor. If your lens isn't good, it doesn't matter how many megapixels you've got. A bad lens is going to give you a bad image.

From our budget models to the top-of-the-line, we're committed to using quality lenses. Our lower-priced cameras feature multi-element, plastic lenses perfectly paired for the sensor in the camera. In our mid-price webcams, you'll find glass lenses that produce even sharper images.

For our best webcams, we teamed up with Carl Zeiss®—a pioneer in the world of optics—to create lenses that raise the bar for image quality. They use glass instead of plastic and have five elements to give you more detail and clarity and less distortion.

Find out more about why our collaboration with Carl Zeiss benefits you.

Maintaining focus

Ready for your close-up? You're not only going to need a good lens—you're going to need a good focusing system. A lot of webcams have either a manual focus option or no focusing system at all. If you get too close, you can end up fuzzy.

Our top webcams feature an advanced autofocus system. You'll get crystal clear images and fluid transitions whether you're moving in for a kiss or your kid is holding her latest masterpiece up to the camera—as close as 10 centimeters away.

Learn more about Logitech autofocus.

What about HD webcams?

When it comes to video calls, the maximum resolution is 640-by-480 pixels, otherwise known as VGA resolution. Today, you can't make an HD video call on any of the free instant-messaging applications.

So what's the value of an HD webcam? Want to record a message to a friend? Update your blog with a video clip? Capture your latest dance moves and post it on YouTube™? An HD webcam can record HD video. And several Logitech webcams make it easy to capture HD video at the 720p standard.




See all webcams that can capture HD video.

Find out why Logitech HD webcams offer so much more than HD.
Power and connections
Most computers sold today have no problem handling a video call. But if your computer is a little bit older or you're not using a fast connection, you might run into difficulty. To get good clarity and smoothness, your computer needs to meet the minimum requirements to support a video call.

We recommend that your computer have a dual-core CPU with 1 GB of RAM and that you're using a broadband connection of 256 kbps or higher. (Most broadband connections are at least twice as fast as 256 kbps.)

RightLight™ 2 technology. Be seen in a better light.
Just the right light
Video calls make it feel like you're right in the same room with your family and friends. But if the lighting isn't right, it might just feel like they're talking to a shadow or a faceless ghost.

That's where Logitech® RightLight™ 2 technology comes in. It's a system of hardware and software that delivers high-quality video in less-than-ideal lighting conditions.

You can let RightLight 2 technology automatically do its thing—or you can make manual adjustments whenever you want.



About face
RightLight 2 technology identifies your face in the frame and uses that to determine the light and color settings.

Face too dark? It brightens the whole image so your countenance can be seen clearly.

Too bright? It will darken everything to put your face in the best light.

Most webcams simply measure the amount of light in the entire image. If there's a bright window or lamp in the frame, your face might appear dark and shadowy. That's good for people trying to hide their identity—but not so good for video calls.

More light, less noise
Low light can be tricky for the average webcam. They generally only use software adjustments to increase the brightness, which means your video might be filled with digital noise that shows up as dark specks or digital garble.

But why go artificial when you don't have to?

RightLight 2 technology adjusts the frame rate to increase the exposure time of the camera so the sensor can capture more light and improve the image quality you start out with. And it dramatically reduces background noise by identifying static areas in the image and refreshing them less often.

In contrast
Add a lot of rich color to low light and your typical webcam tends to get confused. All that saturated color adds extra weight to an already dark environment—often resulting in dark, flat images. On top of that, the camera introduces more noise by trying to create contrast where there isn't much.

There's no need to change your outfit or décor with RightLight 2 technology.

RightLight 2 technology slightly lowers the level of color saturation in low light to produce sharp images with greater detail and contrast—and a whole lot less noise. The result? The person on the other end can see you better without seeing specks. RightLight 2. Put yourself in a better light.



Logitech HD webcams. High-def yourself.
Your webcam is more than just another gadget. And it's why your old (non-HD) webcam and the built-in webcam in your computer just won't cut it.

Why? What other device lets you look your loved ones in the eyes and tell them how you feel, tell them a joke, tell (and show) them what your three-year-old just created out of cardboard, glue and glitter?

Sharing, socializing, connecting with the people you care about. That's what makes a webcam different.

And Logitech HD webcams are about sharing your life—but bigger, better, brighter, smoother.

High-def yourself.




See how easy it is to upload HD videos to Facebook™ and YouTube™ .
Say it bigger. Say it better.

The beauty of video calling over, say, the phone, is that you can see and hear your loved ones.

But until just recently you couldn't make an HD video call. Because the name of the game in video calling is crunching down millions of pixels—the smallest unit of a digital image—every second and sending it from your computer, over the Internet, and to your buddy.

Up until now, bandwidth and CPU constraints made HD video calling impossible for nearly all PCs (desktop and laptop) connecting to the Internet through traditional networks.

That's all changed.

Today you can make an HD 720p video call with a Logitech HD webcam.

So go ahead. HD yourself. With a Logitech HD webcam.



System Requirements
Windows® XP (SP2 or higher)

1 GHz (2.0 GHz recommended)
256 MB RAM (512 MB RAM recommended)





Windows Vista® or Windows® 7 (32-bit or 64-bit)

1 GHz (2.0 GHz recommended)
512 MB RAM or more
200 MB hard drive space
CD-ROM drive
OS-compatible sound card and speakers
Hi-Speed Certified USB 2.0 recommended





For the best video calling experience, we suggest:

Dual-core CPU with 1 GB RAM
Broadband internet with 256 kbps upload or higher




Warranty Information
2-year limited hardware warranty
Package Contents
Webcam with 3-foot USB cable
Logitech webcam software CD
Desktop stand
Carrying case
User documentation
* Enhanced from native 2MP sensor.
Works with most instant messaging applications.
Part Number
Technical Specifications
Carl Zeiss® optics with autofocus
Native 2MP HD sensor
HD video capture (up to 1600 X 1200*)
720p widescreen mode with recommended system
Up to 8-megapixel photos (enhanced from native 2MP sensor)
Microphone with Logitech® RightSound™ technology
Up to 30 frames per second video
Hi-Speed USB 2.0 certified
Logitech webcam software (including Logitech® Video Effects™: fun filters, avatars, video masks, and face accessories)
Desktop stand and carrying case