Logitech G600 MMO Gaming Mouse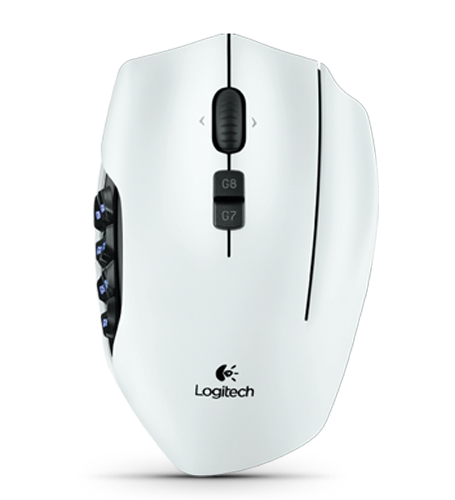 With 20 buttons, the Logitech G600 MMO Gaming Mouse is the most customizable and easy to use mouse specifically designed for mastering your favorite MMOs.



20 MMO-tuned buttons
Three primary buttons. Twelve thumb buttons. A clickable scroll wheel that tilts. DPI and profile switching. All pre-configured for optimal MMO use right out of the box – no drivers required.

Thumb panel in easy reach
Focus on burning down the boss without ever worrying about misclicks. The G600 thumb panel is meticulously designed for quick and easy no-look navigation. Two distinct sets of six buttons naturally guide your thumb to just the right spot.

Light it up your way
The thumb panel's RBG illumination is fully customizable with over 16 million possible combinations. Set colors to pulse on and off, or configure them to continuously change.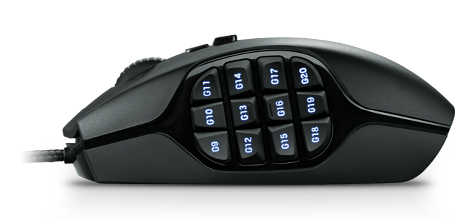 Complete control in your favorite MMOs
G600 MMO Gaming Mouse

20 MMO-tuned buttons
G-Shift function
Crafted for comfort

Make it yours - easily
Want to customize the default settings? Want access to more intricate macro and scripting capabilities than the onboard macros can provide? Download the optional Logitech Gaming Software and tweak your settings to perfection.*

Onboard brains
The three memory profiles are stored onboard so you can access all your button, tracking, and lighting color information on any computer with no software required.

Double down with G-Shift
Assigning the G-Shift function to a button on the G600 doubles the functionality of the other buttons on the mouse – giving you massive configuration power and flexibility.

Shift DPI on the fly
For precision targeting or sniping, assign a DPI Shift button to quickly change the DPI value. When you let go, you're back to the standard value. Set up to five DPI levels per profile.

Shaped to go the distance
The G600 is sculpted to support your hand through hours of raiding, PVP, or just grinding XP. Every button is tuned to reduce click fatigue without accidental actuations.

Gaming-grade laser tracking
The G600's gaming-grade laser sensor that will track the tiniest nudge or the fastest flick with equal precision.

Put to the test, built to last
The three large primary buttons are each rated to 20 million clicks. Durability testing pounds keys three times per second, 24/7, for nearly three months so you'll never have misclicks.

1 millisecond USB report rate
Input lag won't be a problem. The G600's USB report rate insures that all your click and movement information are reported instantly to the game. A thousand reports per second takes advantage of your PC's maximum communication speed.

Braided USB cable
The flexible, 6-1/2 foot long USB cable is cloth-wrapped for additional durability and a premium look. And it comes with a hook-and-loop cable strap to help you keep things tidy.

Low-friction feet
Ultra low-friction feet significantly reduce the amount of effort required to move the mouse, resulting in less fatigue in long game sessions.
* Some profile settings require Logitech® Gaming Software to be enabled and are not supported on Linux® and earlier Windows®-based operating systems. Logitech® Gaming Software is available at logitech.com/support-downloads/software
System Requirements
Windows® Vista, Windows® 7, or Windows® 8
Available USB port
Internet connection for optional configuration software download, available at logitech.com/support-downloads/software




Warranty Information
3-year Limited hardware warranty
Package Contents
What's in the box:
Mouse
User documentation
Warranty information
* measured on popular cloth and plastic gaming mouse pads. Specifications may vary depending on surface.
** measured on a wood veneer desk. Specifications may vary depending on surface.
Part Number
PN 910-003542
PN 910-002867
Technical Specifications
Tracking
Resolution: 200 - 8200 dots per inch (dpi)
Image processing: 11.25 megapixels/second
Max. acceleration: 30G*
Max. speed: up to 160 inches (4.06 m)/second*
Responsiveness
USB data format: 16 bits/axis
USB report rate: Up to 1000 reports/second
Sleep mode: disabled
Glide
Dynamic coefficient of friction: .09 µ (k)**
Static coefficient of friction: .14 µ (s)**
Total weight: 133 grams
Cord: 15 grams
Durability
Buttons (Left / Right / Third): 20 million clicks
Feet: 250 kilometers
Measurements
Weight: 133 grams (without cable)
Dimensions: 118mm x 75mm x 41mm
Cable length: 6.5 feet (2 meters)