Logitech Laptop Speaker Z305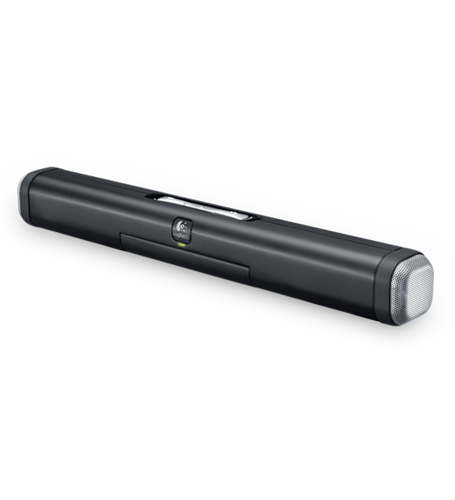 Get room-filling, 360-degree sound from this clip-on, USB laptop speaker.



All-around sound
Wherever you go in the room, your speaker will sound crisp and clear—even if you're behind it.

Ready to play
No need for software or a power supply—a single USB connection delivers power and pure, digital sound instantly.

Clip and go
Your speaker clips securely to most laptops and netbooks, so you can easily use it anywhere you use your computer.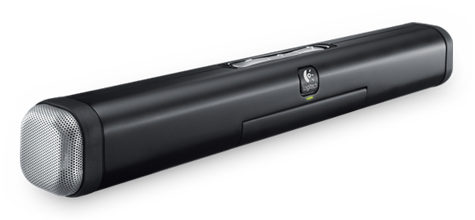 Get room-filling, 360-degree sound to go from this clip-on laptop speaker with one USB connection for power and audio.



Room-filling, 360-degree sound
Your speaker projects sound more evenly in all directions, so you enjoy rich, clear sound from any angle throughout the room.

Plug and play
The USB connection delivers power and pure, digital audio from a single cord—without the need for software or an external power supply.

Simple, clip-on design
Your speaker attaches securely to most laptops and netbooks, so you can easily use it anywhere you use your computer—your office, your bed, the airport and more.

Storable cord
The USB cable tucks neatly into the back of your speaker, giving you a look that's sleek and clutter-free.

Travel case
Your speaker stays protected while inside your bag or briefcase.

Auxiliary input
A standard 3.5 mm stereo jack opens up your music possibilities to just about any portable music player or computer.

Portable design
This compact speaker doesn't take up much room on your desk or bookshelf—or in your laptop bag.
360-degree sound. All-around you.
One giant step for sound
Music isn't about staying still. It's about movement. Yet most speakers are designed to sound their best when you're sitting right in front of them.

But you don't have to just sit there and take it. You can choose speakers that sound good throughout the room—Logitech speakers with 360-degree sound.

Stuck in the middle with traditional speakers
With most speakers, you need to sit in the sweet spot—usually smack dab in the middle, depending on how you've arranged your system—to get the best sound. Dance around the room or pick a different seat and your audio just won't sound right.

That's because the high and mid frequencies drop out when you move to the side or back of the speaker. (Their shorter wavelengths don't wrap around the speaker like low frequencies.)

Moving all around with 360-degree sound
Our 360-degree speakers are different. They've got both forward- and backward-firing drivers that project sound more uniformly around the speaker over a wider range of frequencies—not just the low ones. That means the direct and reflected sound are more tonally balanced for a better, more immersive listening experience.

The result? A broad sweet spot that gives you rich, balanced sound in every corner of the room and everywhere in between. So, you can go ahead and make your move.

USB speakers. Pure sound that's pure simplicity.
Better sound and then some
Music, movies, games, and YouTube™ videos—you've got a whole lot of reasons to want better sound for your computer. USB speakers can give you that and eliminate clutter. Want to hear more? Read on.

Sayonara, soundcard
You already know your computer's speakers aren't so hot. But what about your soundcard?

With USB speakers, the quality of your soundcard just doesn't matter. In fact, you don't even need one. They deliver pure digital audio straight from the source—say good-bye to that hissing sound.

Take it easy
No need to settle for mediocre sound when you're on the go with your notebook. Our portable USB speakers deliver sound and power with one cord—so you don't have to lug around some big, bulky power cord to enjoy pure audio anywhere.

Hear more. Play better.
Today's games are about much more than dots on a screen. And in-game sound isn't just an effect. It's a critical component of every scenario—from medieval battlefields to the streets of Liberty City. Our USB headphones and speaker systems surround you with aural information, faithfully and realistically.

System Requirements
USB port
Works with Windows® and Mac OS®




Warranty Information
2-year limited hardware warranty
Package Contents
Speaker with USB cable
Travel case
User documentation
Part Number
Technical Specifications
USB connectivity
Dimensions (H x W x D): 324 mm x 40.3 mm x 41.8 mm
Make Music Social
UE BOOM is the 360° wireless speaker that lets you rage, riot, party and play the music you love, out loud. Learn More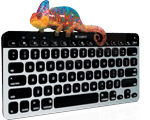 Logitech Bluetooth® Easy-Switch™ Keyboard for Mac, iPad and iPhone
A beautifully designed, illuminated keyboard to use across your Apple devices. Learn More