The easy way to start video calling and send pics*.



Smoother. Sharper. Richer. Clearer.
Logitech Fluid Crystal™ Technology. It's what makes a Logitech webcam better. It's smoother video, sharper pictures, richer colors and clearer sound in real-world conditions.

Plug and play
The simple setup will have you video calling your favorite people in no time—on most major IMs.

The real you
Your loved ones will see you in natural color when you talk to them, or you can take photos to share later.

Speak out
You can be heard loud and clear thanks to a built-in microphone that reduces background noise.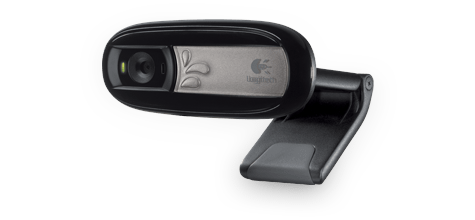 With plug-and-play setup, VGA-quality video and a built-in mic, this webcam is the easy way to start video calling and send beautiful, high-resolution photos*.



Plug-and-play setup, easy to use
With simple plug-and-play setup, you'll be making video calls in no time on most major IMs.

Clear video calls
With your webcam's VGA sensor, the people you care about will see you in natural color.

5-megapixel photos
You can take beautiful, high-resolution snapshots up to 5 megapixels (software enhanced).

Built-in mic with noise reduction
It gives you clear conversations without annoying background noise.

XVGA video recording
Record lively, colorful videos in XVGA (1024 x 768) resolution and share them with friends, family and the world on Facebook®, YouTube®, Twitter™ or your blog.

Universal clip
You can attach your webcam securely to a laptop or LCD monitor, or sit it on a shelf or desk.
RightSound technology. Sound right. Naturally.
A better way to video call
Webcams let you see and talk to your friends and family—wherever they are. But with most webcams, you need to wear a headset or you'll get a distracting echo.

Neither option sound appealing? With Logitech RightSound™ technology, you can avoid both. Acoustic echo cancelation software means the whole family can gather around and have a more natural conversation—without passing around a headset.



The echo explanation
You're on a video call with your friend. You're both using webcams with integrated microphones and typical computer speakers. Here's where the trouble happens:

Your friend says something to you. His voice is captured by his microphone and sent to your speakers. But then your microphone picks up his voice from the speakers and sends it back to him as an echo—which can really ruin a conversation.

The RightSound™ fix
You use a webcam with RightSound technology. The software identifies the sound wave featuring your friend's voice as it comes through the speakers. When your microphone picks it up, the software filters out the repeated wave so it doesn't get sent back to your friend. And that means they don't hear an echo.

Two-way talk
Other webcams eliminate echo by muting your microphone when the person on the other end is speaking. It's kind of like talking on a walkie-talkie—not a very natural way to have a chat. RightSound technology doesn't mute your mic so you can both talk whenever you want. It makes your video calls just like talking to someone in the same room.

Logitech Fluid Crystal™ Technology. It's what makes a Logitech® webcam better.
Logitech Fluid Crystal™ Technology. Smoother. Sharper. Richer. Clearer.
What makes a Logitech® webcam better?

It's Logitech Fluid Crystal Technology. Now with every Logitech webcam.

What is it? Fluid Crystal is a proprietary algorithm that automatically adjusts the frame rate, color and sharpness to provide the best possible picture and motion.

Good light? Bad light? It doesn't matter. Fluid Crystal can help make every lighting situation better, so you can focus on what really matters—connecting with your loved ones.

Lighting up your video calls—in every situation

You probably make a video call in good lighting most of the time. When you do with a Logitech webcam—thanks to Fluid Crystal—your video will look smooth and sharp, rich and clear.


But sometimes good lighting can be tricky to get right. With Fluid Crystal, bad lighting won't stop you from making a good video call. Making a video call in a low-light living room? Have a bright kitchen window behind you? Don't worry.

Fluid Crystal gives you what you need to make your video calls (and recorded videos) better.

Smoother video motion, without annoying choppiness, in real-world conditions
Sharper pictures, so your videos will look more detailed, more real, more true to life
Richer colors, so you'll look more natural during a video call (and when you record a video or take a pic)
Clearer sound, so you'll sound more natural, too And it's now in every Logitech webcam.*



Not your average webcam

The quality of your video call depends in part on the quality of your webcam. Even if the lighting, the connection and the computers involved are ideal (and no one moves around much), any old webcam can make video calling a frustrating experience. And most of the time people use their webcams in less-than-perfect situations. Other webcams (for example, the one built into your laptop) try to adjust for poor lighting—but can produce choppy video, muted color and fuzzy images.

We know that in the real world you don't have a fancy Hollywood production crew lighting your video call. You shouldn't have to. We've done it for you.

We tune each of our webcam components—from the lens stack to the frame rate to the color saturation ratio—so that your video calls are natural, without artificial color, annoying choppiness, pixelation or other frustrations. (And you'll never need to worry about how the multi-element lens stack is designed, or how many times an image refreshes per second, or how much time our engineers spend tuning the hardware and the software.)

Real difference for the real world

Joy. Laughter. Tears. There's nothing like seeing your loved ones face-to-face. To be there—with the people you really care about, the people you work with, the people that you need to look in the eye, even though they may be on the other side of the world.

And thanks to Logitech Fluid Crystal Technology, the video calls you make with a Logitech webcam will be smoother and sharper, richer and clearer in what we like to call real-world conditions—yours.

* Requires installation of included software.

System Requirements
1 GHz (1.6 GHz recommended)
512 MB RAM or more
200 MB hard drive space
Internet connection
USB 1.1 port (2.0 recommended)





For the best video-calling experience, we suggest:

Dual-core CPU with 1 GB RAM
Broadband Internet with 256 kbps upload or higher




Warranty Information
2-year limited hardware warranty
Package Contents
Webcam with USB cable
User documentation
*Requires installation of software available for download at www.logitech.com/downloads.
Part Number
Technical Specifications
Video calling (640 x 480 pixels) with recommended system
Video capture: Up to 1024 x 768 pixels
Logitech Fluid Crystal™ Technology*
Photos: Up to 5 megapixels (software enhanced)
Built-in mic with noise reduction
Hi-Speed USB 2.0 certified (recommended)
Universal clip fits laptops, LCD or CRT monitors
Logitech webcam software:
Pan, tilt, and zoom controls
Video and photo capture
Face tracking
Motion detection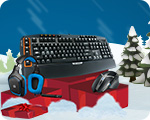 Holiday Gift Guide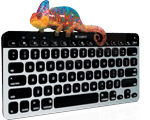 Logitech Bluetooth® Easy-Switch™ Keyboard for Mac, iPad and iPhone
A beautifully designed, illuminated keyboard to use across your Apple devices. Learn More