Logitech Wireless Mouse M525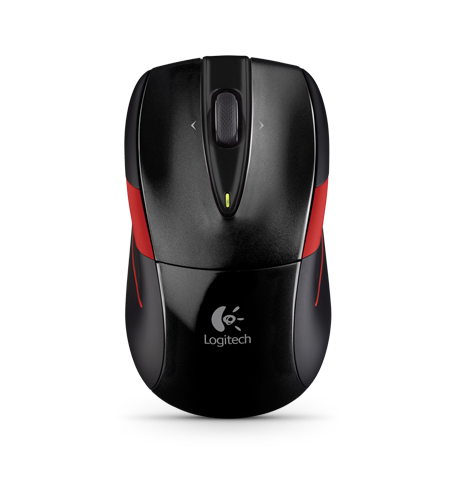 The perfect mix of performance, precision, price.



Scroll wheel for the control freak
Our innovative micro-precise wheel packs more grooves per millimeter giving, you the ultimate navigation experience.

Built for hands like yours
With its ergonomically shaped design and soft rubber grips, this mouse is built for comfort.

Go for years
You'll get three years of battery life.* It's so hassle free you might just forget it runs on batteries.
Battery life may vary based on user and computing conditions. Visit www.Logitech.com/MouseBattery for more information about the way we test the battery life of mice.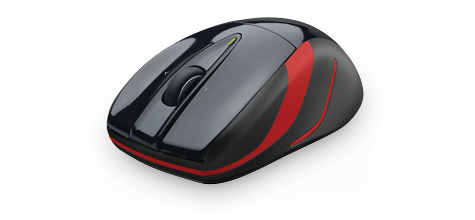 For those who want the perfect mix of performance, precision and price. With a micro-precise scroll wheel for the ultimate online navigation experience and ergonomic shape.



Micro-precise scroll wheel
With more grooves per millimeter, our new scroll wheel gives you the ultimate navigation experience. It makes scrolling through long web pages faster and easier

Ergonomically shaped
The ergonomically shaped design and soft rubber grips conform to your hand to be naturally comfortable, and the compact size makes it easy to take with you wherever you use your computer—at home, at work, or anywhere else.

3-year battery life*
With the world's longest-lasting battery, you can practically forget about changing batteries. Plus, the smart sleep mode saves power, while an indicator light eliminates surprises.

Logitech Unifying receiver
The tiny receiver connects up to 6 Unifying-compatible devices. Add a keyboard, switch between mice, mix and match to fit your lifestyle. All without having to change nano receivers or sacrifice another USB port.

Logitech Advanced 2.4 GHz wireless
You get the reliability of a cord with wireless convenience and freedom—fast data transmission and virtually no delays or dropouts.

Logitech Advanced Optical Technology
Laser-grade precision tracks over the most challenging surfaces—including smooth, glossy surfaces**—that are problematic for standard optical mice. All while using less power so you get longer battery life and more convenience.

Page back/forward
To make surfing your favorite websites easier, you can move the tilt wheel left or right to move backward or forward while you're surfing the Web.***
* Battery life may vary based on user and computing conditions. Visit Logitech.com/MouseBattery for more information about the way we test the battery life of mice.
** The optical sensor does not work on glass or mirrors. If you're looking for a mouse that will track on glass, click here.
*** Tilt wheel will not support backward/forward on Mac® computers but will support Dashboard, Exposé® or Spaces® (when selected in System Preferences).

Hyper-fast scrolling
One spin is all it takes
Scroll. Lift finger. Repeat. And repeat. And repeat.

Sound familiar? If you're tired of inch-worming through long documents and Web pages, take hyper-fast scrolling for a spin to fly instead of crawl.



Scroll a lot?
Your spreadsheets and documents are getting longer. Your digital photo and music libraries are bursting at the seams. And you're glued to long Web pages that have you scrolling and scrolling and …. To get through it all, you're doing a whole lot of scrolling. We're talking 26 feet of it in your average eight-hour day, according to a Logitech study.

That's where hyper-fast scrolling comes in.



From zero to line 10,000 in 7 seconds

When you need to do some long-distance scrolling, hyper-fast scrolling unleashes the speed demon inside. What's going on under the hood? The ratchet-scrolling mechanism you're used to retracts so the wheel can spin with virtually no friction.

Seven seconds. That's how long some of our scroll wheels spin freely—speeding you through hundreds of pages or thousands of rows.

And, oh yeah, it's got precision handling too. With normal click-to-click scrolling, you can navigate your lists, slides, and images with the line-by-line control you need.



Mice you can get comfortable with
It all adds up
Do you spend a lot of time with your mouse? Repeating the same hand and arm movements over and over again hundreds, if not thousands, of times a day? Even the littlest difference in design can make a big difference in your comfort.

Logitech mice have all sorts of features that help increase your comfort and help reduce the amount of movement, effort, and strain needed to get around your computer.

A natural fit
If your hand had a choice in the matter, it would naturally take the angle of a handshake when your arm is bent.

We figured nature might be on to something and created mice that are sculpted and sloped to let your hand take a more comfortable, handshake-like position. And that means your hand can relax.

A better grip
You lift and move your mouse again and again, all day long. If it's hard to hold, it's going to put a little extra strain on your hand. But don't worry—we added non-slip rubber grips to many of our mice to increase friction and make it easier for you to hold and grab your mouse without squeezing.

All about angles
Extending your wrists and flexing your fingers for hours may not feel so good. That's why we make low-profile mice that reduce the angle you need to extend your wrist. And we carefully place controls so that most hands can use them without flexing fingers more than 45 degrees.

Navigating to comfort
Comfort features aren't the only ones that help your hand out. If you can get where you want to go faster, your hand does less work. Less work equals more comfort.

Hyper-fast scrolling lets you fly through 10,000 lines of a spreadsheet with a single spin of the nearly frictionless wheel—something that would take 1,000 spins and seven minutes to do with a traditional scroll wheel. In the long run, that's a whole lot less work that your finger has to do.

Want more time-saving controls that can save your hand, too? Side-to-side scrolling plus zoom, application switching, and Forward and Backward buttons all help you do more things with less effort.

Smooth moves
Is your mouse fighting your moves? We've got mice with slick, low-resistance feet that allow them to glide more smoothly than your average mouse. When your mouse resists less, you don't need to work as hard.

The easy track
You can even choose a mouse that doesn't make you move very much at all. A trackball mouse stays in one place—you just move the ball with your finger or thumb. Plus, customizable buttons help you do more, more easily.

Powering your mouse
Logitech® Unifying receiver
Plug it. Forget it. Add to it. You've got the Logitech® Unifying receiver.

The Unifying receiver stays in your notebook, so there's no need to unplug it when you move around. It's so tiny, you won't need to worry about the receiver breaking off or getting lost.

And it's easy to add a compatible wireless keyboard or mouse to the same receiver. Build your ideal combo. Add something. Replace something. It's as simple as can be and you'll use only one USB port.

Uniting your setup
Your laptop is convenient. You use it on the couch, in the kitchen, at the coffee shop—wherever you want. Logitech makes your laptop as comfortable as it is convenient with portable mice and notebook-ready keyboards.

The Logitech® Unifying receiver takes convenience a step further.

The Logitech® Unifying receiver is a tiny, leave-in wireless receiver. Smaller than most coins, the Unifying receiver not only makes it easy to use a wireless keyboard, mouse, or number pad, it also works with up to six devices.

Plug it in
With the tiny wireless receiver, there's no need to plug and unplug when you're on the move. Or deal with the hassle of multiple receivers. The tiny Logitech® Unifying receiver stays in your notebook and lets you add devices as you need them.

Forget about it
The Unifying receiver is small and always ready. So small, in fact, you can leave it plugged into your USB port when you're on the move—without worrying about breaking or losing it.

Add to it
It's fast and easy to add a compatible wireless mouse, keyboard, or number pad to your receiver. You can mix, match, upgrade, or replace up to six devices—now or in the future—using just one USB port. To connect a new device, you simply open the connection software, click "Pair new device", and turn the device off and on. That's it.

A tiny dynamo
The Unifying receiver packs plenty of power. Built with Logitech® Advanced 2.4 GHz wireless connectivity, Logitech mice with the Unifying receiver give you the reliability of a cord—with the freedom of cordless. You'll enjoy fast data transmission with virtually no delays or dropouts.

Plug it. Forget it. Add to it. You've got the Logitech Unifying receiver.

Compatible with Logitech® Unifying receivers
Looking for a mouse or keyboard (or number pad) that is Unifying compatible? We'll help you find the right one.

Wireless mice. Cut the cord.
You don't have to stay tied to your desk. Or live with the chaos of cords.

With Logitech wireless mice, you're free. Free to be more productive and comfortable on the go. To keep your desk clutter-free. And to say "no thanks" to your notebook's tricky touch pad.

With a variety of wireless options, you're also free to pick which type of wireless works best for you. But don't worry—we're here to untangle all the terminology and technology.

The power player: Advanced 2.4 GHz
Logitech Advanced 2.4 GHz wireless delivers even more robust, reliable performance than ever before, effectively eliminating delays and dropouts (compared to conventional 2.4 GHz and 27 MHz wireless technologies).

Even in the busiest wireless environments, such as a busy airport or high-tech office, Logitech Advanced 2.4 GHz wireless technology delivers the reliability of a cord plus cordless convenience and freedom.

Your mouse is automatically paired with the receiver plugged into your computer and minimizes conflicts with other devices. So, you can use your mouse with the most demanding applications and know that every move you make will be carried out instantaneously. It uses less battery power than other wireless technologies, too.

Just plain easy: Bluetooth®
No dongle, no cord—Bluetooth® mice give you a hassle-free connection to your Bluetooth-enabled computer.

Back to basics: 27 MHz
For a basic wireless connection, 27 MHz wireless technology is reliable. You can use it up to six feet away with less chance of interference in your home or small office because the band isn't widely used.



Laser tracking: superior accuracy, control, precision
Whether you're editing a document or putting the finishing touch on an isolated pixel in a digital photo, your computer mouse's tracking capabilities can have a big impact on the creation process. Similar to the way a sophisticated steering system provides more accurate control while driving, laser tracking allows you to point your cursor exactly where you intend.

A brief history of laser tracking in the computer mouse

Invented by Doug Engelbart in the 1960s, the first mice tracked motion with a ball. Then optical mice tracked motion with light instead of a ball. And now the optical mouse is being rendered obsolete by the advanced performance that a laser mouse delivers. Logitech first introduced laser technology in 2004 with the Logitech® MX™1000 Laser Cordless Mouse, and now features a full line of laser mice, including the award-winning Logitech® MX™ Revolution Cordless Laser Mouse.

Why laser is better
Laser technology enables a major leap forward for pointing devices. A laser mouse easily surpasses the capabilities of the optical mouse, providing a level of precision and surface coverage that's just not possible with traditional optics.

Optical and laser mice operate in a similar way. Each employs a light source to illuminate the surface beneath it, and a tiny image sensor that rapidly captures images of the lighted area. However, the shorter wavelength of laser light produces far more illumination than the LED lamp in an optical mouse, revealing surface details that the mouse's sensor can use to track movement with far greater precision.

Where no mouse has gone before
The ability of a laser sensor to detect extremely subtle changes in surface detail also allows a laser mouse to operate on many surfaces that resist optical mice. Under laser light, difficult surfaces such as highly polished wood or glossy photo paper reveal a wealth of detail that allows a laser mouse to track motion precisely, without lags or jitter.

What this means to you
The level of accuracy achieved by laser mice becomes particularly important when making adjustments to a single pixel in a digital photo, or moving the cursor to the middle of a sentence to add a descriptive word to a document.

Whatever the application, laser tracking makes it possible to navigate more quickly and with more accuracy.

Laser sensors: A controlling interest
Sensing the details

What does a mouse do? Fundamentally, it allows you to control your cursor. And the best measure of cursor control is the accuracy with which the mouse translates the movements you make with your hand.

How precise is your mouse? Logitech mice use advanced sensors to make sure that whether you're clicking links, dragging text, or opening new apps—that whatever you're doing—your computing experience is seamless.

We achieve precision by designing miniature sensors. These sensors take lots of little pictures of the surface below the mouse, interpret those pictures, and translate the movement your hand makes into movement on your screen.



Sensitive to your needs
Some people just need a mouse that works. Others need a mouse that can track on many surfaces. And gamers need a mouse that can give them game-changing precision at any hand speed.



Details, details
There are two kinds of sensors: optical and laser.

Mice with optical sensors track the surfaces beneath them using the available light and an LED lamp.

In 2004, Logitech introduced the first mouse with laser tracking. Laser sensors, compared to optical, produce far more illumination—both of the surface and of the contrast created by, literally, specs of dust on the surface—revealing a wealth of details even on glossy surfaces like highly polished wood. And that means your mouse can track motion precisely on many surfaces, without lags or jitter.



Gaming-grade control
If you're an expert gamer, pixel-perfect tracking can mean the difference between victory and defeat. Our mice with gaming-grade laser sensors can track at speeds all the way up to 5700 dpi. So when the game is on the line, you'll get maximum precision, blinding speed, and ultra-smooth tracking.

Track tested
We rigorously test all of our laser mice on a wide variety of surfaces to make sure your mouse is free of tracking flaws.

* Mice with Logitech® Darkfield Laser Technology cannot track on glass that is 4 mm thick or less, which is not much larger than the head of a pin.



SetPoint™ Software. Your mouse gets personal.
A mouse makeover
Your mouse gets the job done. It clicks. It scrolls. It gets you where you want to go. It might even do some fancy things—like zoom or flip documents.

But did you know you can customize your Logitech mouse to work the way you want it to? SetPoint™ software makes it easy.


If you have SetPoint, open it by clicking on the SetPoint icon (it's the tiny mouse and keyboard in your tray, if you're running Windows®) Or, you can select Logitech>Mouse and Keyboard>Mouse and Keyboard Settings from the Windows Start menu.

Your buttons, your way
Got a button you just don't use? You can change its function to suit your needs. Maybe your mouse has a zoom button, but you'd prefer to use it for document flipping. Here's all you need to do:



Open SetPoint
Find your mouse
Choose the button you want to change
Pick what you want it to do

With some mice, like the MX™ Revolution and VX™ Revolution, you can even assign different functions to a button for different programs.

Pointer power
Your cursor is under your control with SetPoint. To move the way you want to, you can change the pointer speed and acceleration, turn on pointer trails, and enable Smart Move to automatically move the pointer to the default button in dialog boxes. In some cases, it also lets you adjust the scrolling speed.

Get ready for game time
Gamers, we've got a little something for you in there, too. You can enable game detection and choose game mode settings that give you the competitive edge.

Logitech® Advanced Optical Tracking: More Mousing on More Surfaces
From Amazon® to Netflix® to Facebook® , the computer has become the hub of entertainment and information. But in order to enjoy all computers and the Internet have to offer, you need something to help you navigate through this vast digital world. That's where the trusty computer mouse comes in.

While more and more people are using laptops and netbooks, many prefer the ease of a mouse to the tricky finger maneuvers needed to navigate with a built-in touchpad. However, thanks to the portability of these computers, mice are now being used in more places and on more surfaces—from the local café's metal tables to your tile kitchen countertop to the polished wood desk in your home office. Glossy surfaces such as these can be a challenge for standard optical mice without a mouse pad. But who wants to carry around one more thing?

Logitech Advanced Optical Tracking can track on most of these challenging surfaces and improve battery life—making it an ideal choice wherever you use your mouse.

Tracking innovation: It's all about the angles

When Logitech engineers sought to improve the performance of optical technology on these glossy surfaces, they took inspiration from laser mice—which offer more precision on more surfaces than their optical counterparts.

Standard optical and laser mice have the same basic components—a light source that illuminates the surface beneath the mouse, a lens that captures the scattered light and a sensor that processes the image captured by the lens. The more surface detail the light can illuminate, the easier it is for the sensor to identify reference points that it can use to accurately measure motion.

The main differences between optical and laser mice have been the light source used and the angle of the sensor. Standard optical mice use an LED light and look for scattered (or diffused) light from a sensor directly above the surface. Laser mice use laser light, which illuminates surfaces in far greater detail than LED light, and typically look for scattered light from the specular (or reflective) direction, which also helps illuminate greater surface contrasts. Because of the stronger light source and more efficient placement of the sensor, traditional laser mice are superior to standard optical mice at tracking on smooth, glossy surfaces with little contrast such as ceramic tile, metal and polished wood.
(Some Logitech laser mice can even track on glass thanks to their use of darkfield microscopy.)

Building a better (optical) mouse

While Logitech Advanced Optical Tracking uses LED light, we've moved the sensor from a position perpendicular to the surface to an angle similar to that of a laser mouse. Logitech mice with Advanced Optical Tracking look for scattered light from the specular (or reflective) direction—like a laser mouse—instead of capturing light from above—like standard optical mice.

By changing the angle, the sensor can collect more light and get a clearer snapshot of the surface. And as a result, the sensor registers surface contrast better. Because Logitech mice with Advanced Optical Tracking can process more surface contrast, tracking is more precise over a greater variety of surfaces, including many of the smooth, glossy surfaces that are problematic for standard optical mice. And—as an added bonus—because the sensor collects more light than a traditional optical mouse's sensor, less light is needed to illuminate the surface. So mice with Logitech Advanced Optical Tracking can conserve power and you'll enjoy the convenience of a longer battery life.

Get into your digital world
If you think about it for a moment, when you have a mouse that tracks on more surfaces and gets a better battery life, then you can forget about the tools (i.e., the mouse) that help you get into your what you love more, and focus more on what you love. While that might not be sexy, we think it's pretty important.
Logitech Advanced Optical Tracking.Better tracking, better battery life. Better mousing when you're getting into your digital world.
System Requirements
Windows® XP, Windows Vista® or Windows® 7
Mac OS® X 10.5 or later
Linux® kernel 2.6+
USB port
Internet access




Warranty Information
3-year limited hardware warranty
Package Contents
Mouse
Logitech Unifying receiver
2 AA batteries
User documentation
Part Number
PN 910-002752
PN 910-002608
PN 910-002585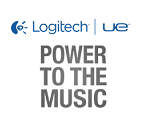 Introducing Logitech UE
Create products that deliver music in its purest, most undiluted form. Learn more