The press room
Logitech Revue™ with Google TV™ — Watch it all come together
You care about what you want to see, not whether it's on TV or on the Internet. With Logitech Revue, endless entertainment choices are on your HDTV and yours for the asking.

Google TV searches your cable or satellite programming, the Web, apps, even recordings from compatible DVRs, and puts all the choices at your fingertips. And Logitech Revue makes it easy.

So go ahead. Select what you want and see it—a show, a movie, live TV, a Web page, the YouTube™ video you can't stop watching—seamlessly, without changing inputs or interfaces.

If you can think it, you can watch it.

Logitech Delivers Google TV to Your HDTV
Logitech has unveiled a line of accessories for Google TV, led by the Logitech Revue™ with Google TV™. Bringing together TV programming, the Web, HD video calling and other applications designed for the Google TV platform, Logitech's new products will give consumers what they want – seamless access to all of their content and entertainment on their HDTV.


Photo Gallery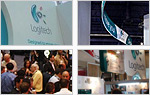 View photos of the announcement event.
Press Contacts
U.S. Press Inquiries

Pamela McCracken
Office: 510-713-4003
Rose Maciejewski
Office: 212-593-6361
EMEA Press Inquiries

Laura Scorza
Office: +41-21-863-5336
Downloadable Press Kit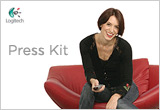 Press kit includes corporate b-roll, commentary from Logitech, Logitech executive bios and images.
Click to download (full kit).
Click to download (b-roll only).