UC Headsets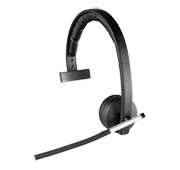 Wireless Headset Mono H820e
The single-ear, wireless headset with enterprise-grade audio that people actually want to use. With intuitive on-ear controls, in-call LED indicator light and DECT spectrum wireless connectivity, the H820e provides exceptional wireless range that won't interfere with Wi-Fi® devices in your office. Learn more.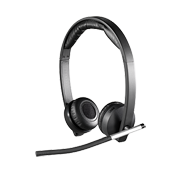 Wireless Headset Dual H820e
The double-ear wireless headset with contemporary and ultra-lightweight design is ideal for employees who need to block off surrounding noise for laser-like focus during calls. Featuring intuitive on-ear call controls, DECT spectrum wireless connectivity, auto pairing by docking and up to 10 hours of wideband talk time. Learn more.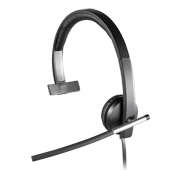 USB Headset Mono H650e
The single-ear, corded headset, ideal for employees who prefer to have an open ear to their surroundings. Featuring a flexible microphone boom, quick-access inline controller for calls and a dynamic equalizer. Combines enterprise-audio quality with the human-centric design that Logitech is known for. Learn more.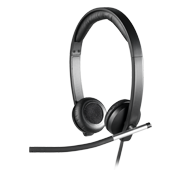 USB Headset Stereo H650e
The double-ear, corded headset with enterprise-grade audio. Featuring acoustic echo cancelation, noise-cancelling microphone and wideband audio. Comfortable, stylish and intuitive so people actually love to use them – further enhancing Uc collaboration in your workspace. Learn more.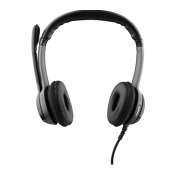 B530 USB Headset
Compatible with leading UC platforms, the B530 delivers crystal clear audio with on-ear controls for answer/ending calls. With laser-tuned drivers and a built-in equalizer, your professionals get clear, comfortable, effective communication. Learn more

Get Started
Deploying UC? Have questions on our UC portfolio or want to speak to a sales representative?

Download the UC Product Brochure