Plug-and-forget nano-receiver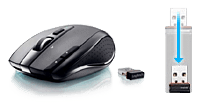 You can forget about it
Here's one less thing to worry about when you're on the go - your wireless receiver. That's because our plug-and-forget nano-receiver isn't just small - it's tiny. You can literally plug it in once and forget about it.


Leave it and love it
With most wireless receivers, you need to plug and unplug them every time you pack up your notebook. The plug-and-forget nano-receiver is different. It's so small it stays nearly flush with your notebook - so it's always ready. You just turn off your mouse and go.


It's a stowaway
If you ever want to store the receiver, you can do that, too. Plus, because you're not using it, storing your receiver will help conserve battery life.

Depending on the mouse you're using, you can put the nano-receiver in the storage slot (inside the mouse) or slide it into a port (on the back of the mouse) and - presto! - your mouse turns off.

When you're ready to get back to business, you simply press the eject button to release the receiver, plug it into your notebook, and start working. (Did we mention the nano-receiver is plug and play?)


Pint-sized power
Sure this little guy is about the size of a small coin, but it packs plenty of power. Nearly all mice that come with the nano-receiver offer Logitech Advanced 2.4 GHz wireless connectivity.* That means you'll experience virtually no delays or dropouts, even in the busiest high-tech environments, such as an airport, a coffee shop, or your neighborhood coffee shop.

If it weren't so easy to forget about, you might just find this receiver unforgettable.

* The Logitech® VX Nano Cordless Laser Mouse for Notebooks was introduced before we offered Logitech® Advanced 2.4 GHz wireless.