LOGITECH UE 900 - Dented Box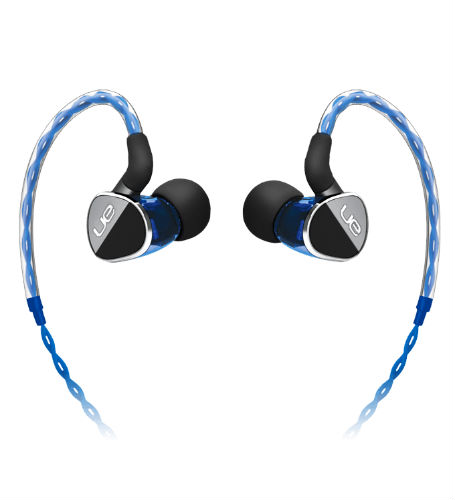 Studio-Grade Sound
Crafted and tuned by same engineers who build our pro earphones for recording artists and sound engineers, the Logitech UE 900s feature a unique quad-armature design—two for the low end, one for the mid-range, and one for high frequencies. The result is nothing short of a revelation in music listening- a wide, front-row-center soundstage, take-your-breath-away depth and clarity, piano-like timbre, and just the right amount of color on the bass and treble.

Choose Your Cord
The Logitech UE 900s come with two detachable, braided cables. The mic and on-cord controls let you answer calls with just one touch, change tracks and adjust volume—all without touching your iPhone® or iPod®. A second standard cable is included for those who need to listen to music and nothing else.

Your Own Private Sound Chamber
When it comes to noise isolation—and great sound—fit matters. So, for maximum comfort and up to 26 dBs of noise isolation, the Logitech UE 900s come with eight pairs of specially designed ear cushions. Choose from five sizes of silicon cushions and three sizes of Comply® foam cushions, each designed with a large-bore opening to ensure the sound is delivered cleanly. Because nothing should come between you and the music you live for.
Dented Box items from Logitech are products whose outer box has been torn, scratched, dented, or has other markings on it. The product itself is guaranteed to be in brand new condition and fully warranted. Sales are limited to quantities on hand. Limit 2 per customer.
System Requirements
Compatibility

The remote and mic are supported only by iPod nano® (4th generation or later), iPod classic® (120 GB, 160 GB), iPod touch® (2nd generation or later), iPhone 3GS® or later, and iPad®.
REMOTE: supported by iPod shuffle® (3rd generation or later).
AUDIO: supported by all iPod models and iPad.
Some functionality may vary for non iOS devices.


Package Contents
Earphones
Protective hard case
5 pairs of silicone ear cushions (xxs, xs, s, m, l)
3 pairs of comply® ear foam (s, m, l)
Audio cable
Cable with on-cord mic and controls
1/4-inch adapter jack
Airline attenuator polishing pouch
User guide and warranty
Part Number
Technical Specifications
Earphone Type: In-ear
Driver Type: 4 proprietary precision balanced armatures
Impedance: 30 ohms, 1 khz
Sensitivity: 101.2 db (50mw, 1 khz)
Frequency Response: 20 Hz - 20 khz
Noise Isolation: 26 db
Connection: 3.5 mm (1/8 inch) gold plated
Cable Lengths: 48 inch (121.9 cm)