POP Smart Button
Simple smart home control for the whole family
CONTROL YOUR HOME AT THE PUSH OF A BUTTON.

POP Smart Button lets everyone in the home control smart lighting, music, and more. Program up to three different commands to add creativity and convenience throughout your smart home.

POP THE LIGHTS

Whether it's movies, reading, or a party, POP makes it easy to match lighting with lifestyle. Use the Apple® Home app to set up HomeKit-compatible smart lighting, or use the POP app with Philips Hue™, Insteon®, LIFX, or Lutron lights for brightness, warmth, and color—then enjoy simple push-button control.


POP ONE, POP MANY

Whether you have connected lights, blinds, locks, thermostats, or other smart home devices, POP makes it easy to control many devices as one. Use either a HomeKit scene or a POP app recipe to trigger multiple smart devices, like setting smart locks and night-lights before going to bed.

POP AND PLAY

Use POP to start music, movies, and more. Program POP with your favorite Sonos® stations and playlists. Or, combine POP with a Logitech Harmony® hub-based remote to start an Activity like "Movie Night"– the TV, cable box, and stereo turn on and smart lights dim.

POP NEARLY ANYWHERE

Because each button is wireless and battery-powered, you can use POP just about anywhere. Mount one by the front door, keep one on your nightstand, or carry one from room to room. Use POP Add-On buttons to add simple smart home control wherever you like.
PLUG AND POP
POP Smart Button combines with the POP bridge to deliver powerful control that is effortless to use.

BRIDGE
POP bridge plugs into a standard wall outlet with no messy cords.

QUICK MOBILE SETUP
Whether using the Apple Home app (for HomeKit devices) or the POP app, setup is quick and easy. Easily combine multiple devices for control with a single press.

SIMPLE THREE-WAY CONTROL
Press once, press twice, or press-and-hold to trigger different preset commands.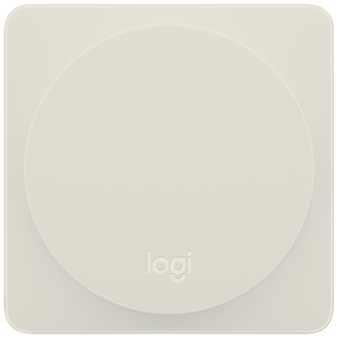 HOMEKIT COMPATIBILITY
The POP bridge lets POP Smart Button easily and securely connect to your HomeKit-enabled lights, locks, thermostats, and more.

WORKS WITH HARMONY
Use POP as a shortcut to start or end Activities when combined with a Harmony hub-based remote.

LONG LASTING BATTERY
Each button's replaceable battery lasts for five years with typical household use.
"I like the way they are flat and easy to put almost anywhere. Setup is a breeze, I found this quick and simple to do."

"Installation was super easy and straightforward. POP is a game changer."

"These button completely fix my one and only gripe about home automation... having to carry around my phone or search high and low for the Harmony remote to turn something on/off."
POP Smart Button
Simple smart home control for the whole family
Simple smart home control for the whole family
$ 39.99 - 59.99
Specs & Details
Dimensions
Smart Button Kit:
Button
Height x Width x Depth:
2.36 in x 2.36 in x 0.35 in (60 mm x 60 mm x 9 mm)
Weight: 1.32 oz (37 g)

Bridge
Height x Width x Depth:
2.36 in x 2.36 in x 0.75 in (60 mm x 60 mm x 19 mm)
Weight: 1.83 oz (52 g)
Add-on Button:
Height x Width x Depth:
2.36 in x 2.36 in x 0.35 in (60 mm x 60 mm x 9 mm)
Weight: 1.32 oz (37 g)
System Requirements
POP mobile app for iOS or Android™, downloadable from the App Store or Google Play™, and:

iOS: iPhone® or iPod touch® running iOS 10.2 or higher


or

Android: Bluetooth® technology-enabled and Wi-Fi-enabled smartphone running Android 4.4 or higher

For use with HomeKit-enabled devices:


Apple Home app
iPhone, iPad®, or iPod touch running iOS 10.2 or higher


Internet access

Wi-Fi
Technical Specifications
Compatible with:
Using Apple Home app:
Apple HomeKit-enabled smart home devices, Learn more
Using Logitech POP app:
Smart lights: Philips Hue, Insteon, LIFX, Lutron
Blinds: Hunter-Douglas, Lutron
Locks: August Lock (requires August Connect or August Video Doorbell Cam)
Connected music: Sonos
Platforms: SmartThings, Belkin WeMo,IFTTT
Remote Controls: Harmony Elite, Harmony Companion, Harmony Hub, Harmony Pro,and other hub-based Harmony remotes
All devices sold separately.

5-year battery life (with typical household use)

The POP bridge enables POP Smart Button to work with HomeKit technology. See support.logitech.com for more details.

Package Contents
Smart Button Kit:
Smart button (with battery)
Plug-in bridge
Mounting tape
User documentation

Add-on Smart Button:
Smart button (with battery)
Mounting tape
User documentation
Warranty Information
1-Year Limited Hardware Warranty
Part Number
Home Switch Starter Pack
Add-on Home Switch
Coral: PN 915-000278
Teal: PN 915-000277
Alloy: PN 915-000276
White: PN 915-000275