Logitech Wireless Combo MK270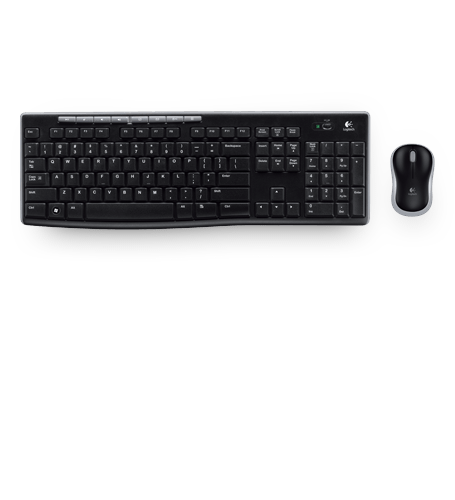 The reliable wireless combo with the tiny plug-and-forget nano-receiver



Long-range wireless
Fast, reliable connection up to 10-meters with virtually no delays or dropouts thanks to Logitech Advanced 2.4 wireless technology.*
* Wireless range may vary due to environmental and computing conditions.

On-the-go mouse
Take this compact mouse anywhere your computer goes.

Long battery life
Go for months without changing batteries. On/Off switches help conserve battery use.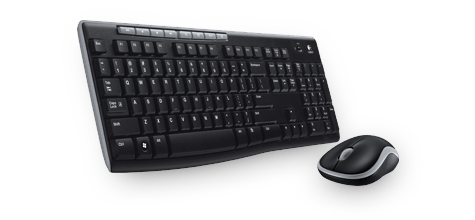 Reliable wireless combo with a tiny plug-and-forget nano receiver and compact mouse



Advanced 2.4 GHz wireless
Work or play in more places. The wireless connection virtually eliminates delays, dropouts and interference and gives you a range of up to 10-meters range.*

* Wireless range may vary due to environmental and computing conditions.

Compact mouse
Take the mouse with you. This comfortable mouse fits easily into computer bags and pocket to travel with your computer.

Extended battery life
A 24-month keyboard and 12-month mouse battery life—plus on/off switches—means you can go for months without the hassle of changing batteries.*

* Keyboard battery life calculation based on an estimated two million keystrokes/year in an office environment. User experience may vary. Mouse battery life may vary based on user and computing conditions.



Full-size keyboard
The full-size keyboard with number pad, directional keys, and nine F-keys is comfortable, convenient and built to last.
Powering your wireless keyboard
More power to you
No one likes to run out of batteries. It's a hassle. Scouring the house for new ones. Finding two that still have juice. Even making an extra trip to the store. At Logitech, we're doing everything we can to make the hassle of replacing batteries hassle-free.



Batteries? What batteries?
Wireless keyboards let you avoid the inconvenience of cords. But unlike a corded keyboard (which is powered via USB and your computer), wireless keyboards use batteries, and batteries do run out of power.

Don't even want to think about changing batteries? We've got just what you need. You can choose a keyboard with a battery life of 15 months—or even three years—and practically eliminate the hassle and expense of changing batteries.*



Learn more about the Logitech® Wireless Keyboard K350, featuring a three-year battery life.
Charge on

If rechargeable is more your style, we've got those too. You just put your keyboard in its charging base. It's that easy. (Plus it's good for the planet.)

Check out all of our rechargeable keyboards

* Battery life calculation based on an estimated 2,000,000 keystrokes/year in an office environment. User experience may vary.


Comfort is key with Logitech keyboards
Tap happiness
2 million keystrokes. Every day.

That's how much the average person types every year, according to a study by Harvard. (Dennerlein 2006)

If you sit at your computer hour after hour, day after day, all those key presses can really add up. Fortunately, you can do something about it. Logitech keyboards have a variety of comfort features to help keep your body happy.



Comfort Wave Design: Curve + Wave + Palm Rest

Your fingers vary in length—but most keyboards treat them all the same. Our Wave keyboards have a gradual wave-shaped contour to support the varying lengths of your fingers and keep the pressure off your fingertips.

To keep you from having to twist into an unnatural position when you type, we threw in a curve. Gently curving rows of keys support the natural resting position of your hands without splitting the keyboard. After all, you shouldn't have to relearn how to type to be comfortable.

A cushioned, contoured palm rest helps position your hands comfortably on the keyboard. Plus, it gives you a cushy place to rest your palms when you're not typing.
See all Wave keyboards
Learn more about the Wave keyboard design

Perfectly PerfectStroke
Logitech PerfectStroke™ key system combines the benefits of a laptop keyboard with those of a stand-alone keyboard to give you a perfectly pleasant typing experience.

Clickety-clack. For those of you old enough to remember, it isn't the sound of that old electric typewriter that you miss so much, it's the way the keys felt under your fingers.



System Requirements
Windows-based PC

Windows® XP, Windows Vista® or Windows®




Warranty Information
3-year limted hardware warranty
Package Contents
Keyboard
Mouse
Nano-receiver
2 AAA (keyboard) and 2 AA (mouse) batteries
User documentation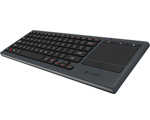 Brighten your TV experience
Introducing the Illuminated Living-Room Keyboard K830 Learn More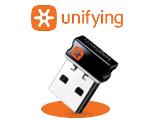 Plug. Add. Forget.
The Logitech® Unifying receiver. Plug it. Forget it. Add up to six devices to it.
Learn More