Logitech Wireless Combo MK520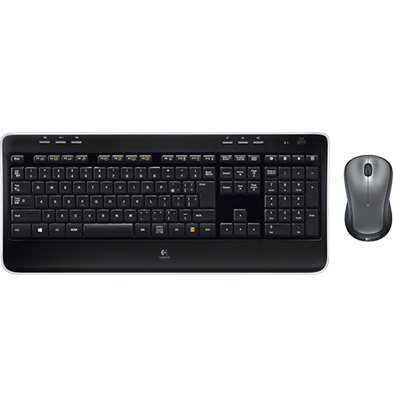 A keyboard and mouse that puts convenience and control comfortably at your fingertips



Type right
With softly rounded keys, a full-size layout, and a palm rest, this keyboard treats your hands right.

Palm pal
The mouse keeps your hand happy and supported with contoured sides and soft rubber grips.

Power-packed
The mouse and keyboard are so energy efficient you just might forget they use batteries at all.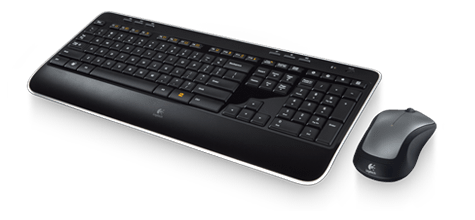 A full-size keyboard and mouse designed for comfortable control



Full-size layout
Type comfortably with all the room you need. The keys are where you expect them to be.

Logitech Incurve Keys
Glide from key-to-key for hours with Logitech® Incurve Keys™. Whisper-quiet, contour-edge, concave keys position your fingers properly.

Hand-friendly full-size mouse
Contoured sides and soft rubber grips keep your hand comfortable, supported, and in control. You'll enjoy smooth, precise tracking on virtually any surface.*

* The sensor does not work on glass or mirrors.

Batteries without hassle
A battery life of up to three years for the keyboard and eighteen months for the mouse practically eliminates the need to replace batteries.*

*Keyboard battery life calculation based on an estimated two million keystrokes/year in an office environment. User experience may vary. Mouse battery life may vary based on user and computing conditions.



Logitech® Unifying receiver
The tiny wireless receiver stays in your laptop and connects both the keyboard and mouse.

Advanced 2.4 GHz wireless
Work and play in more places—like your comfy couch. Long-range wireless connection virtually eliminates delays, drops, and interference.

Instant media access
One-touch media controls let you mute your computer or skip to the next song instantly.

Adjustable tilt legs
Extend the folding legs to increase the keyboard tilt to 8 degrees.

Easy keyboard storage
Store your keyboard standing up to make space on your desk.
Powering your wireless keyboard
More power to you
No one likes to run out of batteries. It's a hassle. Scouring the house for new ones. Finding two that still have juice. Even making an extra trip to the store. At Logitech, we're doing everything we can to make the hassle of replacing batteries hassle-free.



Batteries? What batteries?
Wireless keyboards let you avoid the inconvenience of cords. But unlike a corded keyboard (which is powered via USB and your computer), wireless keyboards use batteries, and batteries do run out of power.

Don't even want to think about changing batteries? We've got just what you need. You can choose a keyboard with a battery life of 15 months—or even three years—and practically eliminate the hassle and expense of changing batteries.*



Learn more about the Logitech® Wireless Keyboard K350, featuring a three-year battery life.
Charge on

If rechargeable is more your style, we've got those too. You just put your keyboard in its charging base. It's that easy. (Plus it's good for the planet.)

Check out all of our rechargeable keyboards

* Battery life calculation based on an estimated 2,000,000 keystrokes/year in an office environment. User experience may vary.


Laser sensors: A controlling interest
Sensing the details

What does a mouse do? Fundamentally, it allows you to control your cursor. And the best measure of cursor control is the accuracy with which the mouse translates the movements you make with your hand.

How precise is your mouse? Logitech mice use advanced sensors to make sure that whether you're clicking links, dragging text, or opening new apps—that whatever you're doing—your computing experience is seamless.

We achieve precision by designing miniature sensors. These sensors take lots of little pictures of the surface below the mouse, interpret those pictures, and translate the movement your hand makes into movement on your screen.



Sensitive to your needs
Some people just need a mouse that works. Others need a mouse that can track on many surfaces. And gamers need a mouse that can give them game-changing precision at any hand speed.



Details, details
There are two kinds of sensors: optical and laser.

Mice with optical sensors track the surfaces beneath them using the available light and an LED lamp.

In 2004, Logitech introduced the first mouse with laser tracking. Laser sensors, compared to optical, produce far more illumination—both of the surface and of the contrast created by, literally, specs of dust on the surface—revealing a wealth of details even on glossy surfaces like highly polished wood. And that means your mouse can track motion precisely on many surfaces, without lags or jitter.



Gaming-grade control
If you're an expert gamer, pixel-perfect tracking can mean the difference between victory and defeat. Our mice with gaming-grade laser sensors can track at speeds all the way up to 5700 dpi. So when the game is on the line, you'll get maximum precision, blinding speed, and ultra-smooth tracking.

Track tested
We rigorously test all of our laser mice on a wide variety of surfaces to make sure your mouse is free of tracking flaws.

* Mice with Logitech® Darkfield Laser Technology cannot track on glass that is 4 mm thick or less, which is not much larger than the head of a pin.



System Requirements
Windows-based PC

Windows® XP, Windows Vista®, or Windows® 7, Windows® 8
USB port
Internet connection




Warranty Information
3-year limited hardware warranty
Package Contents
Wireless Keyboard K520
Wireless Mouse M310
Logitech Unifying receiver
3 AA alkaline batteries (pre-installed)
User documentation