Wireless Solar Keyboard K750 for Mac®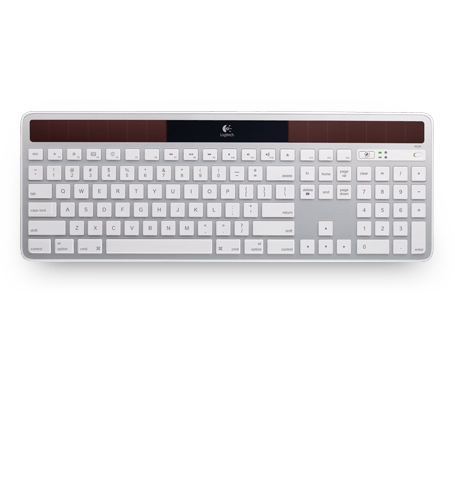 Powered by light—even indoors—this keyboard makes battery hassles a thing of the past. Now, made for your Mac.



Light powered
Good-bye, battery hassles. Light keeps your keyboard charged and ready—even indoors.

Streamline design
Your desk is about to get sleeker thanks to this streamlined keyboard.

Familiar Mac layout
Everything is exactly where you expect it to be—and it all works right out of the box, with no software installation required.

Power monitor app
Want to know how much battery power you have? Or how much power you're getting from your desk lamp? The Logitech Solar App can help.

Six-on-one wireless receiver
You pop the tiny Logitech Unifying receiver in your notebook and leave it there. You can even add more devices. Plug it. Forget it. Add to it. Learn more about the Logitech Unifying receiver.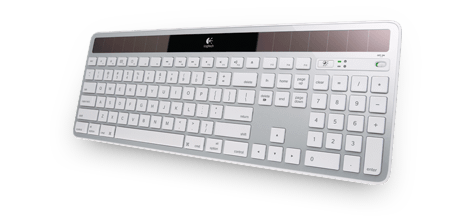 Powered by light—even indoors—this keyboard makes battery hassles a thing of the past in a streamlined, comfortable design. Now, made for your Mac.



Light-powered keyboard
It doesn't get easier than this. The light-powered keyboard works where you do—your house, your office, your hotel room. It charges itself with lamplight or sunlight, indoors or outdoors.

And on a full charge it works for at least three months—even in total darkness. Which means that you can say good-bye to battery hassles.

Only 1/3 -inch thick
With sleek lines and a thin profile, this stylish, streamlined keyboard adds style to your workspace—whether you've got a laptop or desktop.

Familiar Mac layout
All the keys are exactly where you expect them to be, including music and brightness controls, command keys and the eject key. And it all works right out of the box. No software installation required.

Feel-good typing
Combining the best of traditional keyboards, laptops and a Logitech-only concave key cap design, you'll enjoy faster, quieter, feel-good typing—hour after hour.

Advanced 2.4 GHz wireless
So you can work or play in more places—like your comfy couch—the long-range wireless connection virtually eliminates delays, dropouts and interference.

Small steps, bright future
From the PVC-free construction to the fully recyclable box, this keyboard is designed to minimize its footprint.

Plug-and-play simplicity
Setup takes seconds—you simply plug the wireless receiver into a USB port on your computer and start using your keyboard right away without software.

Logitech Unifying receiver
The tiny receiver stays in your laptop. Plus, you can easily add a compatible wireless mouse or keyboard—without the hassle of multiple USB receivers.
Logitech Solar App. The power is in your hands.
| | | |
| --- | --- | --- |
| | | This simple software utility tells you everything you need to know to keep your keyboard charged and ready—from low-power warnings to tips on how to boost your reserves to how much power your lights are actually providing. |
Track your power

Want to make sure your keyboard is always ready when you are? The Solar App shows you your current status and whether your power reserve is increasing or decreasing—so you'll know when your keyboard isn't getting enough light.


And don't worry—you'll get plenty of warning when your reserve is getting low so you'll have time for a little light intervention.

Solar charging 101

Need help figuring out how to keep your keyboard's energy reserve healthy? Just click the link in the status message to learn simple things you can do to improve your current power situation.


Check your lux

Whether you're getting the full power of a high-watt desk lamp or just the faint light of the moon, the lux meter will let you know how much power your light source is providing at any time. Combine this with the lux suggestions for your current status and you'll have all the info you need to keep typing to your heart's content..

Click here to download the Logitech Solar App for Windows >>
System Requirements
Mac OS® X 10.5 or later
USB port
Light source from sunlight and/or indoor lighting




Warranty Information
3-year limited hardware warranty
Package Contents
Keyboard
Logitech Unifying receiver
Wireless extender
Mac is a registered trademark of Apple, Inc.
Part Number
PN 920-003472
PN 920-003471