Ideal companions for your iPad
Your iPad, iPad 2 and new iPad (3rd generation) deserves companions as versatile as it is. That's why we created a range of products that let you experience the magic of your iPad. You can enjoy free-flow typing with our wireless keyboards, share your entertainment out loud with large and small wireless speakers or immerse yourself in your music with our headsets.

New accessories




Solar Keyboard Folio
Protects your iPad. Powered-by-light keyboard.
The power to write and protection to go wherever you take your iPad.
Learn more
Ultrathin Keyboard Cover
Design to impress, type in style.
The perfect partner for your iPad.
Learn more
Keyboards and protection for your iPad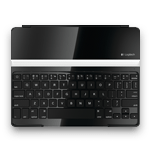 Ultrathin Keyboard Cover
for iPad 2, iPad (3rd & 4th Generation)
PN 920-004013
99.99 USD
Audio companions
Click here for more iPad accessories