Listen the Way the Pros Do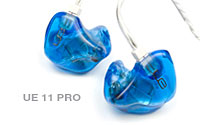 Logitech Product Portfolio Now Includes Earphones and In-Ear Monitors from Ultimate Ears
In August 2008 Logitech agreed to acquire Ultimate Ears, which offers a range of earphones for portable-music enthusiasts as well as a line of custom-fit in-ear monitors for music professionals.

Ultimate Ears has a loyal following of touring musicians, sound engineers and mainstream music lovers, due to the sound quality and comfortable fit of the company's earphones. The company was founded in 1995 to address the sound-monitoring needs of on-stage rock musicians, developing the first high-performance two-way, custom in-ear stage monitors. An estimated 75 percent of today's top touring rock musicians now use the Ultimate Ears custom-fit in-ear monitor while performing.

Since 2005, using patented, proprietary technology, Ultimate Ears has expanded its product line with universal-fit earphones for audiophiles as well as mainstream music enthusiasts, including users of iPhone®, iPod® and other MP3 players.

For more information and to view our line of products, visit www.ultimateears.com.